A&E > Food
Buon appetito: The best Italian eateries in and around Spokane
Sept. 20, 2017 Updated Wed., Sept. 20, 2017 at 11:31 a.m.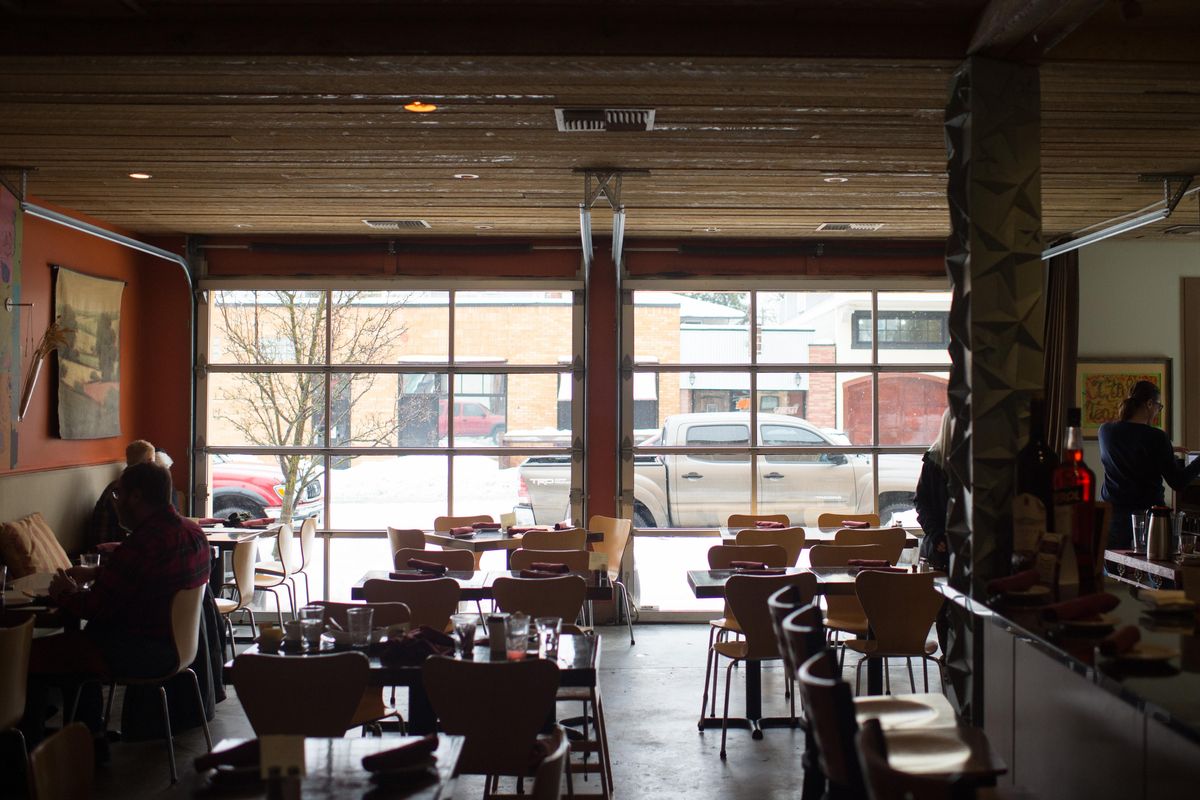 Italia Trattoria is seen on Sunday, Feb. 5, 2017. (Tyler Tjomsland / The Spokesman-Review)Buy a print of this photo
Take the cannoli. The ravioli, too. And, maybe, the manicotti.
They say the trouble with eating Italian food is that five or six days later you're hungry again.
In and around the Spokane area, diners can find modern Italian cuisine made from scratch to traditional Italian-American fare with extra Parmesan and endless helpings of bread and butter. There's everything from the elegant and contemporary to the cheesy, carby, garlicky and creamy.
This is where to go when you're craving Italian food.
Italia Trattoria
This is not a red-and-white- checked-tablecloth kind of place. Italia presents upscale modern Italian fare in a casually elegant environment. Dishes – thoughtful, satisfying but not inherently heavy – are made from scratch. Despite a concrete floor and two roll-top, garage-style doors, the space – contemporary, cozy, uncluttered – feels warm and inviting. Top-notch hospitality adds to that ambiance. Owners Anna Vogel and Bethe Bowman hold themselves to high standards. Both have worked for celebrity chef Tom Douglas in Seattle. Vogel grew up in Switzerland and worked in Sydney, New York City and Boston before becoming Douglas' corporate chef. Bowman also worked for Douglas, then managed the front of the house at Luna before she and Vogel opened Italia in 2010 in Browne's Addition. Today, it enjoys a fiercely loyal following. Reservations are recommended for dinner. Start with charred octopus with spicy tomato oil, potatoes and lemon-parsley salad before moving onto mains such as squid ink fettuccine with spicy shrimp, grilled lamb chops with crispy gnocchi, or pappardelle lamb ragu with Pecorino and fresh mint. Consider a craft cocktail with Italian liqueur. Note: Italia becomes very busy for Saturday and Sunday brunch with staples such as the Caprese omelet, Italian frittata and Italian skillet pork hash. Start or end with zeppole, Italian doughnuts, which are made to order and are served with maple cream. 144 S. Cannon St. (509) 459-6000. www.italiatrattoriaspokane.com.
Luigi's
This is a red-and-white-checked-tablecloth kind of place. Expect traditional Italian-American food in all of its comforting glory – cut, perhaps, with the briny bite of capers or zingy tang of fresh tomatoes. Share two meatballs baked with three cheeses as an appetizer. Entrees include ravioli, manicotti, spaghetti, baked ziti and gnocchi with marinara as well as gnocchi and fettuccine alfredo, chicken piccata, chicken Dijon, chicken Parmesan and eggplant Parmesan. Or, try the "world famous" smoked salmon lasagna, "delicious enough to be featured in Gourmet magazine." Marty Hogberg, who has owned Luigi's with his wife, Jennifer, since 1988, believes the dish appeared in the now-defunct publication in 1992. It features four cheeses, mushrooms, tomatoes and mornay sauce. But Hogberg's favorite is Sicilian linguini with scallops, shrimp, clams, prawns and mussels in white wine with Parmesan. "We're not high end; we're not low end," he said. "People come here in kahki shorts and flip-flops, and they come in business suits." The historic 1921 building once housed the Salvation Army. Wednesday, come for cioppino. Friday, Saturday and Sunday, prime rib is on special. Sunday is also osso buco night. Save room for tiramisu. Lady fingers are soaked in three kinds of alcohol, and mascarpone is whipped until it's airy. 245 W. Main Ave. (509) 624-5226. www.luigis-spokane.com.
Tomato Street
This is the kind of kid-friendly place where white butcher paper covers table tops and crayons come in small cans, emptied of Hunt's tomato paste. There are two locations in Spokane and another in Coeur d'Alene. Decor is modern with red-and-green accents. Finish the smoked chicken manicotti for lunch and you just might not need to eat dinner. Start with "toasted" ravioli, crispy fried with marinara and honey-mustard sauce; brick-oven bollas, meatballs with mozzarella and provolone in pizza dough; or mushrooms stuffed with chicken, bacon, tomatoes, spinach-ricotta filling and alfredo sauce. Some dishes are quite decadent. That smoked chicken manitcotti, for example, features ricotta, mozzarella, provolone, smoked gouda, Parmesan and bacon as well as tomatoes and green onions. Look, also, for chicken parmigiana, chicken marsala, blackened chicken fettuccine, twice-baked spaghetti, seafood fettuccine and seafood manicotti, among other entrees. Customers can create their own pasta. To-go platters, designed for 10, are also available. And soup can be purchased by the gallon. Find phone numbers and addresses at tomatostreet.com.
Martino Tuscan Grill
Next to Starbucks in Coeur d'Alene's Riverstone development is a death spot, home to at least four failed restaurants. This summer, restauranteur and chef Angelo Brunson took a stab at the space, and so far the results are quite promising. Brunson knows all about opening a restaurant in a challenging location, having operated one of the Lake City's best Italian spots, Angelo's Ristorante, in an unassuming strip mall in the Midtown neighborhood since 2004. With Martino Tuscan Grill, Brunson and chef Mark Shaw are focusing on steak (locally sourced, grass-fed) and seafood (sustainable), to delicious results. Enjoy fettucini alfredo with Italian sausage that's creamy without being heavy, and linguine vongole cozze with perfectly cooked clams and mussels in an expertly balanced white-wine tomato sauce. The fresh and flavorful Caesar salad also shows care. For dessert, the limoncello tiramisu is gorgeous as well as tasty. Martino: 2360 N. Old Mill Loop, Coeur d'Alene. (208) 930-1464. martinotuscangrill.com. Angelo's: 846 N. Fourth St., Coeur d'Alene. (208) 765-2850. angelosristorante.net.
Tony's on the Lake
This family-run restaurant is separated from the lakeshore by the roadway. Still, it isn't difficult to pretend the patio – with its strings of lights, rows of umbrellas and Italian cuisine – sits on the edge of Italy's Lake Como instead of Idaho's Lake Coeur d'Alene. But its location makes it doubly accessible; diners can drive or boat in. Start with the bruschetta, calamari with salsa verde or chipotle aioli, or – even better – the house-pulled mozzarella topped with extra-virgin olive oil, olives, figs and roasted garlic. Then, move onto traditional Italian favorites such as osso buco, saltimbocca, top sirloin with gnocchi in Gorgonzola cream sauce, mushroom ravioli and an array of other pasta dishes. 6823 Coeur d'Alene Lake Drive, Coeur d'Alene. (208) 667-9885. tonysonthelake.com.
Uva
This modern Italian eatery prizes quality over quantity. It specializes in a limited offering of pizza and pasta as well as wine by the glass or bottle. Cowboy pizza – with caramelized onions, beef, horseradish cream and smoked Gouda – is popular. So is the Spaghetti Primavera. Be sure to check out the bar, which is covered with wine corks and makes for an interesting aesthetic. The dining area features booth and table seating and is done in charcoal, accented with the warm tones of butter yellow and terra cotta. Tables are topped with dark cloths and sheets of glass. If you can, take the cannoli and the tiramisu, splitting each so you can sample both. 309 E Lakeside Ave., Coeur d'Alene. (208) 930-0573. uvacda.com.
Tito's Italian Grill
Start with a classic Caprese salad or calamari with lemon-garlic aioli and marinara at this Italian eatery, part of the Coeur d'Alene Resort Shops. Entrees include chicken marsala, seafood fettuccine, fettuccine alfredo, three-cheese tortellini and chicken, salmon, veal or shrimp piccata. Diners can build their own pasta dishes, too. Look, also, for a variety of personal or 12-inch pizzas, soups and salads. There's sidewalk seating on Sherman Avenue, perfect for people-watching during the busy, tourist-filled, warmer months. For lunch, find lighter Mediterranean-inspired wraps and sandwiches. 210 Sherman Ave. (208) 667-2782. titoscda.com.
Italian Kitchen
This wood-lined eatery has been serving Italian-inspired fare since 2005. Start with tomato-basil-mozzarella focaccia or the "Tower of Italy," a multi-tiered offering with three appetizers for the price of two: pan-seared calamari, stuffed mushrooms and roasted garlic focaccia. Mains include a variety of chicken dishes – marsala, piccata, formaggio, Tuscan, Gorgonzola – as well as seafood, such as cioppino, clams over linguini, seafood fettuccine, spicy seafood puttanesca or scampi. Look, also, for Italian specialties, including gnocchi, eggplant Parmesan and lobster ravioli. Several steaks and the chance to build your own pasta dish round out the menu options. Desserts include tiramisu and "The Godfather," a warmed, four-layer brownie with two layers of chocolate ganache and vanilla ice cream, all drizzled with caramel and white chocolate. 113 N. Bernard St. (509) 363-1210. italiankitchenspokane.com
Europa
This longtime downtown Spokane restaurant is a popular spot. On a recent Friday night, would-be diners were greeted by the eatery's exposed red brick walls, abundance of floral prints and an hour-long wait for a table. Pass the time by having a drink in the lounge, which offers the comfortable, cozy and familiar feeling of home. Here, Europe – or at least a taste of the boot-shaped part of it – is easily accessible. Exposed wood beams, coupled with those red-brick walls, lend an intimate, Old-World feel to the spacious place, adorned with pale green shutters and images of Italy. Families and other groups are easily accommodated. So are diners who can't decide; the Europa entree sampler is a popular option when everything sounds good. That way diners get to try two (smaller versions of) dishes instead just one. The sweet red pepper tortellini – cheese-filled pasta pockets in a creamy sauce – is a specialty. 125 S. Wall St. (509) 455-4051.
Mamma Mia's
This is a white-tablecloth kind of place. That is, a white tablecloth topped with a layer of glass. Makes for much easier clean-up of tangy red tomato sauce. Mom would approve. Meals here have that home-cooked feeling. There's nothing too fancy. But dishes are hearty and filling and comforting. Mamma's Original Lasagna – meat sauce, three cheeses – hits the spot. So does the simple but rich gnocchi with browned butter and myzithra cheese. The lunch menu is limited, but price points are approachable and there's a salad bar. And there's much more on the menu for dinner: meatballs or sausage with pasta, garlic chicken fettuccine, chicken marsala, chicken alfredo, chicken parmigiano, cheese manicotti, baked ravioli, spaghetti and rigatoni – and more. Service is welcoming and friendly. Decor is modern, with Edison light bulbs in cage-like fixtures, shiplap accents and tomato-colored walls. 420 W. Francis Ave. (509) 467-7786. mammamiaspokane.com.
Ferrante's Marketplace Cafe and Catering
Order over the counter at this Italian eatery, located in a strip mall on Spokane's South Hill. Here, customers can buy wine, costume jewelry, candles, scarves, greeting cards and other small gifts at the mini boutique just inside the door. Or, come in just for gelato. There are 18 flavors. Look, also, for an array of salads and panini for lunch and dinner. There are pizza and calzones, too. But the signature dish is peas and bacon, served with orecchiette in a creamy Parmesan-garlic sauce. Another specialty: the five-layer lasagna with ground beef that's big enough to serve to people. There's a kids' menu for children under 13 featuring a beverage and scoop of gelato along with an entree such as buttered fettuccine or linguini and meatballs. Decor is contemporary. The dining area is done in charcoal with coppery accents. Seating includes a few two-tops in cozy nooks in the back – nice for date night – but most of the seating is located in an open dining area. Ferrante's has been a popular spot since it opened in 2004. Family-style to-go orders are available. So is catering for weddings and other events. 4516 S. Regal St. (509) 443-6304. doitalian.com.
Cassano's
This longtime Italian corner grocery, deli and cafe no longer operates its full-service dining room. But lunch is still available. Order at the deli counter and sit in the cozy, unfussy seating area nearby. It's decorated with Italian memorabilia, with lends and Old-World feel, and there's a good chance proprietor Carl Naccarato, whose ancestors come from Calabria in southern Italy, will stop by to chat or say buongiorno. The lunch counter offers specialty sandwiches, salads, cured meats, hard cheeses, cakes and baked goods. Cassano's is located in a historic building that once housed a soda fountain and pharmacy. It moved there in early 2009. Before that, Cassano's was located on East Sprague Avenue, near the shop's original location. It's been a Spokane institution since 1922. Dine in for lunch, and grab a ready-to-bake lasagna for dinner. Ravioli, house-made marinara and other Italian specialties are also available to go. 2002 E. Mission Ave. (509) 747-3888.
Carolyn Lamberson contributed to this report.
Local journalism is essential.
Give directly to The Spokesman-Review's Northwest Passages community forums series -- which helps to offset the costs of several reporter and editor positions at the newspaper -- by using the easy options below. Gifts processed in this system are not tax deductible, but are predominately used to help meet the local financial requirements needed to receive national matching-grant funds.
Subscribe to the Spokane7 email newsletter
Get the day's top entertainment headlines delivered to your inbox every morning.
---