Sports > Area sports
Grip on Sports: If sports didn't surprise us constantly, we would be surprised
Wed., Sept. 20, 2017 A GRIP ON SPORTS • Sports constantly surprise. That's why it is the best reality show of all time. And why it is worth being a sports fan. Read on.
••••••••••
• Not all surprises are good, right? But there is nothing predictable about the daily comings and goings in the sports pages. If there were, Las Vegas would be broke. And ESPN's ratings would be in the cesspool. OK, that last example really doesn't work. But you get my drift.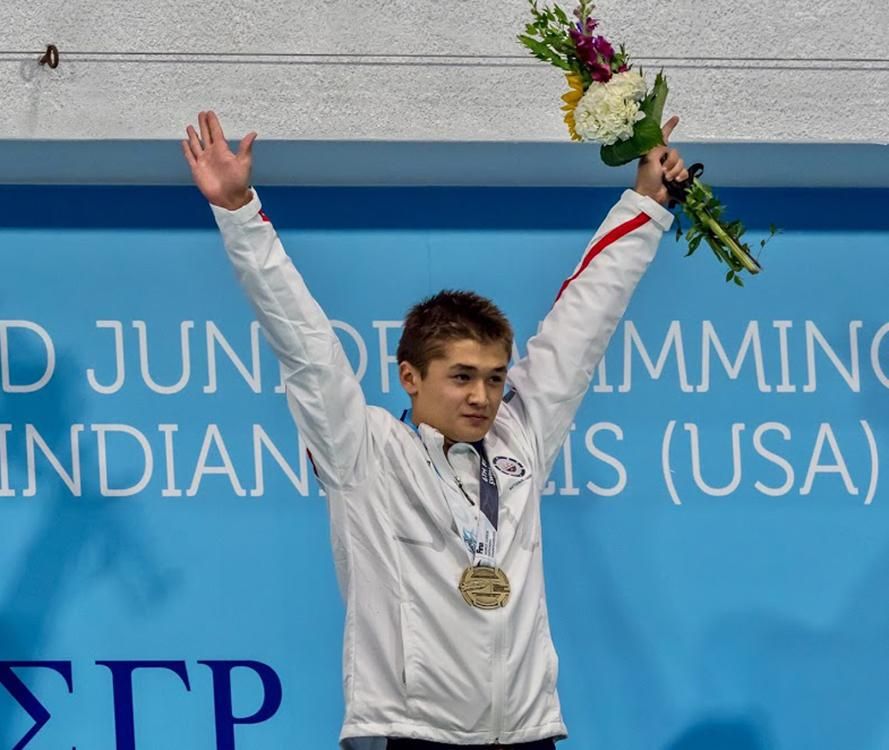 Take, for example, this story in today's S-R sports section. Ryan Collingwood, who is soon to move over to the dark side of the newsroom, caught up with Gonzaga Prep senior Daniel Roy.
Roy is trying to make a college decision. Nothing surprising about that. Just about every G-Prep senior is in the same pool. But Roy's pool is different thanks to his prowess in the, well, pool.
He has four college scholarships to pick from. Texas, Michigan, Stanford and California all want him to attend their school. And swim for them.
Yep, that's the surprise. A world-class swimmer from Spokane.
OK, I know a lot of you knew of Daniel Roy and his abilities in the pool. But for those of you who didn't, aren't you a bit surprised by one of America's best swimmers coming from this community?
After all, Spokane isn't the Bay Area or Austin or Washington, D.C. for that matter. Heck, it's not even Seattle. It is rare a nationally ranked swimmer emerges from our area, especially one as successful as Roy has been.
Wherever he decides to continue his education, and swimming, the Inland Northwest will be following. And nothing he does will surprise us anymore.
• Speaking of surprises, Eastern Washington's 1-2 record isn't the type of surprise Eagle fans want. But that's in the rearview mirror. Ahead is the biennial trip to Missoula, where the only surprise would be is if the Griz fans sit on their hands of it the penalty yardage is even.
It's not easy winning in Washington-Grizzly Stadium for a variety of reasons. But that is Eastern's goal this week. To be 1-0 in the Big Sky when Saturday is done.
• If Nevada were to waltz into Martin Stadium earlier on Saturday and upset Washington State, it would be a surprise. Heck, if the Wolf Pack are able to keep the final margin respectable, it would be a surprise. The Cougars are a four-touchdown favorite after all.
But there is a scheduling quirk in Nevada's favor. The 18th-ranked Cougars host fourth-ranked USC next Friday night, a #pac12afterdark showdown if there ever was a #pac12afterdark showdown.
Unless, of course, either team is surprised this week. USC is at 3-0 California this week. And Nevada, 1-2, is coming off a loss to usual Big Sky also-ran Idaho State. One has to wonder if the Wolf Pack broke the cardinal rule of college football 101 and used some time last week to prep for Washington State.
Now that would be a surprise. As was the final score of Nevada's game.
•••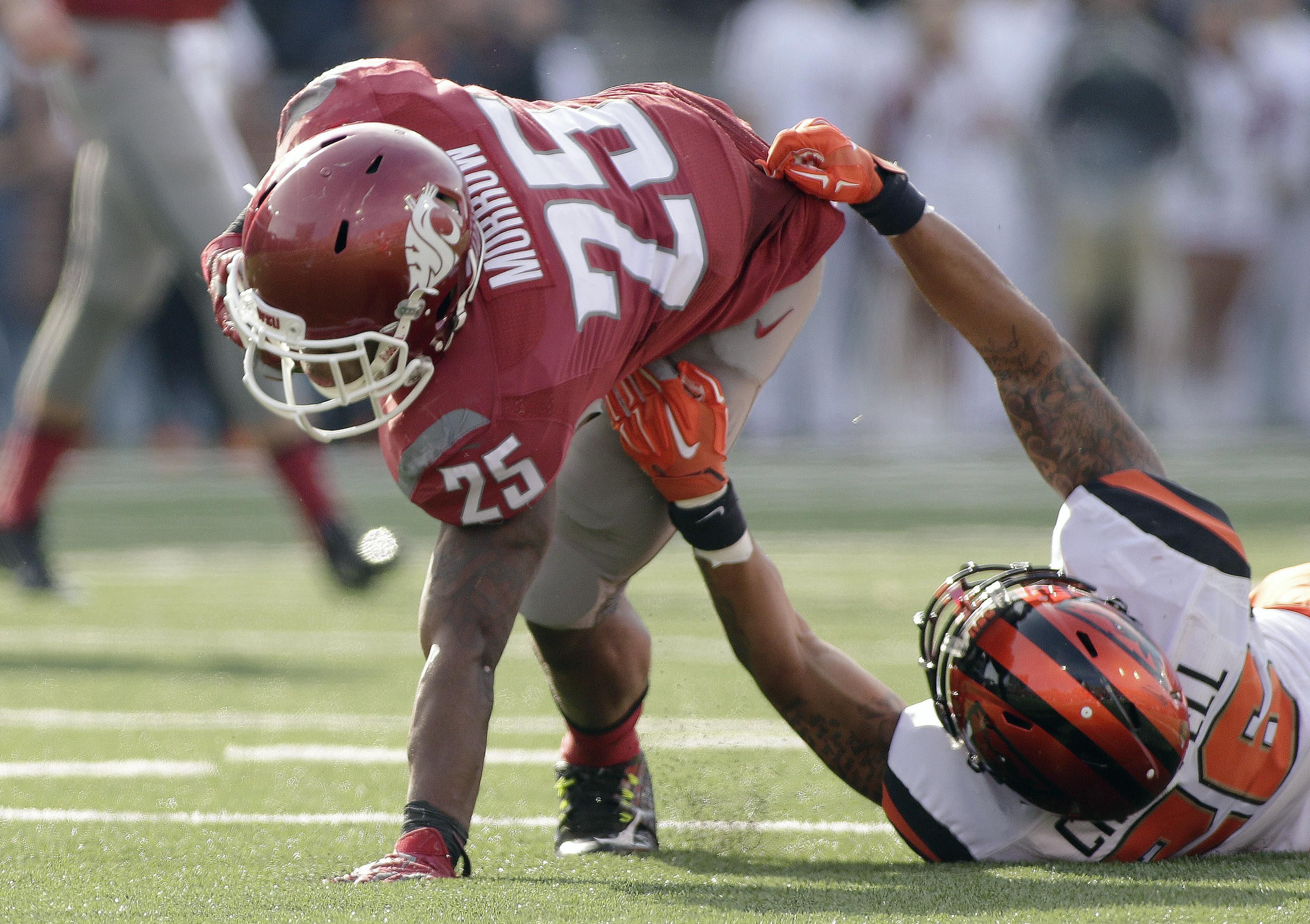 WSU: The Cougar running game hasn't lived up to expectations yet, though that may change this week. Mike Leach isn't worried, but he does care. According to Theo Lawson's story today, he wants that part of the offense to improve. … Theo also has Pac-12 power rankings, a whole bunch of post-practice interview videos on our Cougar page, and will hold a live chat this morning. … The basketball program learned the times for its conference games yesterday and there were a few surprises. Theo has that story as well. … Jim Meehan leads with the Cougars in his college volleyball notebook. … The women's golf team won its tournament. … Stefanie Loh spoke with WSU inside linebacker coach Ken Wilson who had some things to say about Peyton Pelluer's status.
Elsewhere in the Pac-12, we can pass along a summary of this week's upcoming schedule. It starts Friday at Arizona, where the Wildcats will try to run to another win over Utah. The Utes have yet to lose. … Colorado hasn't lost either but the Buffs know this week's opponent, Washington, is a step up in class. The UW defense will be tested. … Oregon's rushing attack isn't just Royce Freeman, but that's a great player to start with. The Ducks travel to Arizona State, where the Sun Devils are trying to shore up their defense. … Stanford's quarterback play hasn't been good. UCLA's quarterback play has been fine. The teams meet this week. … California gets a chance to show the conference it has turned a corner, though waiting on the next block is USC and Sam Darnold. … Oregon State has a bye as it moves on without Jake Luton. … Finally, this Austin Meek column on a public forum held with Oregon's athletic director is pretty interesting.
Gonzaga: We usually don't go into this stuff, but Scout just re-ranked its idea of the top 100 in the basketball class of 2019. Two Gonzaga commits are included, Gonzaga Prep's Anton Watson and Kittitas High's Brock Ravet.
EWU: The trip to New York wasn't just about playing Fordham, though that was the centerpiece. Jim Allen has a story on how some younger Eastern players emerged in the win. … Around the Big Sky, it's obvious Montana quarterback Reese Phillips is a journalism major. He released a statement about the injury he suffered last week and it's not only informative, it also includes a joke. … The easy part of Montana's schedule is over. … Montana State needs to protect its quarterback. … Northern Arizona and Cal Poly both enter Saturday's game winless. … Is Southern Utah the best Big Sky team right now? Maybe. The Thunderbirds open conference play at Sacramento State. … A go-to receiver is emerging at Northern Colorado.
Chiefs: Spokane made a trade yesterday to cull its forward roster.
Preps: Besides the story on Roy, we can pass along roundups of Tuesday night's action from volleyball, girls' soccer and boys' soccer.
Mariners: Minnesota has struggled recently. So what? The Mariners have as well. Both teams in front of Seattle in the wild-card race, the Twins and Angels, lost last night. But then again, so did the M's, 3-1 to Texas. The Rangers jumped ahead of Seattle in the race. … Hisashi Iwakuma is done for the year. And probably forever with Seattle. … David Phelps is trying to recover from surgery.
Seahawks: How does Seattle improve its offensive line? Should the Hawks make a blockbuster trade? … There were some roster moves made yesterday. … The offense may have found a running back, though. … Richard Sherman and the defense are ready to make more contributions.
•••       
• We're done. And we're not going to add any personal observations here. Didn't I say earlier sports, and the reporting of same, is about surprises? Until later … 
Local journalism is essential.
Give directly to The Spokesman-Review's Northwest Passages community forums series -- which helps to offset the costs of several reporter and editor positions at the newspaper -- by using the easy options below. Gifts processed in this system are not tax deductible, but are predominately used to help meet the local financial requirements needed to receive national matching-grant funds.
Subscribe to the sports newsletter
Get the day's top sports headlines and breaking news delivered to your inbox by subscribing here.
---