Sports > National sports
John Blanchette: Mike Kramer takes his shot at radio booth
Wed., Sept. 20, 2017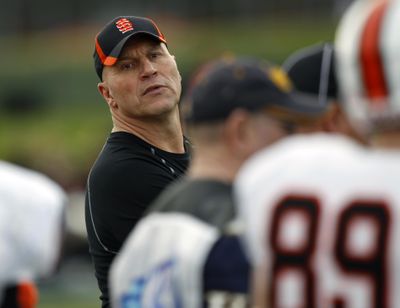 What few college football games aren't aired on television or streamed into your phone are on trusty old radio, the most taken-for-granted medium for sports. No one takes it more for granted than the coaches, who obviously are otherwise engaged during the live broadcasts and never hear the play-by-play.
Unless they're moved to have an aide record the radio broadcast or dig up some archived audio. But who does that?
You had to ask? Mike Kramer, of course.
"In 2000, after our first year at Montana State when we went 0-11," said Kramer, Eastern Washington's head coach from 1994 to '99 when he made his move to MSU, "we drove around Bozeman listening to tapes of Larry Weir doing old Eastern games just to feel good. Sandi (his wife) and I sat in a parking lot outside a furniture store for about an hour, listening to our former team.
"It was like putting an icebag on your head."
This is Mike Kramer's debt, and on Saturday he makes good on it.
When the Eagles travel to Missoula for what once upon a time was the Big Sky Conference's marquee game each year, Weir's sidekick in the EWU radio booth will be Kramer – filling in for Paul Sorensen, who's being inducted into Washington State's athletic hall of fame this weekend.
"Paul Sorensen?" Kramer teased. "Why?"
Don't worry. Paul will get equal time on the air when he returns to the microphone.
Maybe a better question is why no one airing Big Sky games snapped up Kramer full time this fall, which finds his calendar open – at least when he's not driving combine for his son-in-law's family outside Moses Lake or enjoying the view at Lake Coeur d'Alene ("I'm looking across the lake at Mike Price's house now"). This past March, Idaho State athletic director Jeff Tingey announced that Kramer was retiring from his latest gig – which is to say, he was fired. Tingey acknowledged there was going to be a coaching change regardless.
Do they teach a class at AD school for this kind of thing?
Kramer will not speak to the circumstances, as he's still on the ISU payroll. You'll recall after his 2007 termination from Montana State, where he'd won three Big Sky titles, he sued for defamation, among other things – and reluctantly took a $240,000 settlement, so he could get on with finding another job.
The ISU run wasn't trending well – Kramer was 18-50 in six years, but in the middle of that was an 8-4 mark that was one of just seven winning seasons the Bengals have enjoyed since their 1981 national championship.
So Kramer has experienced the gamut in his three tours as a Big Sky head coach – from winless seasons to the FCS semifinals with Eastern. And his way with Roget's and a story would seem to make him a natural for the commentary they call color. Eleven Sports, which has a Big Sky TV package, put him to work doing the UC Davis-Portland State game, and he'll do EWU's game at Southern Utah later on.
"It's harder being a TV guy," Kramer said. "You've got a producer barking in your ear all the time. C'mon, I'm a linear thinker. I feel like a lineman playing quarterback."
Weir likely will keep him busy breaking down the Eagles and Grizzlies on Saturday, but his take on bigger-picture matters is instructive, too. Like the bloated 13-team Big Sky.
"Awful," he said, "and it's not working for anybody. At Idaho State, we didn't play UC Davis once. That's not a conference, that's a golf tour."
And Idaho's return to the league next year, contentious as it's been.
"I walked in those shoes as a player," he said. "The Idaho I played at in 1972 thought it was Division I and we lined up against everybody – and then couldn't beat anybody in the Big Sky. When Idaho ADs finally said we're going to hire a good coach and live within our means and recruit the Northwest, it made living around here good. Idaho took the rest of this league forward."
But he noted, too, that "this isn't the Big Sky of the '90s.
"We had six of seven quarterbacks leading the nation in passing and the head coaching ability was probably as good as it ever was," said Kramer. "It's just different."
And he's not even going into the "ancient" history.
"In '73, I was a sophomore and we played Montana State and I lined up across the third player picked in the NFL draft – Bill Kollar. Not the third round, the third player. Washington didn't have anybody like that. Montana State did – and that was great."
But the games in the Big Sky are still fun. Mike Kramer on the mic will make them more so.
Local journalism is essential.
Give directly to The Spokesman-Review's Northwest Passages community forums series -- which helps to offset the costs of several reporter and editor positions at the newspaper -- by using the easy options below. Gifts processed in this system are not tax deductible, but are predominately used to help meet the local financial requirements needed to receive national matching-grant funds.
Subscribe to the sports newsletter
Get the day's top sports headlines and breaking news delivered to your inbox by subscribing here.
---