News > Nation
Sen. Graham presses for support for GOP health bill
UPDATED: Wed., Sept. 20, 2017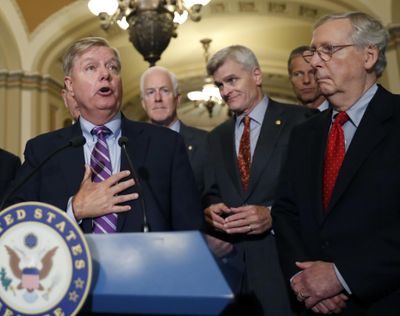 WASHINGTON – Republican Sen. Lindsey Graham on Wednesday appealed for support from fellow senators for his GOP health care bill despite "all its imperfections."
"We're going to vote," Graham told broadcaster Sean Hannity. "Everybody will be held accountable."
Graham made his comments in an overheard cellphone call in front of a passenger at Reagan National Airport before he boarded a flight. They were misinterpreted by the Associated Press as being delivered to a fellow senator. Graham's office did not dispute that interpretation when asked about the comments and did not say who was on the call with the senator. It turned out to be Hannity.
Graham said Republicans have for years been tripped up by their inability to offer a credible alternative to "Obamacare" even as they demanded its repeal. He said he thinks that alternative now exists with his bill and can prevail against tough odds with the help of President Donald Trump.
Graham and Trump have a history of bad blood, dating back to 2015 when the South Carolina senator called Trump a "jackass" for challenging his friend McCain's heroism in the Vietnam War. Trump responded by giving out the senator's private cellphone number and later branded him a "poor, poor, pathetic man."
But in the last-ditch GOP attempt to upend Obamacare, Graham is counting on help from the president. "I talk with President Trump like three times a day," he said.
Local journalism is essential.
Give directly to The Spokesman-Review's Northwest Passages community forums series -- which helps to offset the costs of several reporter and editor positions at the newspaper -- by using the easy options below. Gifts processed in this system are not tax deductible, but are predominately used to help meet the local financial requirements needed to receive national matching-grant funds.
Subscribe to the Coronavirus newsletter
Get the day's latest Coronavirus news delivered to your inbox by subscribing to our newsletter.
---