Sports > Idaho football
Idaho heads to South Alabama for another shot at Dallas Davis, Jaguars
UPDATED: Fri., Sept. 22, 2017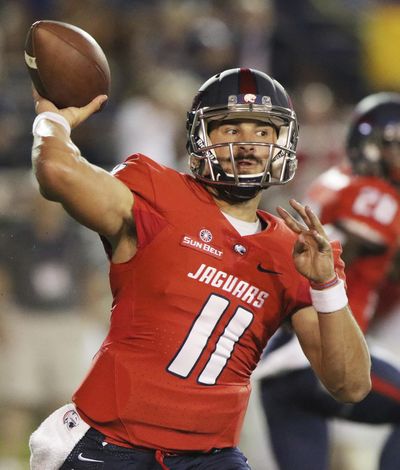 South Alabama will learn something about its depth when it hosts Idaho. The Jaguars picked up their first win last week, defeating Alabama A&M 45-0, after season-opening losses to Mississippi and Oklahoma State. But against the Vandals, the Jaguars will be led by backup quarterback Dallas Davis, in for starter Cole Garvin, who injured an ankle against OSU.
Things could be worse. Davis started 10 games last year before injuring a shoulder, and against the Vandals he accounted for a career-high 374 yards of total offense in a 38-31 loss. Last week, he threw for 255 yards, including touchdowns of 66 yards to Sa'Moy Collier and 28 yards to Jahmmir Taylor. But Davis could have a new center. Dominic Esposito has only a 50-50 chance of playing against Idaho after injuring a knee.
The Jags' starting corners were projected to be third and fourth on the depth chart when the season began. But because of injury and academic losses, Darian Mills and Tobias Moss have moved into the starting lineup. They are more than adequate, according to Jaguars coach Joey Jones. But it is unlikely two cornerbacks can go all the way against the Vandals, and the Jags get pretty deep in the weeds when they substitute. One backup is a redshirt freshman. Another is a converted wide receiver.
Idaho 225-pound running back Isaiah Saunders ran for 142 yards and three touchdowns against South Alabama last year and was named Sun Belt Conference offensive player of the week.
One player Idaho probably won't have to worry about is Gus Nave. In his first start last week, he ran back a blocked field goal 83 yards for a score and intercepted a pass. The effort got the freshman cornerback conference special team player of the week honors, but he is nursing a knee injury and is doubtful against the Vandals.
Even as the Jaguars dig deeper into their depth chart, Idaho coach Paul Petrino said they find talent.
"There is no question they are one of the most talented teams in the league," Petrino said. "They have great speed. … They play the game the way it is supposed to be played, with intensity and speed."
Quarterback Matt Linehan last week against Western Michigan moved into fourth place on Idaho's career passing yardage list. "(The Jaguars) like to mess with you," Linehan said. "I've got to recognize what they do postsnap. We'll change the snap count and do a couple of other things to try to get them to show their hand."
Although the Vandals were overtaken in the fourth quarter by Western Michigan and fell 37-28, Petrino said they played their three best quarters of football this year. "We've got to make the same strides we made between (the second game against UNLV, a 44-16 loss) and Western Michigan," Petrino said. "If we can do that, it gives us a chance to win."
Local journalism is essential.
Give directly to The Spokesman-Review's Northwest Passages community forums series -- which helps to offset the costs of several reporter and editor positions at the newspaper -- by using the easy options below. Gifts processed in this system are not tax deductible, but are predominately used to help meet the local financial requirements needed to receive national matching-grant funds.
Subscribe to the sports newsletter
Get the day's top sports headlines and breaking news delivered to your inbox by subscribing here.
---