News > Spokane
Annual Valleyfest parade lights up Sprague Avenue
Sat., Sept. 23, 2017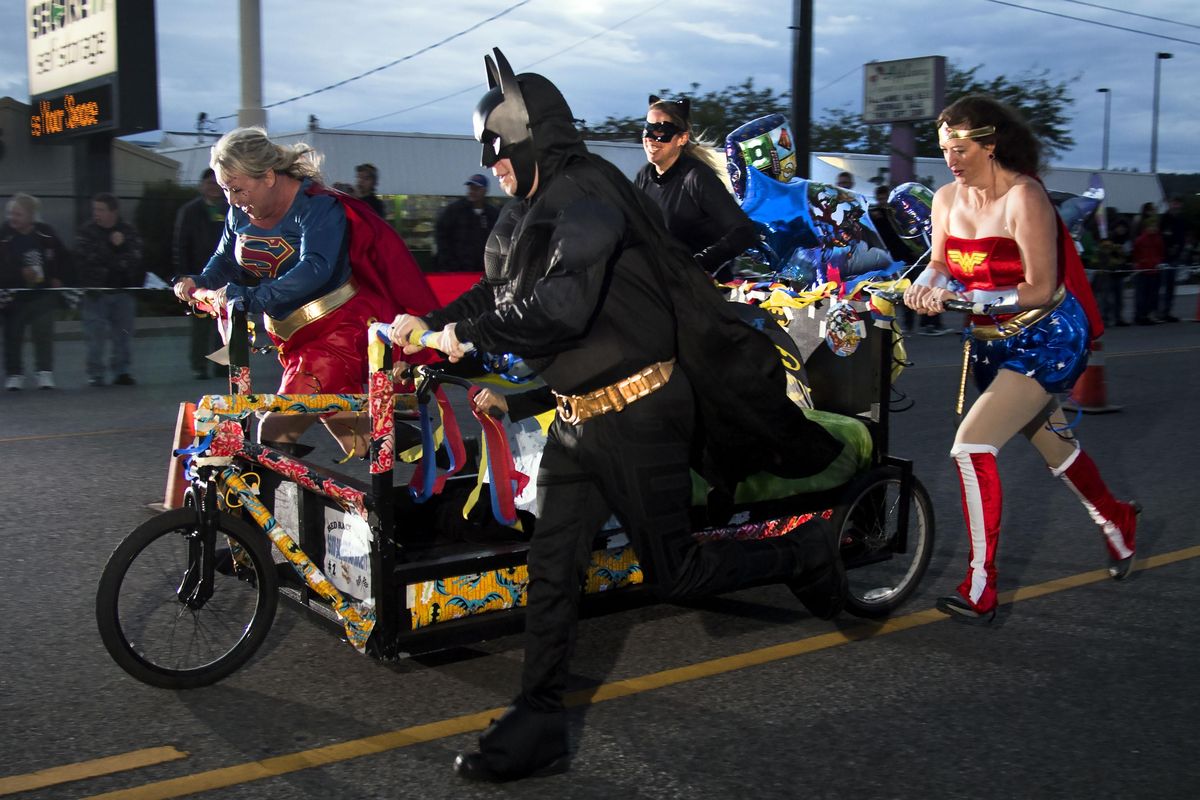 Superheroes with the Good Samaritan bed race team make their way to the finish line during the Lion Club Bed Races held on opening night of Valleyfest, Friday, Sept. 22, 2017, in the Spokane Valley. Colin Mulvany/THE SPOKESMAN-REVIEW (Colin Mulvany / The Spokesman-Review)
Spokane Valley shut down one of its busiest arterials Friday night as people lined up along a darkened Sprague Avenue for Valleyfest's annual Hearts of Gold Parade.
The more experienced among them brought camping chairs, warm coats and blankets to deal with the chill night air.
Scott Fiedler was among those getting parade-ready as night fell, decked out in a kangaroo costume for his ride in a small wooden train run by the El Katif Shriners. It's his second year appearing in seven or eight parades a year.
"When the circus comes to town, there will be animals, so we're animals on a train," he said.
His group travels to nearly every parade in the area. "It's all for the kids," he said. "That's our whole purpose is to serve the kids at Shriners Hospital."
He was accompanied by a cat and a duck, the latter played by Bill Eberly. Eberly said that for the past 30 years he has worn a chicken costume – so often, in fact, that he's worn out three of the costumes.
Camille Nielsen and her daughter, 8-year-old Elise, were among those who came prepared with blankets and chairs. It's their third time coming to the event together while leaving all the boys – Nielsen's husband and two sons – at home.
Nielsen confessed that what she was really excited for were the Lions Club bed races that traveled down Sprague before the parade.
But she likes having a parade in Spokane Valley where she lives rather than having to go to downtown Spokane. And having it at night adds a little ambiance. "I think the evening parade gives it an extra sense of fun," she said.
Sawyer Clizer and his wife, Sarah, also came for the bed races. "I didn't know about the parade until my sister told me," Sarah Clizer said.
The couple brought their children and their giant Saint Bernard, Koda, to the event. They joined the crowd in the Sprague turn lane to watch the parade as it sauntered and rolled down the eastbound lanes. They were pleased by their first visit to the annual event, they said.
"It's pretty cool," Sawyer Clizer said.
The parade boasted dozens of entries and traveled down a seven-lane road, but it still had the feel of a small-town event, right down to the groups of kids from the Cub Scouts, the Girl Scouts and all the local schools. There was even a young girl riding along in her pink, motorized Barbie car.
And midway through the parade, the Lilac Festival group carried a giant banner in front of their float with two simple words on it: Freeman Strong.
Local journalism is essential.
Give directly to The Spokesman-Review's Northwest Passages community forums series -- which helps to offset the costs of several reporter and editor positions at the newspaper -- by using the easy options below. Gifts processed in this system are not tax deductible, but are predominately used to help meet the local financial requirements needed to receive national matching-grant funds.
Subscribe now to get breaking news alerts in your email inbox
Get breaking news delivered to your inbox as it happens.
---