News > World
On the hunt: Lithuanians race to pick wild mushrooms
Sat., Sept. 23, 2017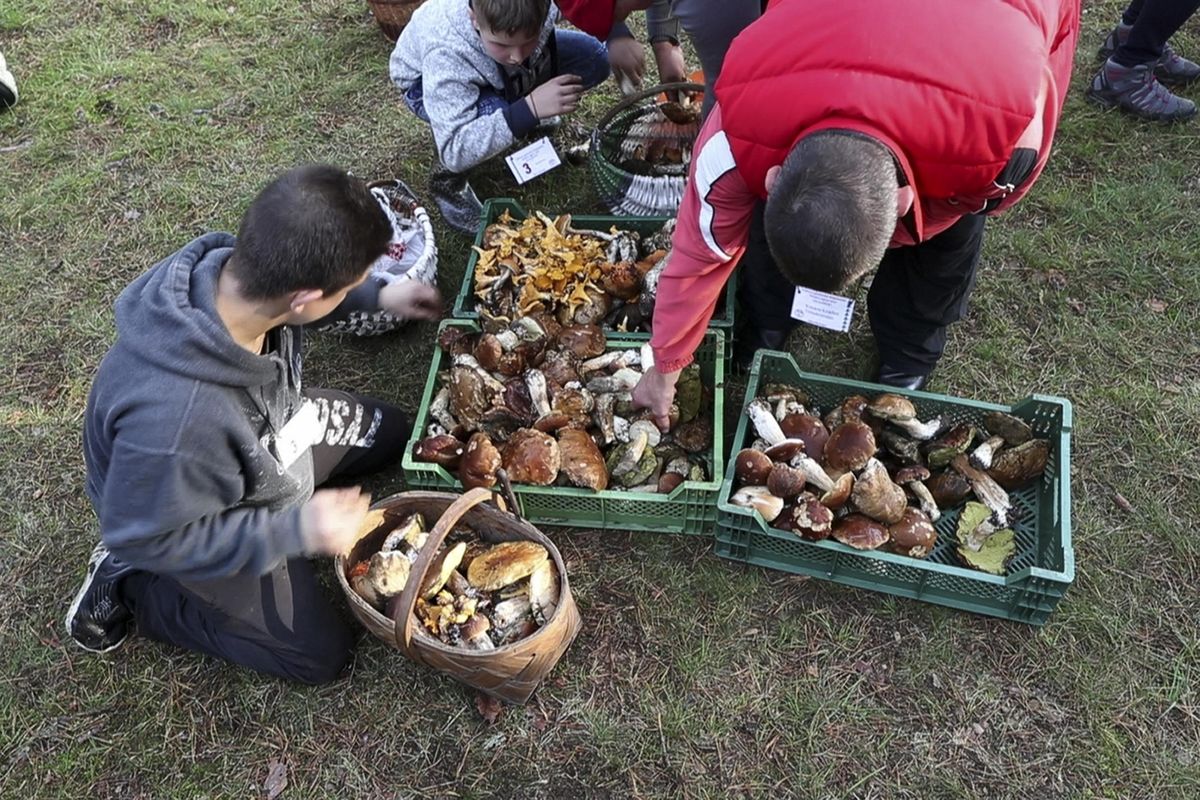 In this grab taken from video, young boys collect mushrooms at the foraging festival, some 40 miles south of the capital of Vilnius, Lithuania, Saturday, Sept. 23, 2017. Thousands of Lithuanians have been running around with baskets and buckets in a pine forest in southeastern Lithuania for the national championship of wild mushroom picking. (Mindaugas Kulbis / Associated Press)
VARENA, Lithuania – Hundreds of Lithuanians ran around with baskets and buckets Saturday in a southeastern pine forest.
Why you ask? It's the national championship of wild mushroom picking – a competition always held on the last Saturday in September.
That's when conditions are "not too dry, not too wet, the humidity is perfect," explained mushroom hunter Janina Juodine.
A rainy, relatively warm summer created ideal conditions for the foraging festival in Lithuania, where forests cover more than 33 percent of the Baltic country and mushroom-hunting is considered the second-most popular sport after basketball.
"Walking between trees and looking for big brown mushrooms is a great way of spending a Saturday," said Julius Sostakas, an IT engineer from Vilnius. "It is a part of our cultural heritage."
Mushrooms – fresh, dried, salted or marinated – are considered an essential element in Lithuanian cuisine, used in many dishes to add special flavor to meat, fish and potatoes.
More than four hundred edible varieties can be found in Lithuania's forests, including edible boletus, slippery jacks, chanterelles, blewits and morels.
The festival Saturday took place 37 miles south of the capital, Vilnius, close to the border with Belarus. It drew thousands of onlookers as well as local mushroom sellers dressed in Lithuanian folk costumes – colorful knee-long skirts with embroidered aprons and woven sashes.
"This is a great event," contest judge Rimute Avizininene told the Associated Press.
She said 21 teams had participated, adding that the largest picked edible boletus – known in the country as the king of Lithuania's forests – weighed 22 ounces.
A local team called Mushroom Nightmares won Saturday's contest by delivering 128 pounds of mushrooms.
Local journalism is essential.
Give directly to The Spokesman-Review's Northwest Passages community forums series -- which helps to offset the costs of several reporter and editor positions at the newspaper -- by using the easy options below. Gifts processed in this system are not tax deductible, but are predominately used to help meet the local financial requirements needed to receive national matching-grant funds.
Subscribe now to get breaking news alerts in your email inbox
Get breaking news delivered to your inbox as it happens.
---