News > WA Government
Sen. Murray asks Gov. Brown for toll voting privileges
Sat., Sept. 23, 2017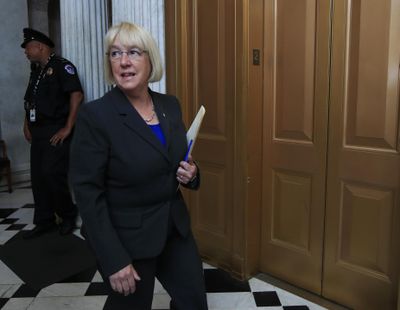 Another voice has joined the conversation about tolls on Portland-area freeways. U.S. Sen. Patty Murray, D-Wash., sent a letter to Oregon Gov. Kate Brown on Friday asking for Washington to have additional input in the state's studies and implements tolling on Interstates 5 and 205.
Tolling was proposed as a potential revenue stream in Oregon's $5.3 billion transportation plan passed by the Legislature this summer.
"There is no question that regions in Oregon and Washington are experiencing unprecedented growth which increases congestion, freight bottlenecks and challenges in maintaining existing infrastructure," Murray wrote. "As the State of Oregon works to implement this provision, I urge you to conduct an open and transparent process to ensure voices on both sides of the Oregon-Washington border are heard and considered in any final recommendations."
Rep. Jaime Herrera Beutler, R-Battle Ground, has been Washington's most outspoken critic of Oregon's proposed tolling. Herrera Beutler proposed an amendment to the federal spending package to prevent Oregon from using federal transportation dollars to establish or collect tolls at the state line. That amendment awaits approval by the U.S. Senate. It was approved by the U.S. House earlier this month.
Murray asked Gov. Brown to give Washington voting privileges on a designated committee that would consider tolling. The Washington State Department of Transportation already has been invited to serve on the committee, but without voting authority.
"I respectfully request you make WSDOT a voting member of the committee," Murray wrote. "Further, any recommendations developed by the committee could have a direct impact on Southwest Washington residents, commuters and businesses. Therefore; I also request that the city of Vancouver be added to the committee as a voting member."
Washington Gov. Jay Inslee recently weighed in on the situation in a letter to Herrera Beutler, confirming that a representative from WSDOT has been appointed to the committee discussing tolls.
"We have received no indication that Oregon plans to establish tolls on the state line between Washington and Oregon," Inslee wrote.
Murray also said she supports and encourages the replacement of the Interstate 5 bridge.
"We need a new bridge that is seismically sound; alleviates congestion; improves connectivity, transit, and freight movement; increases market access for businesses; and works for residents on both sides of the Columbia River," she wrote. "Any decision with respect to tolling or value pricing on the I-5 crossing should occur through a larger, regional conversation. Implementing such mechanisms through HB2017 could jeopardize ongoing efforts to have a comprehensive discussion to ensure we address the region's transportation and economic needs through a new I-5 crossing."
The Columbian reached out to Gov. Brown's office for comment but did not hear back by the end of the business day Friday.
Local journalism is essential.
Give directly to The Spokesman-Review's Northwest Passages community forums series -- which helps to offset the costs of several reporter and editor positions at the newspaper -- by using the easy options below. Gifts processed in this system are not tax deductible, but are predominately used to help meet the local financial requirements needed to receive national matching-grant funds.
Subscribe now to get breaking news alerts in your email inbox
Get breaking news delivered to your inbox as it happens.
---