News > Spokane
Come to Spokane and get out: Outdoor activities abound
Sun., Sept. 24, 2017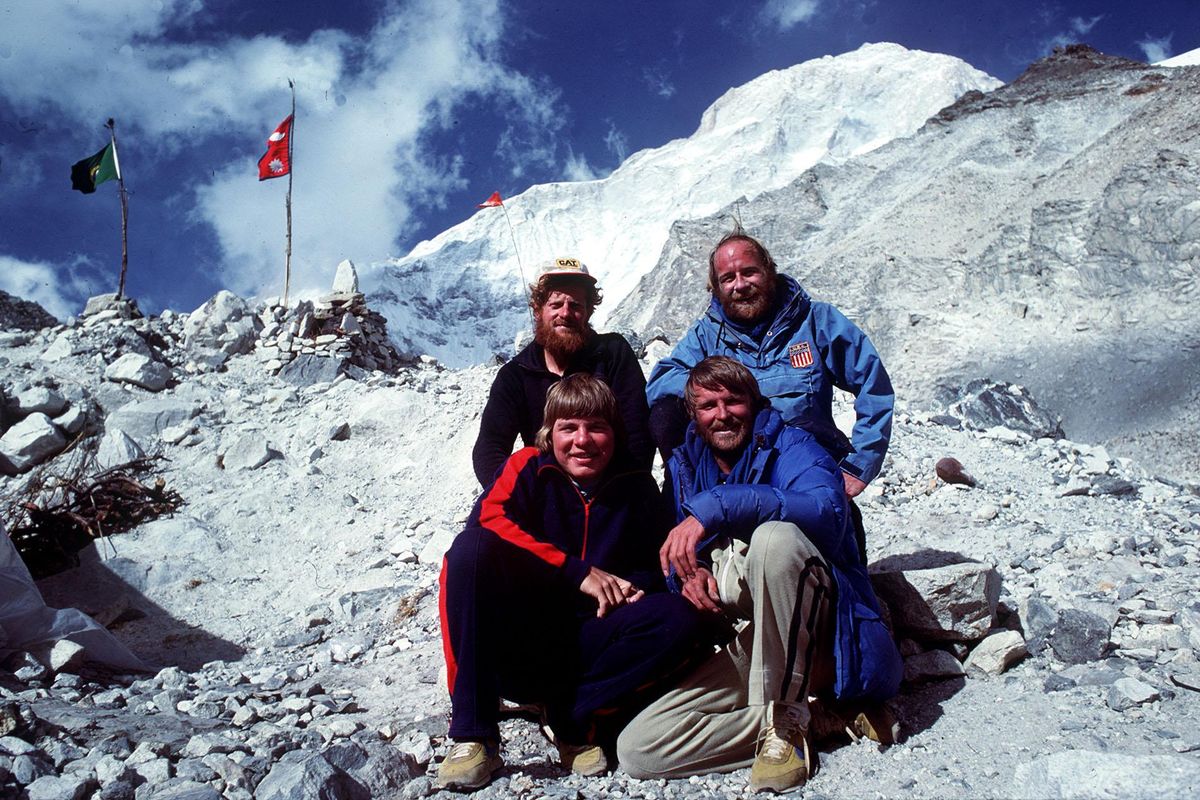 The 1980 Makalu team all from Spokane. Back row: Jim States and Chris Kopczynski. Front row: Kim Momb and John Roskelley. Makalu is located on the border of Nepal and China. (Photo by Chris Kopczynski.)
Spokane has rightfully been mentioned in several national magazine lists titled something like "America's Best Outdoors Towns." It's never been ranked No.1. Perfect.
Being just off the hot-spot radar is the best thing that keeps happening to River City.
Among this area's most underrated assets is proximity to a wealth of outdoor attractions – without the crowds.
Iconic national parks and other world-class attractions are outside of our immediate backyard. Although Rainier and Glacier are close, our favorite regional hangouts are spared from busloads of tourists, bear jams and lotteries for access permits.
We have plenty of elbow room for swimming and boating on a splashing number of lakes, large and small. We're surrounded by millions of acres of public land ranging from local and state parks to vast Bureau of Land Management sagelands, Lake Roosevelt National Recreation Area, federal wildlife refuges and national forests.
Spokane is an easy drive from trailheads in the Selkirk Mountains, the Cabinets, Bitterroots, Blues, Wallowas and other places with drop-dead beautiful scenery as well as butt-busting challenges.
Within a couple hours from town, we can be picking huckleberries or bugling in a bull elk.
I was 25 years old when I left my native Montana and moved here four decades ago. I drove into Spokane in my Datsun hatchback, which was stocked with a wider variety of gear than the White Elephant Stores. Canoe, bicycle, skis for snow and water and a bag of duck decoys overwhelmed the roof rack. The interior was crammed to the ceiling with gear for backpacking, camping, climbing, hunting, fishing, paddling and more.
Every bit of that gear was put to use within a few hours drive from my new home.
Outdoor recreation isn't a pastime for people passionate for getting out. It's their lifestyle. They live here for it.
Generations of families have etched their traditions and memories on the snowy slopes of Mount Spokane or at "the lake," whichever one that may be.
An angler can fish for native redbands in the Spokane river, for trout, bass, panfish and tiger muskies a few minutes from town or head south less than two hours for ocean-running salmon. Saltwater tuna and halibut charters are within easy reach.
The Centennial Trail, Fish Lake Trail, Columbia Plateau Trail, Trail of the Coeur d'Alenes, Route of the Hiawatha and John Wayne Trail have made Spokane and Coeur d'Alene hubs for the most expansive rail conversion-type trail networks in the country.
Spokane County residents sleep within a few minutes to a few hours from grizzly bears, gray wolves, cougars, bighorns, sturgeon, spring chinook, cutthroat trout, bald eagles and trumpeter swans.
Vast areas of the country no longer have these icons of wildness or clean water, but we do. Their presence shouts, "This place is special!"
Of all the outdoor assets Spokane-area residents relish, none is more significant than our signature river. It flows through town, linking us to the St. Joe River and the Bitterroot Divide at the Montana border downstream to the Columbia River at Lake Roosevelt.
Fish the Spokane River, swim it, float it or simply soak in the mist and power of the falls from the Monroe Street Bridge during spring runoff. Rowers and SUPers make ripples on early morning flatwater while thrill-seeking rafters and kayakers run a rodeo of whitewater rapids – all within the city limits.
Adding to the region's outdoor recreation foundation are clubs for virtually every outdoor pursuit, from the ATVers cruising the trails of North Idaho to the hang gliders soaring off Steptoe Butte. Spokane attracts people who get out.
No group has modeled the region's interest in outdoor recreation as long as the Spokane Mountaineers. Founded more than a century ago by five women librarians, the club has inspired and taught people to reach new heights in a spectrum of ways. John Roskelley and Chris Kopczynski rose from the ranks of the club's annual Mountain School to climb the world's highest peaks.
They learned the ropes in Spokane Valley, at Minnehaha Rocks and Big Rock, before branching out to the American Selkirks, Canadian Rockies and beyond. Others have followed.
Groups such as the Mountaineers, the Inland Northwest Wildlife Council and Spokane Fly Fishers give enthusiasts the community as well as the skills.
Spokane is a community that gives up its streets to 45,000 runners and walkers each year for Bloomsday and in the fall for a legion of cyclists in SpokeFest. Recreation profits from the enthusiasm that blooms from mass-participation events.
Nordic skiers, most of whom will line up for the annual Langlauf cross-country ski race in February, were volunteering starting in July to clear the 36 miles of trails that will be groomed this winter at Mount Spokane State Park.
Hikers are stepping up where Forest Service budgets have been cut short to maintain trails. Snowmobiling groups are splitting firewood for warming huts across the Panhandle.
Priest Lake alone offers access to up to 400 miles of groomed snowmobile trails. And just beyond those routes are remote Selkirk Crest sanctuaries. A day or two of muscle power and sweat might put a backcountry skier near the tracks of a rare woodland caribou.
Bucket list checkoffs for friends of mine have included climbing the vertical granite of Chimney Rock, SUPing the entire Spokane River, catching a steelhead on a fly rod, hiking the entire 45 miles of the Kettle Crest National Recreation Trail in a single day, drawing a moose hunting tag and hearing a gray wolf howl on Rathdrum Mountain.
All of that's within reach of here.
Spokane is a mecca for fish, wildlife and outdoor recreation because we still have the water, land and people who understand its importance.
A shining example is the Spokane County Conservation Futures Program, funded since 1994 by a voter-approved tax to maintain open spaces that would otherwise be developed. The 8,000 acres protected so far are wildly popular with hikers, mountain bikers, climbers, birders and nature lovers. They give teachers easy access to outdoor classrooms and help us find respite in our neighborhoods.
The planet and its wildlife weren't designed to deal with development on every acre, nor was the human psyche.
Spokane has figured that out.
Local journalism is essential.
Give directly to The Spokesman-Review's Northwest Passages community forums series -- which helps to offset the costs of several reporter and editor positions at the newspaper -- by using the easy options below. Gifts processed in this system are not tax deductible, but are predominately used to help meet the local financial requirements needed to receive national matching-grant funds.
Subscribe now to get breaking news alerts in your email inbox
Get breaking news delivered to your inbox as it happens.
---