A&E > Art
For ceramicist Gina Freuen, it's all about bringing art home
Sun., Sept. 24, 2017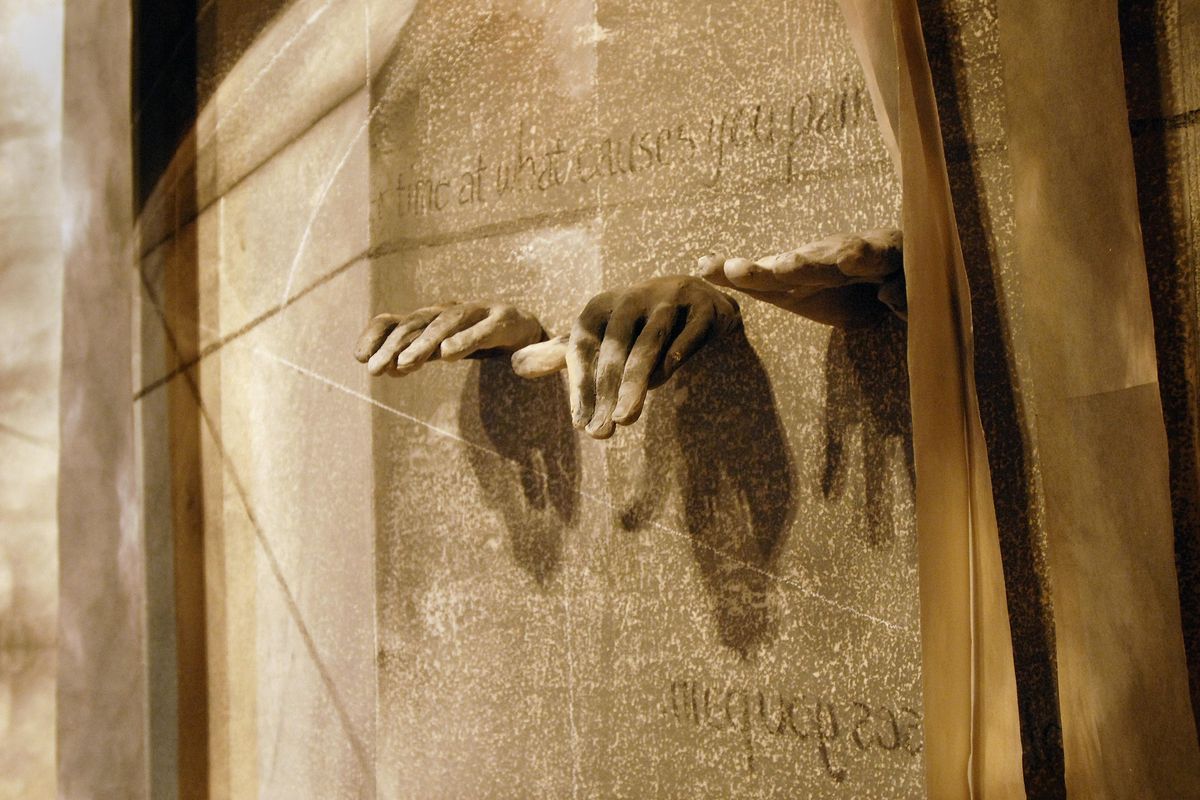 Gina Freuen's "Self-Portrait Obscured" was featured in an exhibit at the Jundt Art Museum in 2007. (Brian Plonka / The Spokesman-Review)
There are no Ikea prints or Pottery Barn mugs in Gina Freuen's 1939 farmhouse nestled in the Little Spokane River Valley. Only handmade bowls, cups and plates picked up from local and regional potters grace the artist's shelves and cupboards.
"I collect pottery, and almost every piece you see was handmade by someone I know," Freuen shrugged, waving both hands at a collection of wildly shaped and multi-hued pitchers, teapots and sculptures arranged on shelves in her family room. "There are some fun stories up there." The creators of the pieces lining the walls are a virtual who's-who among the region's clay artists.
If Freuen had her way, everyone would "buy local" for every piece of art displayed on their walls or shelves. Next weekend, in her capacity as co-founder of the Little Spokane River Artist Studio Tour, the professional potter will again pitch in to provide a venue to help further her vision of a world where unique art finds new owners.
Freuen and three other artists living along the Little Spokane River – potter Jill Smith, and painters Shani Marchant and Kay O'Rourke (Freuen's sister) – will open their homes on Saturday to three dozen other professional artists, all of whom will display their works for the viewing public from 10 a.m. to 5 p.m. The tour, celebrating its 10th anniversary this year, has become a cherished arts event for those looking for high quality crafts made locally. The fact that the show is in a country setting where other artists live and create is an added draw.
"I think people love getting out on a fall day and going for a walk and enjoying art," Freuen said.
For a map of the studios and a list of all 35 artists, including jewelers, sculptors, potters, painters, dollmakers, and lampmakers, on the 5-mile tour, go to www.littlespokanestudios.com. There will be free parking at all stops.
The tour is not the only endeavor Freuen has pursued to put art in people's homes. Thirty-two years ago, she helped create and manage ArtFest, the annual outdoor festival that continues to support artists and the Northwest Museum of Arts and Culture. She also helped organize and served on the board of Inland Craft Warnings, providing the format, structure and audience development process for the annual juried exhibitions that were highly anticipated among seekers of contemporary fine crafts. She helped run that event for more than 25 years until it folded in 2012. Freuen also served as mentor to countless creatives during her past four decades working in the arts, both in her role as an art instructor to emerging artists at Gonzaga University for twenty years until her recent retirement and as a friend to established artists all her life.
"I have always had a strong belief that you have to make your work, but you also have to find homes for your work, so you really need to connect with your community," Freuen said.
With striking blue eyes, a ready smile and strong opinions, Freuen's energy is formidable. Her drive is evident out in the community and inside the studio. It propels her through a rigorous artist's regimen of working most days in the detached studio building on her secluded land or traveling to exclusive regional kilns to produce her whimsical and evolving porcelain and stoneware vessels.
Freuen's art has evolved in recent years. She uses a modified gas fire kiln attached to her studio to produce the wood and soda fired pieces that have become her obsession. She employs multiple techniques – wheel throwing, slab building, pressed, rolled or carved-in textures with some hand drawing.
The reflective mood now evident in her pieces is likely due to several factors. First might be the personal losses she's experienced, including the sudden death of her husband in 2014 after 40 years of marriage. Her father died in 2010, revealing the true extent of her mother's Alzheimer's. During the years she helped her mother "on her journey," as Freuen puts it, she began decorating her pots with figurative drawings. At first, it was a matter of turning the entire pot into a figure that could be held and cared for. Eventually the figures seemed to be swimming or searching on the surfaces of the clay, seeking their way.
"Years ago (renowned local artist Harold Balazs) asked me: 'When are you going to start drawing on your pots,' " Freuen recalled. "When I was with mom those years, I had to figure out how to work in my studio for just an hour, rather than the four hour blocks I usually needed. Harold's voice popped in my head, and I realized I could carve for an hour, put it away and come back. For the first time in my life, my work became therapeutic."
Another huge influence on Freuen's work has been her annual pilgrimages to a wood fired kiln in southern Oregon with a group of women. "So the first time I drove 10 hours to an all-women's wood firing, never done it before, and when (my works) came out of the kiln I hated all of it," Freuen recalled. "My friend looked at me and said 'box it up and don't look at it again for a month."
She never did come to like that work very much, but she did fall in love with the process. "I loved working with a group of people whom I could just sit around with and talk clay," Freuen said. "There's really no community in Spokane where we all gather, and it's sort of what we've tried to create at Trackside."
Trackside Studio Ceramic Art Gallery is the art space that Freuen joined three years ago as an exhibiting artist alongside ceramic artists and Trackside co-owners Mark Moore and Chris Kelsey. In a written statement, Kelsey credited Freuen for being "pivotal" in his art-making when she snagged him an invitation to take part in a five-day wood firing in Port Orchard, Washington. That experience, and Freuen's advice and encouragement, was life-changing for Kelsey in 2009, igniting his passion for wood firing in a large anagama kiln. Last year, Freuen even donated space on her property to help him realize his dream of building his own anagama wood kiln.
"Making the arts accessible is something Gina strives for," Kelsey wrote. "She has worked very hard organizing exhibits and workshops of nationally known ceramic artists, making the gallery known for high quality contemporary ceramic work."
Freuen's contributions for the past 40 years to the greater arts community will be recognized at Spokane's YMCA Women of Achievement Luncheon on Thursday at the Davenport Grand Hotel. She got word that she had won the organization's Leadership in Arts and Culture Award while working this summer as the official artist on Gonzaga's archeological dig in Turkey.
"When I found out that the person trying to get in touch with me in Turkey wanted to give me an award it was the most embarrassing thing to me on earth," Freuen said. "I've always let my art speak for me and the things I'm doing."
Jim Kolva, who co-owns the Kolva-Sullivan Gallery next to Trackside Studio in downtown Spokane, has collected several of Freuen's pots over the past three decades. "(She is) one of those rare artists who will take the bold step to move forward in the exploration of new ideas and techniques," Kolva wrote in support of Freuen's award nomination. "(Freuen) contributes a new dimension to Spokane's art culture.
"We are all here because of the amazing people who helped us along," Freuen said. "I've got people coming to help me this weekend who helped me with ArtFest 25 years go, and they are still helping me!"
Local journalism is essential.
Give directly to The Spokesman-Review's Northwest Passages community forums series -- which helps to offset the costs of several reporter and editor positions at the newspaper -- by using the easy options below. Gifts processed in this system are not tax deductible, but are predominately used to help meet the local financial requirements needed to receive national matching-grant funds.
Subscribe to the Spokane7 email newsletter
Get the day's top entertainment headlines delivered to your inbox every morning.
---