News > Spokane
Key shopping: Where to find stuff in Spokane
Sun., Sept. 24, 2017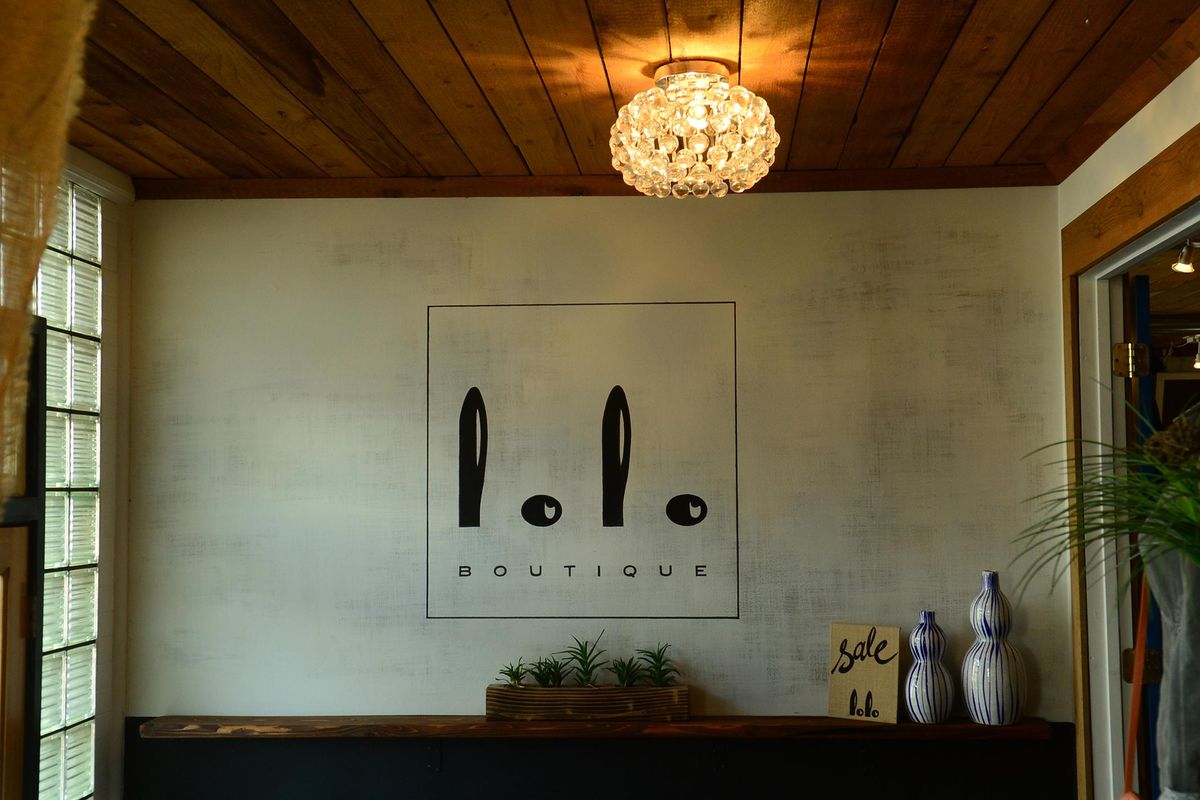 Lolo Boutique located on Second Avenue has added a home section. Liz Kishimoto THE SPOKESMAN-REVIEW (Liz Kishimoto / The Spokesman-Review)
Go ahead. Have a spree.
From malls anchored with national department stores to locally owned boutiques filled with new and gently used or vintage furniture, clothing, accessories, books and other gifts – both kitschy and refined – Spokane offers plenty of options for shoppers.
Here's a look at some of the shopping highlights in Spokane.
Gifts and Things
Exposed brick and a mural with a shortened quote from "To Kill a Mockingbird" greet customers at Atticus Coffee and Gifts, an eclectic and comfy downtown shop that's hip without being hipster, cool without being too cool for school. Here, find Vintage Spokane Prints by local artist Chris Bovey and apparel from the local designer The Great PNW, which specializes in T-shirts, sweatshirts and hats celebrating this region. Look, also, for scented candles and soaps, loose-leaf tea, books, Spokane-themed mugs, kitchen items, ornaments as well as gift cards and whimsical wrapping paper.
Neighboring Boo Radley's specializes in quirky gifts and trinkets – from silly socks, magnets and mugs to flasks, dish towels, puzzles, games, books, T-shirts and dashboard ornaments.
Auntie's Bookstore, founded in 1978 and located in the Liberty Building on West Main Avenue in downtown Spokane, is the area's largest independent book seller. It carries new and used volumes as well as T-shirts and other gifts. Shop its sister store, Uncle's, for games, puzzles and more.
Kizuri, also on West Main Avenue in downtown, specializes in fair-trade and earth-friendly gifts as well as locally made items. Look for soap, baskets, jewelry, clothing, furniture, art and musical instruments.
At The Kitchen Engine, in the old Flour Mill on the north bank of the Spokane River across from downtown's Riverfront Park, customers can find cookware, cutlery, baking accessories and all kinds of kitchen tools. The store's anniversary sale in mid-September is a popular event, especially among its loyal customer base. Here, you can also take cooking classes and get your knives sharpened.
Also downtown, historic Steam Plant Square offers several boutiques, including Paper Nerd, a stationery and gift store; White Lavender, which specializes in home decor, gifts and apparel, and carries products from Joanna Gaines' Magnolia Market; and French Toast, which carries children's clothing, toys, book and gifts.
At the Davenport Home Store, inside the Historic Davenport Hotel, find the establishment's signature peanut brittle, made in-house and pulled on a marble slab in the basement pastry shop. Shoppers can also purchase the famed Davenport mattress as well as high-end home accessories from linens to gifts.
The White Elephant, founded in 1946 and easily recognized by its red and white paint, is a Spokane institution. Find toys as well as boating, camping, fishing and hunting supplies at both locations. The white elephant decoration in front of the North Division Street store used to be one of the rides at the old Natatorium Park. And the white elephant on top of the East Sprague Avenue store used to be motorized. (At one time, it even trumpeted.)
The General Store, also founded in 1946 and located on North Division Street, is a one-stop shop for toys, household items, outdoor gear, gardening equipment, hardware and automotive supplies.
And, on North Monroe Street, find the largest of the two REI stores in Eastern Washington, chock full of outdoor gear and clothing.
Opened in 1989, the record shop 4,000 Holes on North Monroe Street specializes in used vinyl, CDs and more. Groove Merchants in the Garland District also specializes in used vinyl as does Resurrection Records on West Northwest Boulevard and Recorded Memories, established in 1987 and located on North Hamilton Street.
Vintage and Consignment
Clothing and accessories at Fringe and Fray in downtown Spokane embrace a whimsical, boho-chic feel. The boutique specializes in vintage dresses as well as gently used designer jeans and boots. Look, also, for more modern, often patterned, sometimes floral dresses, skirts and tops as well as a limited selection of menswear, especially plaid shirts. Merchandise changes frequently and is often highlighted on the shop's Instagram account or seasonal, special event sales parties. The shop also features locally made Coy jewelry, known for its clean lines, as well as the charm of Sarita Star Designs' leather feather and fringe earrings.
Items at nearby Echo are carefully selected and displayed – and are generally in impeccable condition. Some – such as a St. John jacket and an animal print Ann Taylor sheath dress on a recent visit – still include their original price tags. In fact, it's difficult to tell the clothing and accessories at this downtown Spokane boutique are here on consignment because the collection is so well curated.
In the South Perry neighborhood, Veda Lux specializes in vintage and funky fashion, particularly handmade, eclectic jewelry – from necklaces and asymmetrical earrings to decorative bobby pins. Each piece, according to owner Summer Hightower on the shop's website, is "a window into my romantic world of badassery." Her teeny-tiny shop, known as The Dollhouse, is jam-packed with dresses, outerwear and one-of-a-kind finds.
Tossed and Found on North Monroe Street offers a treasure trove of antiques and eclectic vintage pieces. Look for home furnishings from tables and chairs to cabinets to dressers as well as some clothing and other curios. Also on North Monroe Street, find 1889 Salvage Co., which specializes in reclaimed retro goods – from furniture to silverware.
Boutiques
Jigsaw, a high-end boutique on West Main Avenue, specializes in contemporary statement pieces. It's difficult to miss this stylish shop, located on a busy downtown corner with oversized windows stocked with well-dressed mannequins. Wardrobe consultations are available to help keep clients looking their best.
There's a lot of sparkle at Finders Keepers, which specializes in formal wear – for weddings, quinceaneras, proms, homecomings, the Cobra Polo Classic, Epicurean Delight, Furr Ball or any other fancy occasion. Don't be fooled by the size of the front room; this West Main Avenue shop is long and deep, and its several rooms are jam-packed full of frills and sequins and bling. There's jewelry and accessories along with dresses. And, perhaps better yet, Finders Keepers tracks who's attending which event in what dress.
Lolo, on West Second Avenue in downtown, is a highly Instagrammable store, with women's apparel, shoes and accessories as well as home decor – from scented candles and ceramics to other housewares, gifts and kitchen utensils. Items and displays are carefully selected and well curated. Local artists consign work here, too.
In the ever-growing Kendall Yards development on the north bank of the Spokane River across from downtown, Boutique Bleu offers California-casual weekend wear – from mini and maxi dresses to floral tops and artsy T-shirts.
Malls
The Spokane area includes three main shopping malls populated with well-known national stores.
River Park Square in downtown Spokane is anchored by the high-end retailer Nordstrom and features one of the Inland Northwest's largest selections of shops. Tenants range from the home decor store Pottery Barn and kitchen outfitter Williams-Sonoma to Banana Republic clothier for men and women, The Gap and Gap Kids, beauty shop Sephora, women's clothiers White House Black Market and J. Jill, the home decor shop To Market, hipster chain store Urban Outfitters and Bath and Body Works, among others. Across the street from Nordstrom, find Anthropologie, which specializes in boho-chic women's wear as well as home accessories, and the boutique &Kloth, which offers women's wear and jewelry as well as home decor and gifts. Tucked just inside the front door is the small coffee bar &Kup, which features select pastries as well as a few tables and chairs – giving tired feet a break from shopping. Nearby but not in the mall, find a Carhartt store for durable workwear.
On the North Side, NorthTown Mall – anchored by Macy's, Marshalls, JCPenney, Kohl's and Sears – features clothing stores, including American Eagle Outfitters and Express, as well as Victoria's Secret lingerie shop, Claire's and Fuego for accessories and gifts, Barnes and Noble Booksellers, the plus-size shop Torrid, music-inspired fashion at Hot Topic, The Body Shop, Bath and Body Works, and more. Across the street in the NorthTown Square complex, look for the shoe retailer DSW, women's clothing store Lane Bryant and beauty shop Ulta, among other offerings.
East of Spokane, Spokane Valley Mall is also anchored by Macy's, Sears and JCPenney. The complex features Nordstrom Rack, where shoppers can find discounted items from the department store, as well as TJ Maxx, with discounted home decor, clothing and miscellaneous household items. Look, also, for Bath and Body Works, American Eagle Outfitters, Aeropostale, Hollister, H&M, Forever 21, Hot Topic and more.
Local journalism is essential.
Give directly to The Spokesman-Review's Northwest Passages community forums series -- which helps to offset the costs of several reporter and editor positions at the newspaper -- by using the easy options below. Gifts processed in this system are not tax deductible, but are predominately used to help meet the local financial requirements needed to receive national matching-grant funds.
Subscribe now to get breaking news alerts in your email inbox
Get breaking news delivered to your inbox as it happens.
---