News > Nation
Right-wing activist holds short, small California rally
Sun., Sept. 24, 2017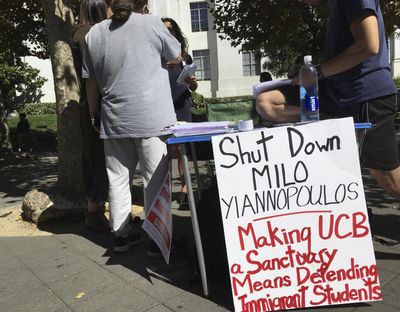 BERKELEY, Calif. – Right-wing provocateur Milo Yiannopoulos blew kisses, posed for selfies and briefly addressed a few dozen supporters at the University of California, Berkeley while a slightly larger crowd protesting his blink-and-you-miss-it appearance Sunday was kept separate by police.
Yiannopoulos, wearing sunglasses and an American flag hoodie under a denim jacket, spoke without amplification for a few moments Sunday on the steps of Sproul Hall. Then he led a rendition of the Star Spangled Banner before being whisked away in a car.
Jake Wall, a college student from Los Angeles in town to visit his girlfriend, described Yiannopolous' appearance as a "meet and greet." He said Yiannapoulos couldn't make any points without a microphone and promised his admirers he'd return to deliver a proper address.
"I think the administration made it impossible for him to give a speech," Wall said. "When you can't speak through a mic, how effective was that?"
Those hoping to hear a speech were herded through metal detectors, while demonstrators who came out against it were held behind barricades on Sproul Plaza, the center of activity on campus during the 1960s Free Speech Movement.
A conservative campus group previously said a planned four-day event dubbed Free Speech Week was canceled. However, Yiannopoulos announced Saturday that he would appear with other conservative firebrands at an unsanctioned rally.
Pro-Yiannopoulos marchers toted signs saying "Stop liberal intolerance, support Trump," while those on the other side shouted slogans like "No Trump, no KKK."
Kat McLain, 26, said she considers herself a liberal but decided to come out to support conservatives' right to be heard.
"A lot can be gained if we're willing to listen to these people," said McLain, a film student at San Francisco State University. "There's no way to come to a peaceful resolution until we can stop and talk to each other."
The conservative student group Berkeley Patriot, which had been organizing the Free Speech Week event with Yiannopoulos, told university administrators that the group would cancel it, the university said.
"It is extremely unfortunate that this announcement was made at the last minute, even as the University was in the process of spending significant sums of money and preparing for substantial disruption of campus life in order to provide the needed security for these events," UC Berkeley spokesman Dan Mogulof said in a statement.
Yiannopoulos said he was blindsided and "personally irritated" by the news.
University officials said they had worked around-the-clock and spent more than $1 million to ensure there would be adequate security for the events.
Berkeley's reputation as a liberal stronghold and the birthplace of the Free Speech Movement has made the city and campus flashpoints for the country's political divisions since the election of Republican President Donald Trump. Since February, four political demonstrations have turned violent with masked anarchists rioting on campus.
Yiannopoulos' attempt to speak at Berkeley in February was shut down by masked anarchists who rioted on campus.
"Claims that this (the cancellation of the Free Speech Week event) is somehow the outcome desired by the campus are without basis in fact," Mogulof said. "The University was prepared to do whatever was necessary to support the First Amendment rights of the student organization."
Campus police Chief Margo Bennett said Saturday that authorities were "going to be prepared and handle things that may happen when a speaker can just show up." She said anyone can come to the open plaza to speak, but they can't use amplified sound without permission or interfere with the business of the university.
Her address to the media Saturday afternoon was halted by a demonstrator who railed against the "fascist assault" on the university and announced a counter-protest against Yiannopoulos.
Berkeley freshman Alexandria Storm bemoaned the money spent on a huge police presence for an event that went bust. "This is a waste of resources, a waste of student dollars to militarize the police," she said.
Over the last few days, student bulletin boards on Sproul Plaza were papered with fliers calling on counter-protesters to "Shut Down Milo Yiannopoulos," saying his brand of inflammatory speech against Muslims, immigrants, women and transgender people was hateful and should not be allowed. The fliers advised supporters to bring bandannas to cover their faces in case police fire tear gas.
In anticipation of Free Speech Week, several hundred people marched on the streets of Berkeley to Sproul Plaza on Saturday in a protest dubbed "No Hate in the Bay." They chanted "say it loud, say it clear, Nazis are not welcome here" and halted traffic at several blocked intersections.
Speakers included Chelsea Manning, the 29-year-old transgender woman known as Bradley Manning when she was convicted in 2013 of leaking a trove of classified documents.
One group carried a large banner that read "An injury to one is an injury to all."
Local journalism is essential.
Give directly to The Spokesman-Review's Northwest Passages community forums series -- which helps to offset the costs of several reporter and editor positions at the newspaper -- by using the easy options below. Gifts processed in this system are not tax deductible, but are predominately used to help meet the local financial requirements needed to receive national matching-grant funds.
Subscribe now to get breaking news alerts in your email inbox
Get breaking news delivered to your inbox as it happens.
---