News > Spokane
Century-old maps – and a 21st-century treatment – reveal transit lines Spokane's past
Sept. 25, 2017 Updated Mon., Sept. 25, 2017 at 11:06 p.m.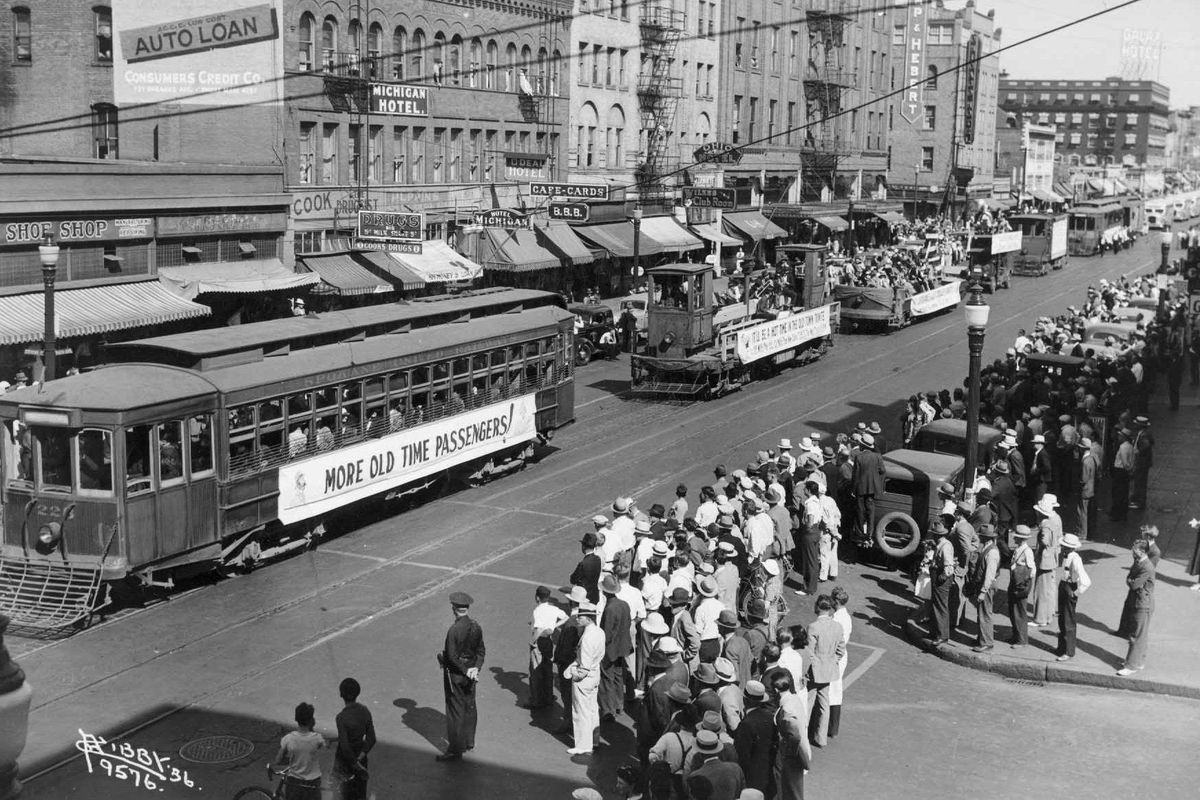 Spokanites are shown bidding farwell to the old streetcars owned by the Spokane United railway system in a parade in August of 1936. (SR)
The signs of Spokane's history are embedded in its roads. A horse tie on the sidewalk near the intersection of Main and Stevens. Brick streets older than the Model T. Streetcar tracks in West Central and on the South Hill.
But they don't tell the whole story. The modes of transit from past centuries are lost to most of us.
Until now. Cameron Booth, a Portland-based graphic designer from Australia, has given Spokane's streetcar and electric interurban rail networks a decidedly 21st-century treatment, giving them new digital life.
In the past couple of weeks, Booth has mapped out the decades of growth experienced by the city's once robust streetcar network, and plotted out the reach of the electric interurban lines from 1920. Then he shared them on Twitter under his moniker, @TransitMap.
Booth said he made the maps after discovering the extent of Spokane's network, saying it "seemed like an unlikely place to have both a dense streetcar network and electric interurbans" similar to that of Portland, a much larger city.
Booth credited the cheap electricity from the Spokane Falls for the network, and that's true. But the exploding population of the mining and logging boom town huddled around the falls – which jumped from 20,000 in 1890 to 105,000 in 1910 – also played a part.
The maps Booth made show clean lines traced over a historic map. But Booth's work is anything but simple, especially with what went into the streetcar map.
"I found good maps of the city showing the overall network for 1906, 1922 and 1929, but I had to piece together the 1912 map from different pages of a county atlas that I found online," he said in an email. "However, it all really came together when I found a 1908 map of downtown that clearly showed which company ran along which streets. Finally, I could definitively say that the Spokane Traction Company cars used Main, while the Washington Water Power cars used Front and Riverside, which helped a lot with determining who owned which routes."
In the end, the maps reveal a past few highway motorists stuck in rush hour traffic can picture.
For instance, a Hayden, Idaho, commuter in 1920 could jump on an electric interurban train to Spokane, and ride through Coeur d'Alene, Post Falls and Greenacres along the way. Once at the Electric Interurban Terminal Station in downtown Spokane, where the Spokane Public Library now sits, the commuter could take any number of streetcars that went in nearly every direction. To Hillyard, out East Sprague, up the South Hill, on Indian Trail. To Fort George Wright, or pass Francis. Name a park, and a streetcar went there: Natatorium, Corbin, Audubon, Manito, Lincoln, Liberty, Cannon Hill, Cliff, Coeur d'Alene and Minnehaha.
But that type of commute was not long for Spokane transit. On Aug. 31, 1936, streetcar No. 202, the last of the city's streetcars, was filled with hay bales and burned before a crowd of 10,000 on Summit Boulevard in the West Central neighborhood.
While the past is past, and streetcars are long gone, people like Booth help to keep what was once a big part of Spokane alive.
"What I'm really looking for in the old transportation maps that I digitally restore is a combination of aesthetics and history. If the map looks great and tells a story about the transportation networks of the past, then I'm sold," he said. "They're like a snapshot in time, showing how people got around before the automobile became so dominant."
Read the complete interview with Cam Booth at Spokesman.com.
Upriver Drive to re-open soon
Crews began paving Upriver Drive this weekend, and work is expected to complete this week, weather permitting.
The closure on Upriver, between Rebecca and Freya, started in April in order to accommodate the construction of a 380,000-gallon sewage and stormwater tank.
The $875,000 project completely closed the stretch of road to vehicular traffic and detoured the Centennial Trail.
Division Street gateway nearing end
The final phase of the $3.5 million project to improve Division between Third Avenue and Spokane Falls Boulevard is in its final stages. The remaining work is focused on the intersections at Third and Division and Sprague and Division.
Night work putting stripes on the road will close lanes on the westbound I-90 Division off-ramp and on northbound Division as needed. Depending on the weather, night work is expected to end Monday, September 25.
This gateway project includes electrical conduit replacement, stormwater updates, asphalt patching, curb and sidewalk replacement and landscaping.
Work on the Lincoln gateway is complete and no longer impacting traffic.
Sidewalk work continues
New sidewalks, bumpouts, curb ramps and signs are coming to the area around Ridgeview Elementary School. The $600,000 project will close Everett Avenue from Monroe to Belt Street to traffic.
Riverfront construction takes bike lane
Starting Monday, two lanes of Spokane Falls Boulevard will be closed to traffic for two weeks. Only the south lane will be open to vehicular traffic.
The work will also completely close the bike lane along the street's northern edge between Wall and Post until Nov. 17.
Post Street from Spokane Falls to the bridge will be completely closed Thursday, Oct. 26 for asphalt trucks paving the Ice Ribbon.
Spokane Tribe roundabout work goes on
Construction of a new roundabout intersection west of Craig Road for access to the new Spokane Tribe of Indians casino is continuing to route temporary lanes around the work zone. Eastbound traffic is reduced to one lane and westbound traffic has two. This configuration will be in place until the roundabout is completed.
In the city
Two residential streets will see minor chip seal work beginning Monday, but will be open for local traffic: Arrowhead Drive from Bedford to Shawnee Avenue, and Broad Avenue from Lidgerwood to Nevada Street.
The Kendall Yards Night Market will close Summit Parkway between Cedar and Adams Alley between the hours of 2 p.m. and 9:30 p.m. on Wednesday, Sept. 27.
The Radical Hope Street Party, on Thursday, Sept. 28, will close First Avenue between Madison and Monroe streets from 4 p.m. to 9:30 p.m.
Arterial crack sealing will take place this week on North Foothills Drive between Ruby and Division streets.
In the Valley
Flaggers and cones will be at 29th and Bowdish for a gas main replacement between 7 a.m. and 5:30 p.m. through the end of the month.
Euclid Avenue between Tschirley and Barker roads remains closed through September for a road and sewer project. East Saltese Road between East 16th and East 24th avenues also remains closed between 7 a.m. and 5 p.m. for a street preservation project.
Local journalism is essential.
Give directly to The Spokesman-Review's Northwest Passages community forums series -- which helps to offset the costs of several reporter and editor positions at the newspaper -- by using the easy options below. Gifts processed in this system are not tax deductible, but are predominately used to help meet the local financial requirements needed to receive national matching-grant funds.
Subscribe now to get breaking news alerts in your email inbox
Get breaking news delivered to your inbox as it happens.
---