News > Business
Pence to speak at manufacturer that sent jobs to Mexico in 2009
Tue., Sept. 26, 2017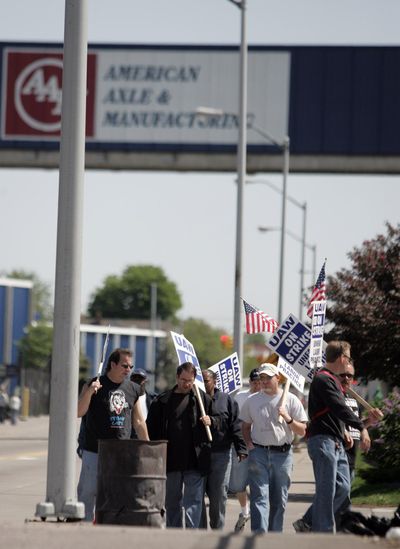 WASHINGTON – Vice President Mike Pence is scheduled to appear later this week at a company that drew condemnation for negotiating concessions from a union and then shifting production to Mexico anyway – the kind of outsourcing that President Donald Trump railed against during his campaign.
Pence will speak Thursday at a suburban Detroit manufacturing site of auto supplier American Axle and Manufacturing Holdings Inc., according to the White House, about Trump's tax reform plans. The company is General Motors Co.'s former axle-making division and a longtime supplier to the automaker.
A bitter, 87-day strike ended in 2008 with workers represented by the United Auto Workers accepting wage and benefit reductions. The day after the strikers returned to work, the company announced plans to reduce its 3,650-person hourly workforce by some 2,000 within a year through buyouts, plant closings and layoffs if necessary.
The company's chief executive officer then, the late Richard E. Dauch, said at the time the steps were necessary because of the plummeting U.S. auto sales and production at key customers.
In 2009, American Axle moved production for a major axle-manufacturing contract from its large factory complex in Detroit to one in Mexico. A UAW official said at the time that the move would eliminate about two thirds of the more than 700 unionized factory jobs at the plant, though the company says some of those jobs were moved to a facility on the west side of the state.
U.S. auto sales were cratering at the time, and GM and Chrysler filed for bankruptcy the same year. But an arbitrator in 2010 found the Mexico move violated the job security clause in that 2008 pact.
During his campaign and since the election, Trump has called out and threatened manufacturers for moving operations outside the U.S. and praised those expanding or building domestic plants.
One of the central promises of his campaign was relief for Rust Belt workers who've seen their economic fortunes decline as manufacturers moved jobs in search of cheaper labor. That was key to his victory in November in Michigan, which had gone to the Democratic candidate in the previous six elections and was won by Trump by about 10,700 votes out of 4.8 million cast.
American Axle is growing in Michigan, but was forced to move production from the U.S. due to "bad tax policy," a senior Trump administration official said on the condition of anonymity. Trump's tax reform plan will help companies such as American Axle grow in the U.S. and bring dollars home from overseas, the official said.
Trump and congressional Republicans are scheduled to release a tax plan Wednesday. Lobbyists, citing multiple leaks of the tax plan's elements, say they include cutting the corporate tax rate to around 20 percent from 35 percent. Administration officials have said they would offset the rate cuts by eliminating deductions and other tax breaks.
American Axle closed its Detroit manufacturing complex in 2012 after it was unable to reach an agreement with the UAW when its contract came up for renewal "due to market competitive reasons," spokesman Chris Son said Tuesday.
"It was a difficult time for that automotive industry, and tough decisions had to be made to ensure a viable and sustainable business," Son said. "We made those difficult decisions and fortunately we were able to avoid having to file for bankruptcy."
Bob King, then-president of the UAW, called the plant's closing "another example of corporate greed gone amok."
American Axle has invested about $150 million in Michigan since 2013 across three locations, including a technology center near its Detroit headquarters, Son said.
Dauch's son, David C. Dauch, has led the company since 2012.
Representatives for the UAW didn't immediately respond to a request for comment.
Local journalism is essential.
Give directly to The Spokesman-Review's Northwest Passages community forums series -- which helps to offset the costs of several reporter and editor positions at the newspaper -- by using the easy options below. Gifts processed in this system are not tax deductible, but are predominately used to help meet the local financial requirements needed to receive national matching-grant funds.
Subscribe now to get breaking news alerts in your email inbox
Get breaking news delivered to your inbox as it happens.
---