A&E > Food
Where to find vegan fare in Spokane
Wed., Sept. 27, 2017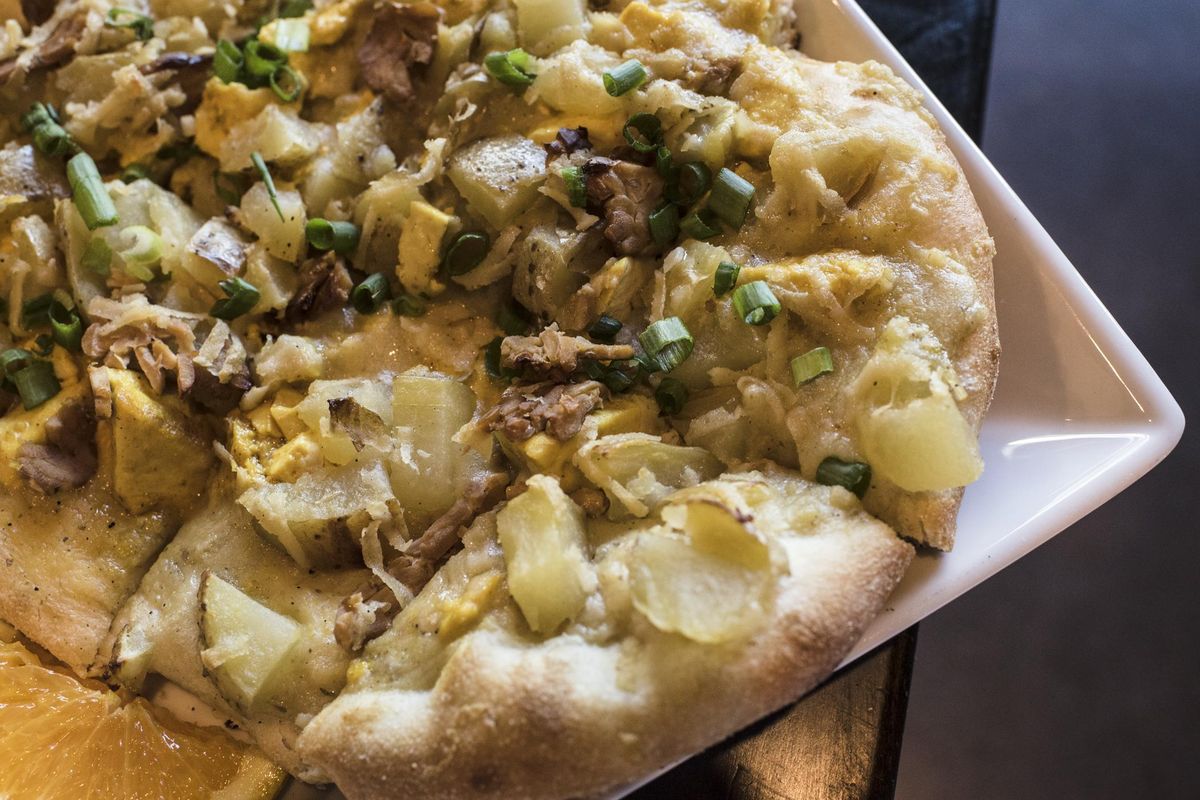 Allie's Vegan Pizzeria and Cafe makes its own vegan soy- and cashew-based cheeses. Its pizza dough is also made from scratch in-house. (Margaret Albaugh)
I'm a Bay Area girl. I married an Air Force guy, and we moved to Oklahoma, where I once asked a waitress if there was anything vegan.
She said, "I'll check with the bartender. Can I see your ID first?"
Oklahoma was an adventure, but not in my preferred culinary ways. I've been vegan for more than six years now and vegetarian long before that.
When we moved to Spokane, we had a tough time adjusting to the separation from our friends and community. But we were delighted to find the variety in vegan offerings.
I have my favorites and rarely go for the spicy dishes, but seem to find more and more offerings every season. Here are some of the best vegan plates at 14 of my favorite spots to go for vegan food in Spokane.
Boozy Brownie, Pumpkin Waffle at Boots Bakery and Lounge
This brownie is dense but moist and offers a strong flavor of cocoa. The sauce that pours over the top is sweet and helps balance the bitterness. If you pop in during the morning, you can catch one of the Boots employees grabbing a copious amount of alcohol to bring to the kitchen as they ready the sauce. The signature fudgy squares are finished with caramel whiskey, chocolate vodka and Tia Maria. Silken tofu contributes to the dessert's fine but chewy texture.
For a treat without the booze, get to Boots early on a weekend and grab a pumpkin waffle. The line can be long, but it is so worth the wait. Customers can watch as workers make their waffles in front of the long and narrow, eclectic and laid-back bakery, bar and cafe. The chai "butter" melts all over the waffle and completes the experience. Boots also serves 100-percent pure maple syrup, which comes in a dish on the side. 24 W. Main Ave. (509) 703-7223. bootsbakery.com.
Barbecue tofu and banh mi sandwiches and bean-beet burger at Cascadia Public House
There's been a lot of talk in vegan circles lately about Cascadia's sandwiches, especially the barbecue tofu, which uses Small Planet tofu, comes on a bun from Alpine Bakery, and is stuffed with onion straws, creamy rice-vinegar slaw and barbecue sauce from Fletcher's, a local sauce company. The sauce is sweet and tangy. And the sandwich is packed.
The banh mi also uses Small Planet Tofu, which is finished in Cascadia's in-house curry-inspired sauce. The sandwich is decked with rice-vinegar slaw, cucumber, jalapeno, cilantro and vegan chipotle aioli on a baguette.
Look, also, for the bean-beet burger, made from scratch using pinto beans and beets. It comes on a bun stacked with butter lettuce, tomatoes, red onion, cilantro and vegan chipotle aioli.
Chef and co-owner Justin Oliveri, a vegan himself, said he's spent years perfecting the recipes in his own home. "I used to live in Portland for six years which really opened my eyes to vegan options," he said. Coming soon: vegan nachos with house-made cashew-based vegan queso. 6314 N. Ash St. (509) 321-7051. cascadiapublichouse.com.
Jalapeño and Tequila-Glazed Crispy Wheat Gluten at Mizuna
Despite the jalapeño, this crispy wheat-gluten dish isn't spicy at all. The flavor is savory, robust and rich, and the texture is similar to duck. The exterior is just slightly crispy, and when you bite into it, it pulls apart and is slightly chewy. The side of rice that comes with it help balance the stronger flavors of the wheat gluten. 214 N. Howard St. (509) 747-2004. mizuna.com
Pad pak and mussamun curry at Our Thai House
Our Thai House usually has a busy influx of college kids so try to get there early since they don't take reservations. The staff is friendly and can tell you exactly what can or can't be made vegan. Often, it is the sauce itself which might contain shrimp paste or fish. Pad pak features a sweet and salty broth. It's full of vegetables, such as broccoli, baby corn, mushrooms and carrots. The mussamun curry comes in a huge bowl with potatoes, onion and peanuts in a coconut milk-based curry sauce. And customers can add tofu to either of these dishes. 1415 N. Hamilton St. (509) 487-4237. Ourthaihouse.netwaiter.com.
Vegan pho at Vien Dong
This vegan pho has a delicate flavor, savory but also sweet, and balanced by cilantro. Topped with snow peas, carrots, onion, broccoli and tofu, this dish is also very satisfying. The broth isn't overwhelmingly salty the way some restaurants can make it. And the staff here is knowledgeable about what constitutes vegan and how to customize most of the dishes on the menu for vegans. 1730 E. Sprague Ave. (509) 536-6073. viendongspokane.com.
Vegan ice cream or sorbet at The Scoop
The Scoop usually offers a vegan ice cream and sorbet every day. The ice cream shop is tucked away in a quiet residential area of the South Hill and is a gem worth finding. Owner Jennifer Davis said, "Every batch starts from scratch. We start with coconut milk, salt, sugar and gently mix to incorporate. Then we measure the liquid nitrogen into a pitcher and pour it directly into the bowl, hitting the coconut cream and immediately freezing it." Shortly after purchasing the ice cream shop, Davis discovered she's lactose intolerant. She said she really wanted to develop a coconut-based offering that's as creamy as possible. The flavors change daily. The Caramel Cashew is highly recommended. Using coconut milk and coconut sugar, Davis was able to formulate a velvety rich caramel for this recipe. 1001 W. 25th Ave. (509) 535-7171. thescoopspokane.com.
Barbecue tofu and banh mi sandwiches at Ruins
Located just across the Monroe Street Bridge on the north side of the Spokane River, Ruins is easy to miss – but shouldn't be. These sandwiches are wonderful, and the chefs at Ruins have extensive vegan cooking experience and are very accommodating. "Two of us were longtime vegetarians – and, for a while, vegan – so we know how hard it is to really trust what you're getting at a restaurant. I remember being so frustrated at the lack of options when dining out. So many stir-fries! So, we definitely try our best to offer something for everyone. It might not say vegan, but like I said, we are always willing to make a guest feel welcome," said chef and owner Tony Brown. The barbecue sauce for the barbecue tofu sandwich is made in house and has a touch of heat to it. The aioli for the banh mi is made with silken tofu, nutritional yeast and Sriracha. Ruins uses the same sauce for the slaw in the barbecue tofu sandwich, which helps balance the sweetness in the barbecue sauce. The sandwich bread is soft and chewy, which can make all the difference in the experience. 825 N. Monroe St. (509) 443-5606.
Furu broccoli and savory tofu at Gordy's Sichuan Cafe
Gordy's is a quiet little restaurant on the South Hill. Its authentic Sichuan flavors stem from former owner, Gordy Craft, who studied under a master chef in California. The furu broccoli features broccoli and carrots stir-fried in a fragrant tofu sauce. The savory tofu includes pressed tofu, bell peppers, leeks and cabbage in a sweet bean sauce. The menu makes it easy for patrons to find dishes that can be made vegan, as each dish is annotated with the options for gluten-free, vegetarian or vegan. 501 E. 30th Ave. (509) 747-1170. gordysspokane.com.
Vegetarian combination plate at Queen of Sheba
The combo plate comes with four different dishes on one giant plate surrounding authentic Ethiopian flatbread called injera. Injera, which is meant to wrap the food as you eat with your hands, has a somewhat sour taste and a spongy texture – both which complement the dishes really well. 621 W. Mallon Ave., Suite 426. (509) 328-3958. queenofshebaspokane.com.
The $3 dinner and peanut tempeh wrap at Main Market Co-op
When I heard about the new $3 dinners on Thursday nights I had to go try it. I love that Main Market offers this. For $3, customers get to pick an entrée – there's usually one vegan version – and a side. On a recent Thursday, offerings included meat sausages and vegan sausages with a side of baked beans. The vegan option tends to run out first, so get there early. Also rave-worthy: the peanut tempeh wrap, which is a staple in the deli case. It's quick, easy and filling. I enjoy it grilled, but I've heard it is good cold, too. 44 W. Main. (509) 458-2667. mainmarket.coop.
Herbivore burger at Huckleberry's Natural Market
Huckleberry's has a really nice selection of vegan and vegetarian options. Its new digital menus make it really easy to locate options that suit special dietary needs. My favorite is the herbivore burger with vegan mayo, onions, lettuce and the option of a tempeh or a Celebration roast or patty from Field Roast. I like both Field Roast options best. Huckleberry's also has a black bean burger, which I get from time to time, but the Herbivore is my go-to. 926 S. Monroe St. (509) 624-1349. huckleberrysnaturalmarket.com.
Any pizza at Allie's Vegan Pizzeria and Cafe
Everything from the pizza dough to chevre-style vegan cheeses are meticulously crafted. Not so meticulous is the Hot Mess Pizza, an accidental creation by owner and vegan Atania Gilmore's future son-in-law and head chef Chadwick Aufderhar. The pizza, loaded with Allie's vegan macaroni-and-cheese, fried faux-chicken crumbles, vegan buffalo ranch dressing, hot sauce, red onions and soy cheese, is a huge favorite – and it's no question why. The flavors meld wonderfully. Gilmore's vegan cheeses take up to four days to complete. While the Hot Mess includes soy cheese, most of Gilmore's vegan cheeses are cashew-based. She starts by grinding the cashews then adding salt, coconut oil and culture. (The smoked chévre-style vegan cheese uses smoked cashews.) As for the crust, Gilmore said, "In my mind, the crust had to be a New York-style crust. Just absolutely delicious. Pizza dough is only four ingredients, so it's all about the process. We let it sit 48 hours. It's called cold fermentation. Some batches we let go another two to four days which changes the flavor, almost more like sourdough. We use that for breadsticks and flatbreads." For the Italian pizza, pairs the sweetness of red bell peppers with savory Italian vegan sausage. And, if you can make it over the weekend, stop in for brunch and try the French toast featuring Gilmore's hand-crafted baguettes or biscuits-and-gravy with her house-made biscuits. 1314 S. Grand Blvd. (509) 321-7090. alliesvegan.com.
Asian bean burger, vegan macaroni-and-cheese, and pretzel with vegan cheese at Saranac Public House
Saranac has a great variety for vegans, including the Asian bean burger made from scratch using black beans, onions, bell pepper and jalapeño. You can get it with vegan cheese, which is also made in house.
The vegan macaroni-and-cheese and pretzel with vegan cheese share the same cheese sauce. The sauce is made in-house and is savory with just a hint of sweetness. Saranac differentiates its cashew-based vegan cheese from other restaurants through the use of smoked paprika and smoked salt. 21 W. Main Ave. (509) 473-9455. saranacpublichouse.com.
Vegetable ramen at Nudo
This bowl comes packed with cabbage, carrots, onions, corn, bean sprouts, bamboo, tomato and sweet potato. The vegan noodles are made in Seattle then transported to Nudo's two locations. Downtown: 818 W. Sprague Ave. (509) 290-5763. North Spokane: 9602. N. Newport Highway. (509) 467-0292 or (509) 467-0650. nudoramen.com
Local journalism is essential.
Give directly to The Spokesman-Review's Northwest Passages community forums series -- which helps to offset the costs of several reporter and editor positions at the newspaper -- by using the easy options below. Gifts processed in this system are not tax deductible, but are predominately used to help meet the local financial requirements needed to receive national matching-grant funds.
Subscribe to the Spokane7 email newsletter
Get the day's top entertainment headlines delivered to your inbox every morning.
---