John Blanchette: Cougars shed underdog label that they didn't deserve anyway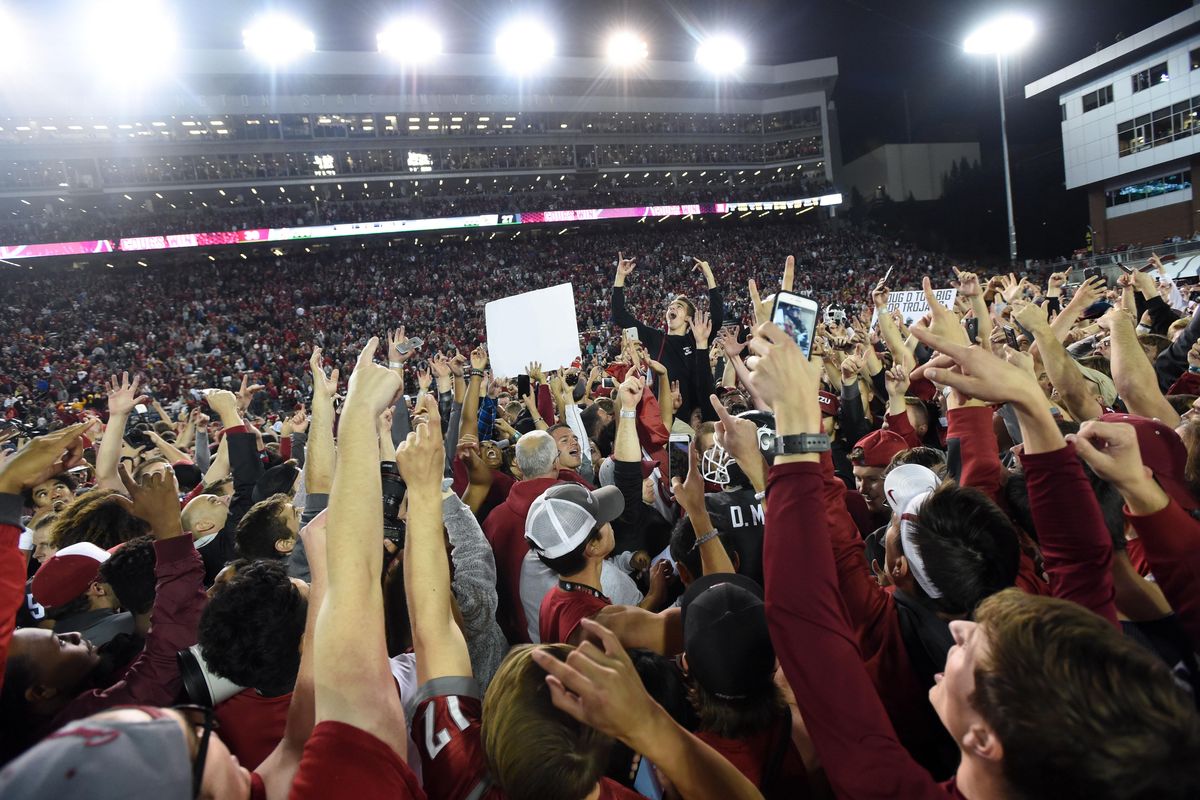 PULLMAN – One play, decided nothing, revealed everything.
Early in the third quarter Friday night, about the time Megadeth was sending the last wave of burst eardrums to the ER back in Spokane, Washington State faced third down and 14 and, naturally, dialed up a pass. As quarterback Luke Falk surveyed his options from the pocket, USC safety Marvell Tell III released on a brilliant delayed blitz.
Just a little too delayed, from a step too far away.
Contact came just as Falk delivered a rocket over the middle to freshman Renard Bell for 25 yards and a first down. Falk came up limping – but three snaps later found Jamire Calvin for a 21-yarder on another third-and-long.
Now, a short time later, it was the Trojans with third-and-kinda-long, and Sam Darnold – the consensus next quarterback of the New York Jets – with possibility in front of him. Only in this case, the possibilities included which Cougar would blow up his play. Logan Tago? Darrien Molton? Everyone?
Call it everyone. Darnold managed a staggering, lunging shovel pass – as if it had come from an actual shovel – to no one in particular. It may not have been his worst throw of the evening.
One play, decided nothing, revealed everything.
The revelations?
Wazzu's quarterback continues his climb to the top of the Pac-12 passing lists in limitless categories by being exactly what coach Mike Leach's offense needs – not flawless, but certainly fearless, and the right man in the fourth quarter with the game on the line, too.

Darnold? The temptation is to dismiss him as Hollywood glitz, more Hypeman Trophy than Heisman – because if you're going to win that latter trophy, you're not allowed to have a bad day.
Oh, and put down the Cougars' defense as the pushiest subtext ever in a purported two-character story.
But the real revelation, of course, was the Cougars collectively – 30-27 winners over the No. 5-ranked Trojans, a statement like few Washington State teams have managed.
Megadeath-loud the entire game, close to the entire 33,773 in the stands at Martin Stadium filled the field in the moments once the clock struck :00. Yes, another turf-storming – the second in the space of just four weeks – but not a repeat. The one after the win over Boise State was celebrating the impossibility of the comeback.
This was about the victim and the gravitas – the statement.
OK, maybe a statement is 40-27 or 50-27, but the opponent this night was USC and not, oh, Oregon State or any of the other Dubious U's that dotted September's Saturdays in Pullman. When you've only beaten a school nine other times in your history, the 10th is a statement – an exclamation – whether it's by three points or 30.
Speaking of statements, there was one Leach took pains to get across to his players that may have been the key to it all:
Understand how good you are.
The Cougars have beaten ranked teams under Leach, but more often they have balked in the big moment – Apple Cups, showdowns like last year's date at Colorado and a couple of regrettable bowl games. Maybe those teams didn't understand they were that good, or maybe they just weren't.
Even this one teetered on the verge of getting away – the Cougs unable make a touchdown lead hold up in the fourth quarter, and leaving Darnold and the Trojans 100 seconds after the go-ahead field goal. Then freshman Jahad Woods – all but anonymous until two weeks ago – blitzed through and forced Darnold into more desperation. This time it went as a fumble, and Derek Moore – another emergency fill-in – fell on history.
Aside from a couple of Washington teams, this was the highest-ranked opponent to go down in Martin. It also happened to be by the same score Wazzu dropped USC in another 2002 showdown – and who happened to hoist the Cougar flag before Friday's game but Erik Coleman and Jason Gesser, two principals of that great moment.
It's hard to anoint all the heroes. Behind Falk and the underappreciated Jamal Morrow, the Cougars' offense at one point got out of consecutive third-down jails of 10, 10, 14, 10, 6 and 6 yards. Behind the remarkable Hercules Mata'afa, the defense bottled up USC's running game after one early whiff and made life miserable for Darnold.
And now they're 5-0. They're "for real."
Not sure why that would be doubted even before this, other than the fact that their biggest road trek this season has been down to Sella's for a calzone.
As the Cougars have spent their entire existence as underdogs to pretty much everyone except Blair Business College, it follows that they've experienced their best moments as such.
Shocking No. 1 UCLA in 1988. The Holiday Bowl against Texas. Pick your Apple Cup.
Friday night produced another underdog story.
Maybe the last for a while.
---