Sports > EWU football
Gage Gubrud accounts for 6 TDs as Eastern Washington tops Sacramento State, 52-31
UPDATED: Sat., Sept. 30, 2017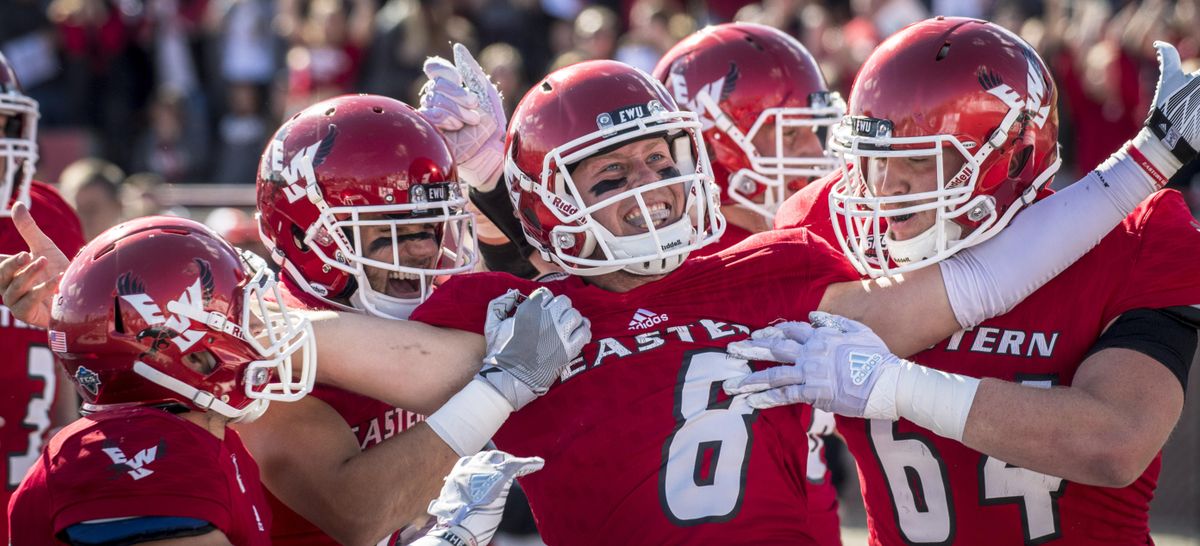 Eastern Washington quarterback Gage Gubrud (8) celebrates scoring the Eagles second touchdown during the first quarter of a college football game, Sat., Sept. 30, 2017, in Cheney, Wash. (Colin Mulvany / The Spokesman-Review)
Even after the game, the wind was still at Albert Havili's back.
Moments after Eastern Washington's 52-31 Big Sky Conference win over Sacramento State, the Eagles defensive lineman was wrapping up his postgame interview when the entire backdrop caved in.
Normally, defensive ends love to see the pocket collapse, but Havili stood his ground, held up the contraption and saved half a dozen journalists from being smothered in plastic.
It was that kind of day at Roos Field – full of heroes, big leads won and lost, gadgets and gaffes and some bluster from Mother Nature.
In other words, it was business as usual in Cheney, as the ninth-ranked Eagles shrugged off the ups and downs to earn a wire-to-wire win.
And while the wind blew all day, it also cleared the air of any toxins left from Eastern's first home game, a 40-13 loss to North Dakota State that left the Eagles 0-2 and full of doubt.
Three weeks later, first-year coach Aaron Best is on the plus side of the ledger at 3-2 overall and 2-0 in the Big Sky after his first win at Roos Field.
"After the first two games, we didn't lose belief, we just didn't win on the scoreboard. The last three weeks have been good and we've been playing better," Best said.
"We always focus on one at a time and we'll relish in this win. We played well – I'm going to pat those players on the back. I want to see smiles on their faces and then we'll get to next week on Sunday," Best said.
Getting to next week will mean getting through the highlight reels of Saturday's game, which drew a sellout crowd of 10,917.
That will take some time. In a first for the Big Sky, the game pitted its co-Offensive Players of the Week against each other. Sac State quarterback Kevin Thomson held his own, but for the third week in a row, Eastern's Gage Gubrud showed what he can do when he's unshackled.
Gubrud completed 33 of 45 passes for 405 yards and five touchdowns – typical stuff for the redshirt junior from McMinnville, Ore. He found 10 different targets, and got 112 receiving yards from running backs Antoine Custer Jr. and Sam McPherson.
The Eagles finished with 651 yards of total offense, seventh-most in school history.
"Whatever helps the team move the ball," said Custer, a sophomore who finished with 155 all-purpose yards.
Gubrud also moved the ball on a nifty gimmick play, taking a pass from McPherson and taking it 43 yards for a score.
That gave Eastern, playing with the wind at its back, a 14-0 lead. It grew to 21-0 on Gubrud's 33-yard pass to Custer.
However, Sac State (2-3 overall, 1-1 in the Big Sky) stormed back on the legs of Thomson, who passed for 253 yards and ran for another 121. His 13-yard run late in the first quarter got the Hornets on the board, and Sac State added a field goal and a short TD run from Joseph Ajeigbe to trim the lead to 21-17.
"We're still not firing on all cylinders," Best said. "There were some issues early in the game where we threw it real well, but we weren't running it well."
Eastern took command with touchdown drives on either side of halftime to go ahead 35-17, but Sac State got back in the game after an exchange of punts.
Two plays after throwing for a first down to the Sac State 46, Thomson dashed untouched up the middle and went 54 yards for the score.
"We have to be able to tackle better in open space," Havili said.
That drive took all of 53 seconds, but Eastern outdid the Hornets on its next possession. After Dre'Sonte Dorton's long kickoff return, McPherson ran for 25 yards and Gubrud threw to Nsimba Webster for a 13-yard score.
Elapsed time: 28 seconds.
Ahead 42-24, Eastern added a field goal and a 21-yard TD pass from Gubrud to Dorton in the fourth quarter.
Down three scores for most of the second half, Sac had to go to the air – not Thomson's strength. He finished 16-for-29 for 253 yards, but threw a drive-killing interception to EWU safety Jake Hoffman deep in Eagle territory.
"I'd like to say I made a great play, but when I was backpedaling he threw it straight to me," said Hoffman, a senior from North Central.
Against the run-heavy Hornets (51 carries for 319 yards), the Eagles got 19 tackles from their defensive ends – nine from Havili and 10 from Cheney product Keenan Williams.
Eastern set the tone in the first six minutes, on both sides of the ball. On fourth-and-1 from its own 49 in its first possession, Sac State appeared ready to go for it. Instead, Thomson tried three times to draw the Eagles offside.
However, the Eagles didn't jump and Sac State drew a 5-yard delay-of-game penalty and was forced to punt.
Taking over on their own 27, the Eagles needed only five plays to score. The highlight was a third-down pass down the middle to a wide-open Jayson Williams, who eluded one defender and dragged another 10 yards for a 59-yard gain.
Two plays later, Gubrud found a wide-open Talolo Limu-Jones on the right flat for a 5-yard score.
Highlights:
Local journalism is essential.
Give directly to The Spokesman-Review's Northwest Passages community forums series -- which helps to offset the costs of several reporter and editor positions at the newspaper -- by using the easy options below. Gifts processed in this system are not tax deductible, but are predominately used to help meet the local financial requirements needed to receive national matching-grant funds.
Subscribe to the sports newsletter
Get the day's top sports headlines and breaking news delivered to your inbox by subscribing here.
---