Clipping? LeBron James takes on Alabama football over barber show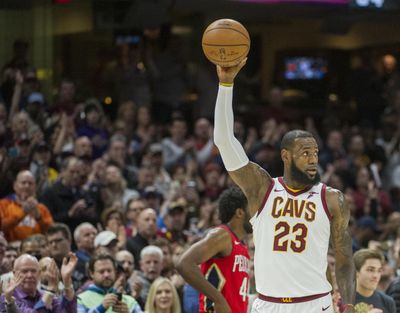 CLEVELAND – LeBron James believes Alabama's football program is offside.
James contends the Crimson Tide has lifted "ideas, concepts and format" from a program on "Uninterrupted," the digital media platform the three-time NBA champion co-founded with business partner Maverick Carter.
Last year, "Uninterrupted" aired "The Shop" a forum where James, Golden State forward Draymond Green, retired player Charles Oakley and others have conversations while getting their hair cut in a barber shop.
Alabama recently released a trailer on Twitter for "Shop Talk" that shows Tide coach Nick Saban and former Alabama star wide receiver Julio Jones in a barber-shop setting. The video says the first episode is "coming soon."
On Monday, "Uninterrupted" sent a letter to Alabama, citing "exploitation" and concerns over copyright infringement and intellectual property.
In the letter, which was obtained by The Associated Press, Josh Tarnow, the head of business and legal affairs for "Uninterrupted", tells Alabama he would prefer not getting into a "battle of legal letters" with the school and asks for a copy of the first "Shop Talk" episode to be sent for a review. Tarnow hopes the sides can "address Uninterrupted's concerns amicably."
A school spokeswoman told the AP that Alabama is "in the midst of reviewing this matter, which just came to our attention this morning."
Although James is a huge Ohio State fan, he has attended Alabama games in the past. And every year Alabama has won the national championship since 2010, James has captured an NBA title. It happened in 2012 and 2013 when James played in Miami, and again in 2016 when he guided the Cavaliers to a title, the first for any Cleveland major sports team since 1964.
Alabama won its fifth title under Saban in January.
---