Gonzaga athletic director Mike Roth says Zags staying in WCC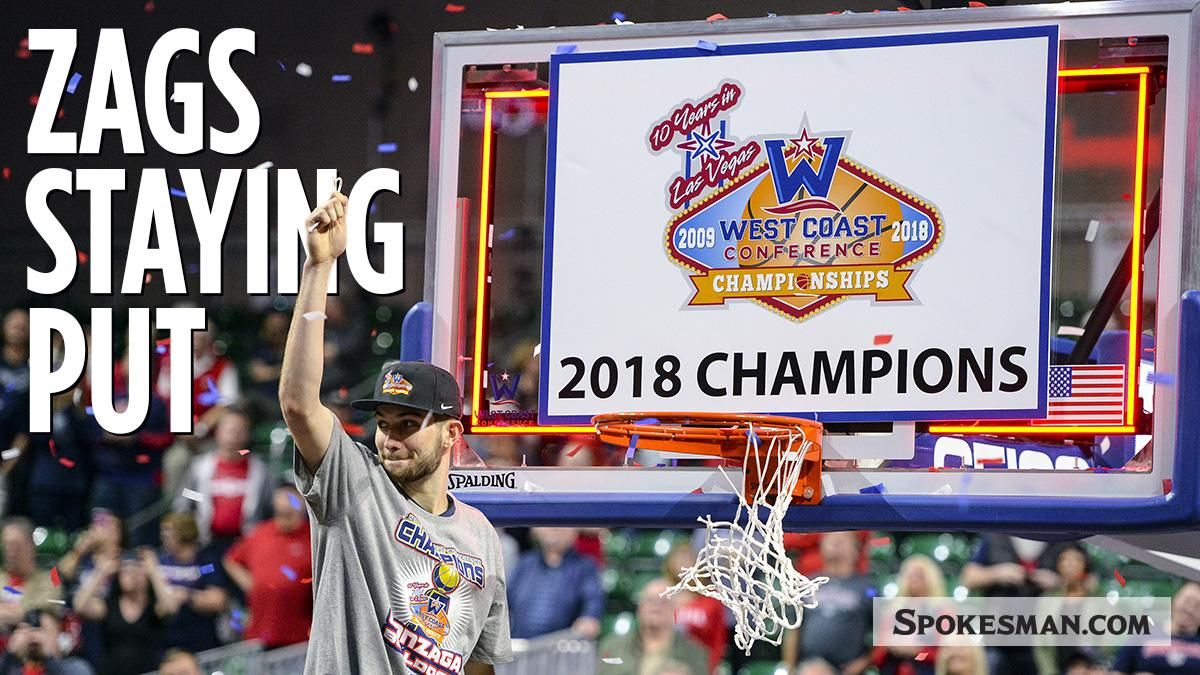 Gonzaga is staying put in the West Coast Conference, athletic director Mike Roth said.
The Zags, who have been considering a move to the Mountain West Conference for several months, informed both conferences they're staying in the WCC, their home since the 1979-80 season.
Gonzaga President Thayne McCulloh and Roth met Monday to make a final decision.
"Our decision is to remain in the WCC, where we've had a great relationship for 39 years going on 40," Roth said. "We appreciate the Mountain West pursuing us. However, for a number of reasons, maintaining our status in the WCC is the right thing for Gonzaga University."
Discussions between the Mountain West and Gonzaga first surfaced publicly in late February. The MWC was looking to add the Zags in all sports, a move that would have boosted its basketball image had it landed a GU program with 20 straight NCAA Tournament appearances.
"We've completed all the discussions with the Mountain West at this point and time," Roth said. "Could it resurface as part of the evaluation of the future? That's a crystal ball I can't look into."
Several factors influenced Gonzaga's decision. The WCC recently announced scheduling and revenue distribution changes, many of which Gonzaga had been advocating for years.
The top two seeds in the WCC men's and women's tournaments will receive byes into the semifinal round. The top seeds used to enter in the quarterfinals and faced the possibility of an upset that could hurt their NCAA Tournament at-large credentials.
The conference schedule will be pared from 18 games to 16, reducing the impact on teams' RPIs during the WCC campaign. The WCC in 2018 had four programs with RPIs between 258 and 317. Also, Pacific (190) was in the lower half of 351 eligible schools.
"The WCC made decisions over the last couple months that are going to be very positive not just for Gonzaga but everyone in our league from the standpoint of opportunities," Roth said.
The WCC approved measures allowing teams that advance deeper in the NCAA Tournament to keep a larger portion of the revenue. The San Diego Union-Tribune reported Gonzaga also will receive $1 million per year in NCAA Tournament back shares.
"You look at what the West Coast Conference did to accommodate them," Mountain West Commissioner Craig Thompson told the San Diego newspaper Saturday. "Congratulations, that's a good deal for them. There are just some things in there that I don't think our membership would have accepted.
"They're offering some things that probably don't make sense for our league."
There were several other potential sticking points. The Zags would have lost roughly $7 million from NCAA Tournament units earned through the 2018 season.
The Zags have been a fixture on ESPN's family of networks during their run in the national spotlight. Their top nonconference matchups and many of their conference games are televised on ESPN outlets.
The Mountain West has contracts with ESPN networks and CBS networks, but conference games are typically on CBS Sports Network, which doesn't reach as many homes as its ESPN counterparts and many carry later tip times.
Roth noted that Gonzaga's emergence nationally has occurred as a WCC member. The Zags have won 31 NCAA Tournament games since 1999. They've won 11 consecutive first-round games and they're the only program to reach at least the Sweet 16 level the last four seasons. They've been a No. 1 seed twice in the last six years.
"Look at what we have achieved as members of the WCC," said Roth, adding that GU is encouraged by efforts of conference schools to strengthen their programs. "We made it to the national championship game. We have goals that are still out there and we'll continue to chase those as members of the WCC."
Roth stressed that Gonzaga will continue to monitor what's happening nationally regarding conference movement.
"I don't think our stance has changed from that standpoint," he said. "That's just part of doing my job. That's not unique to Gonzaga. That will go on."
---