News > Spokane
Health district warns of second flu wave after Spokane hospitalizations jump
Mon., April 2, 2018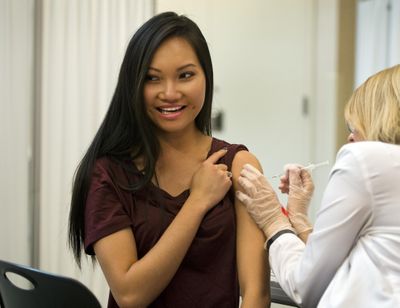 In case the warm weather had you fooled: flu season is not over.
Spokane County saw a wave of hospitalizations for influenza B in March. The B strain of flu typically dominates the end of flu seasons and can only infect humans, rather than the A strains, which infect humans and animals.
Sixty-three people in the county were hospitalized for flu B in March after a decline in February hospitalizations, according to the Spokane Regional Health District. In total, flu B was responsible for 72 percent of March flu hospitalizations, compared with about one-quarter last year.
That's led the health district to warn a second wave of influenza B could be on the way.
"Illness associated with influenza B can be just as severe as illness associated with influenza A," said the district's health officer, Bob Lutz. "We also know influenza B tends to be more severe for younger children."
The good news? Flu vaccines are nearly always more effective against B strains, and this year's is no exception. The CDC estimated its effectiveness against influenza B at 42 percent. And vaccinated people who do get sick may have shorter and less serious illnesses than unvaccinated people. It's not too late to get a flu shot for this year.
In total, 571 people in the county have been hospitalized for flu this season, and 37 have died.
Local journalism is essential.
Give directly to The Spokesman-Review's Northwest Passages community forums series -- which helps to offset the costs of several reporter and editor positions at the newspaper -- by using the easy options below. Gifts processed in this system are not tax deductible, but are predominately used to help meet the local financial requirements needed to receive national matching-grant funds.
Subscribe to the Coronavirus newsletter
Get the day's latest Coronavirus news delivered to your inbox by subscribing to our newsletter.
---