News > Business
Avista CEO's compensation dropped in 2017
UPDATED: Tue., April 3, 2018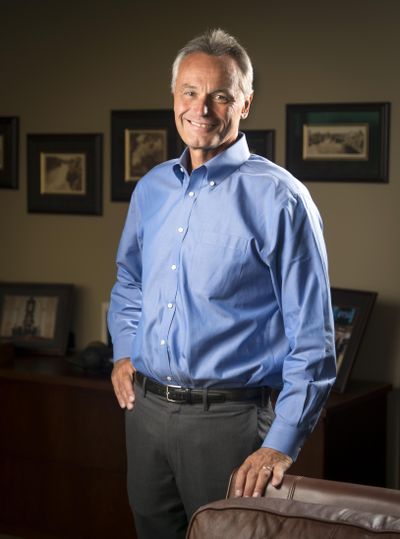 Avista Corp. paid its top executive about $4.2 million in total compensation last year.
Scott Morris, the utility's chairman and CEO, saw a drop in his compensation from the $4.5 million he received in 2016. The decline reflected a smaller cash incentive payout last year.
The information is included in Avista's proxy statement, which was filed last week with the U.S. Securities and Exchange Commission.
This is likely the last time Avista will report the compensation of Morris and other top officers. The sale of the company to Hydro One, of Toronto, is expected to close in the second half of the year.
After the sale, Avista will no longer be a publicly traded company, said Casey Fielder, a company spokeswoman.
"We will no longer be required to file a proxy statement which includes the compensation information," she said in an email.
Morris' total compensation includes his $816,923 salary, which grew 2.5 percent from 2016, according to the proxy. He also received a $744,053 cash incentive based on company targets for meeting goals related to items such as customer service satisfaction, earnings per share and targeted times for restoring power after outages.
The value of Morris' ability to earn future stock awards was calculated at $1.7 million. Changes in the value of his pension plan and other deferred earnings were reported at $935,739.
Morris, 60, has led Avista since January 2008. The utility provides electric and natural gas service to more than 600,000 customers in Eastern Washington, Idaho and Oregon. It also operates an electric utility in Alaska.
A typical household pays about 25 cents each month on its bills for Avista's top five executive salaries and cash awards, Fielder said.
Avista shareholders also contribute to executive pay through stock awards, which are paid from the company's shareholder equity.
Avista's executive pay is scrutinized by public utilities commissions in Washington and Idaho, which decide whether the company can raise it electric and natural gas rates.
More than a decade ago, the Washington Utilities and Transportation Commission set a precedent that the high costs of executive pay should be shouldered by shareholders, not the utility ratepayers, said Kate Griffith, a UTC spokeswoman.
"It's one the commission continues to uphold," she said in an email.
Local journalism is essential.
Give directly to The Spokesman-Review's Northwest Passages community forums series -- which helps to offset the costs of several reporter and editor positions at the newspaper -- by using the easy options below. Gifts processed in this system are not tax deductible, but are predominately used to help meet the local financial requirements needed to receive national matching-grant funds.
Subscribe to the Coronavirus newsletter
Get the day's latest Coronavirus news delivered to your inbox by subscribing to our newsletter.
---