Opinion > Guest Opinion
Claire Rudolf Murphy: Fifty years on, King and Kennedy call us to action
Wed., April 4, 2018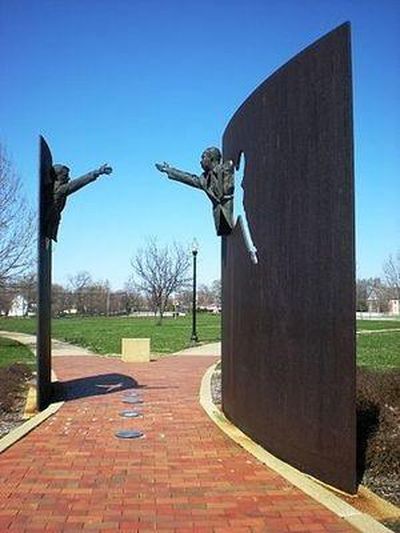 On the evening of April 4, 1968, Sen. Robert Kennedy stood on the back of a truck, in a black neighborhood in Indianapolis, Indiana. But instead of telling people why they should vote for him for president, he announced that Martin Luther King Jr. had been killed in Memphis, Tennessee.
Riots had already begun to erupt in cities across the country, but the crowd in Indianapolis stood silent in grief. Bobby didn't blame them for feeling angry. But he told them that they had a choice about "what kind of a nation we want to be … and what direction we want to move in."
"I too lost a family member," he said. It was the first time he had spoken in public about his brother President John F. Kennedy's death five years earlier. It was as if he had saved it for this tragic moment, to share with people who would understand the pain of losing a beloved one.
"My favorite poet is Aeschylus," Bobby said, followed by a quote he had memorized from the ancient Greek playwright, words that had given him solace since November 1963. "Even in our sleep, pain which cannot forget, falls drop by drop upon the heart, until, in our own despair, against our will, comes wisdom through the awful grace of God."
Kennedy's history with King and understanding of grief allowed him to connect with the crowd that night in a way that no other political figure, Democrat or Republican, could have.
Bobby had changed since his brother's death. Traveling the country, visiting Indian reservations, small towns in Appalachia, poor neighborhoods in urban areas, farm workers on strike in California, he had come believe, like King, that our most important role as Americans was to take care of each other, especially those less fortunate.
King and Kennedy were not friends, but they had grown to respect each other, born out of years of a push and pull over civil rights when King led the movement and Bobby had served as head of the Justice Department under JFK. At great risk to their political standing, by early 1968 both were challenging the status quo, demanding an end to an unjust war in Vietnam and more funding for programs to alleviate poverty. Each man believed that our country's integrity and decency could be restored by ending the violence and political divisiveness. But then King was killed just two weeks before the Southern Christian Leadership Conference led the Poor People's Campaign to Washington, D.C., with participants from every cultural group.
I was 17 in 1968 and had no direct experience with the civil rights movement. After King's assassination a nun put up a bulletin board at my high school, Holy Names Academy here in Spokane. "Christ the King, King the Christ" it read. Some students thought it was blasphemous. But I was grateful that Sister Margaret shocked me into thinking about the radical work of King in a new way. Dr. King cared about the poor and disenfranchised, just like Jesus in the gospel stories I'd grown up with.
When Bobby was killed two months later, following his victory speech in the California presidential primary, the whole country was shocked again to its core. The violence continued that summer and fall with police brutality on city streets, war protests on college campuses, and soldiers fighting in the rice paddies of Vietnam. People on both sides of the political divide became even more afraid and angry.
But just as during the earlier civil rights protests, it was young people who led the way in 1968 and refused to give up. Teen protesters offer me hope now, fifty years later, especially at Spokane's March for Our Lives on March 24th.
The words of King and Kennedy and current teen leaders remind us of the need for compassion in our personal interactions, and inspiration in our political dialog. They demand that we take action, not stand on the sidelines. Words matter and shared experiences help us heal. Helping our fellow Americans does too. The time has come once again to demand that of our leaders and ourselves.
Claire Rudolf Murphy is the author of "Martin and Bobby: A Journey Towards Justice," to be published by Chicago Review Press in October 2018. Listen to Claire's interview on King and Kennedy at: http://spokanepublicradio.org/programs/ inland-journal
Local journalism is essential.
Give directly to The Spokesman-Review's Northwest Passages community forums series -- which helps to offset the costs of several reporter and editor positions at the newspaper -- by using the easy options below. Gifts processed in this system are not tax deductible, but are predominately used to help meet the local financial requirements needed to receive national matching-grant funds.
Subscribe now to get breaking news alerts in your email inbox
Get breaking news delivered to your inbox as it happens.
---