A&E > Art
First Friday: April brings a shower of good art to check out
Wed., April 4, 2018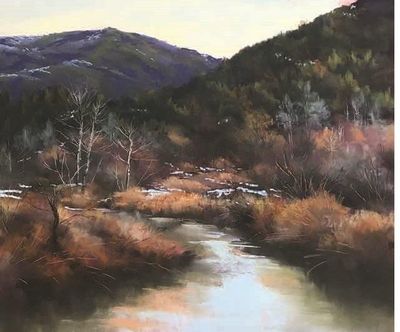 First Friday photos, fiber arts, and feminist feats, oh my! This week's art walk on Fridaywith an evening full of creative expressions. Here are some highlights:
Spokane Arts Grant Award (SAGA) winning artists Rick Singer and Hilary Hart will show the fruits of their labors with an exhibit of photographic portraits and stories of diverse women of Spokane at the Downtown Public Library. The show "Spokane Women Together" opens from 5:30 p.m. to 8 p.m. on the library's third floor, and will remain up through May 31. In a brilliant use of some prime wall space, the photos will also be projected onto the Fox Theater throughout the month. Also at the library for a First Friday performance will be Caleb Mannan with his new American folk tale, "Bust It Like A Mule." The acclaimed dramatic live performance, featuring original music by Jenny Anne Mannan, Kevin Morgan and Jacob Mannan, has been called a Southern fried "Prairie Home Companion." It starts at 6:30 p.m. 906 W. Main Ave.
The pop up traveling art and music collective La Resistance will put on the exhibit "Revive/Regenerate/Renew." More than two dozen local artists will display their works, curated by Laura Lee White. Following the show will be music by Tte Tourist Union, Reilly Winant, and Justina Grace. Suggested $3 donation at door. A raffle will be held to raise money for local artist Susan Webber's Cancer Fund. From 5 p.m. to 9 p.m. at Object Space, 1818 ½ E. Sprague Ave.
The Kolva-Sullivan Gallery will host fiber artist Helen Parsons' study of the natural world, and her willingness to venture outside safe boundaries. "Excavate" is Parsons' exploration of the unknown through various surface design techniques, methods, and construction while developing her fiber art and mixed media styles. The opening is 5 p.m. to 9 p.m. on First Friday, but she will also give an informal talk on Saturday starting at 1 p.m. 115 South Adams St.
Next door at Trackside Studio Ceramic Art Gallery are Spokane Falls Community College Art Department faculty members Rob McKirdle and Tybre Newcomer with a show called "Metamaquette." The key to understanding the exhibition is that the maquette is not only a tool to explore future works; it embodies the thought process and state of mind when the work was created, and is an art form itself. Opening reception is 5 p.m. to 8 p.m. on Friday, and on Saturday from noon until 4 p.m. 115 S. Adams St.
Saranac Art Projects presents exhibits by two members of the collective this First Friday. One is an installation by sculptor Roger Ralston called "Research II." The other is a video piece called "Old Tricks" by digital artist Jenny Hyde. 25 W. Main Ave.
Artist Grace Barnes paints and dances, and at Marmot Art Space this Friday she will do both. As a member of Vytal Movement Dance Company, Barnes will join other members of her group to give a preview performance of "Confluence," a new piece that will debut in full later this month at The Bing. Meanwhile Barnes will show her paintings at Marmot during this same month. Show opens 4:30 to 8 p.m. 1202 W. Summit Pkwy.
Dodson's Jewelers celebrates all things Montana with a show by landscape artist Bonnie Zahn Griffith. The Big Sky ranch-raised artist will show her works, many done plein air, in pastels and oils, from 5 p.m. to 8 p.m. But first Dodson will host an all-day trunk show of Montana Sapphires, including the very rarest of the blue gems from the Yogo mine. 516 W. Riverside
The Chase Gallery will present Flourish, a group exhibit by three female photographers from Seattle, Melinda Hurst Frye, Tara McDermott, and Meggan Joy, whose work delves into the natural world,. A reception will be from 5-8 p.m. today, with additional performance dates on May 4 and June 1, wiht an artist talk from 11 a.m.-noon on May 5. Chase Gallery is located in the lower level of Spokane City Hall, 808 W Spokane Falls Blvd.
Local journalism is essential.
Give directly to The Spokesman-Review's Northwest Passages community forums series -- which helps to offset the costs of several reporter and editor positions at the newspaper -- by using the easy options below. Gifts processed in this system are not tax deductible, but are predominately used to help meet the local financial requirements needed to receive national matching-grant funds.
Subscribe to the Spokane7 email newsletter
Get the day's top entertainment headlines delivered to your inbox every morning.
---