Sports > Area sports
Gonzaga returns home to defeat Portland to open West Coast Conference baseball series
April 6, 2018 Updated Fri., April 6, 2018 at 11:50 p.m.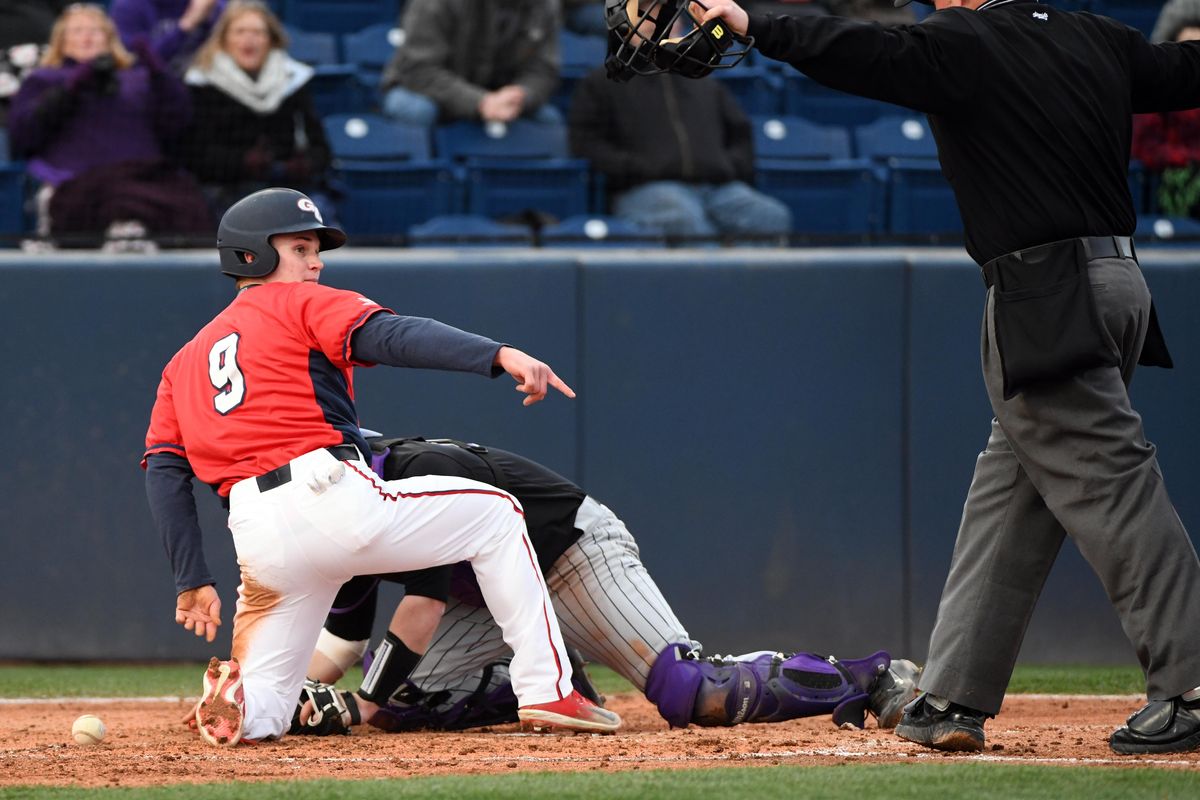 Gonzaga's Carson Breshears is called safe at home as the ball gets away from Portland catcher Tate Budnick on Friday. (Jesse Tinsley / The Spokesman-Review)
There's no place like home.
Although it might take the Gonzaga Bulldogs a few more nights at Washington Trust Field for it to really feel like a home-field advantage.
Before Gonzaga's 6-4 win over Portland on Friday, the Zags had played three games at home, when they hosted Pepperdine last month in a West Coast Conference opening series.
"It's nice to get back at home and defend our yard," GU center fielder Branson Trube said on Friday.
The Zags played the first month of the season on the road, starting in Surprise, Arizona, where they split a four-game tournament. They plowed through a tough nonconference schedule that featured games against No. 2 Stanford and No. 4 Oregon State. The Zags fell 4-3 to both.
"We don't take a lot of consolation in losing one-run games. You've got to win those games," Gonzaga coach Mark Machtolf said. "But the more you're in them, I think the more experienced you get. The better you are late in the year."
Gonzaga's first night at home in a few weeks didn't go quite as smoothly as Machtolf had hoped.
The Zags (14-14, 5-5 WCC) fell behind in the first after recording two outs. Right-hander Daniel Bies allowed a pair of singles and loaded the bases after grazing a batter with an inside breaking ball.
The redshirt junior issued a bases-loaded walk that gave the Pilots (10-17, 4-6) the lead.
Gonzaga responded in the bottom of the frame with two singles by Trube and first baseman Jake Vieth. Trube came home on a wild pitch and tied the score at 1.
The Zags pulled ahead in the second on Trube's two-out, two-run single to left to score Carson Breshears and Jace Vandebrake for a 3-1 lead.
The Pilots were quick to answer in the third, putting runners on second and third with a single and double. Left fielder Cody Hawken knocked in one run on a sacrifice fly to left that cut Gonzaga's lead to 3-2.
Portland's Daniel Lopez scored from third base on a wild pitch to tie the score at 3.
The Pilots rallied in the sixth behind shortstop Chad Stevens' leadoff liner to left field. Stevens advanced to second base on a wild pitch and took third following Jace McKinney's single up the middle.
With one out, Bies loaded the bases on a walk. Collin Runge helped the Pilots take back the lead on a sacrifice fly to center field that sent home Stevens.
Senior lefty Calvin LeBrun took over for Bies and stopped further damage with a strikeout to end the inning.
The Zags pulled ahead for good in the bottom of the sixth, beginning with Vieth's walk. Gonzaga catcher Austin Pinorini followed with a single to right field.
Patrick Chung's sacrifice bunt moved Vieth and Pinorini into scoring position for Vandebrake's two-run single to right-center for a 5-4 lead.
Vieth scored again in the seventh after reaching second base on an error. He advanced to third and scored on two wild pitches.
Gonzaga's recent struggles at the plate spilled over into Friday night. The Zags ended the night with six strikeouts and seven hits – all singles. Portland had 13 hits, including a pair of doubles by Lopez.
"We've been striking out too much lately and not doing too good with the short game," Machtolf said. "… the offense will pick up eventually."
The Zags had help from Portland pitchers, who walked three and hit five with pitches.
Trube, who leads the Zags with a .324 batting average, and Vandebrake led the Zags with two hits and two RBIs apiece.
Center fielder Beau Brundage, who leads the Pilots with a .387 batting average, and Lopez led Portland with four hits apiece.
LeBrun (3-3), who had two strikeouts and allowed one hit in two-thirds of an inning, earned the win.
The Zags will continue the series against Portland on Saturday at 6 p.m. and Sunday at noon.
Local journalism is essential.
Give directly to The Spokesman-Review's Northwest Passages community forums series -- which helps to offset the costs of several reporter and editor positions at the newspaper -- by using the easy options below. Gifts processed in this system are not tax deductible, but are predominately used to help meet the local financial requirements needed to receive national matching-grant funds.
Subscribe to the sports newsletter
Get the day's top sports headlines and breaking news delivered to your inbox by subscribing here.
---