Sports > Outdoors
Making the transition from climbing inside to out
April 7, 2018 Updated Sat., April 7, 2018 at 5:29 p.m.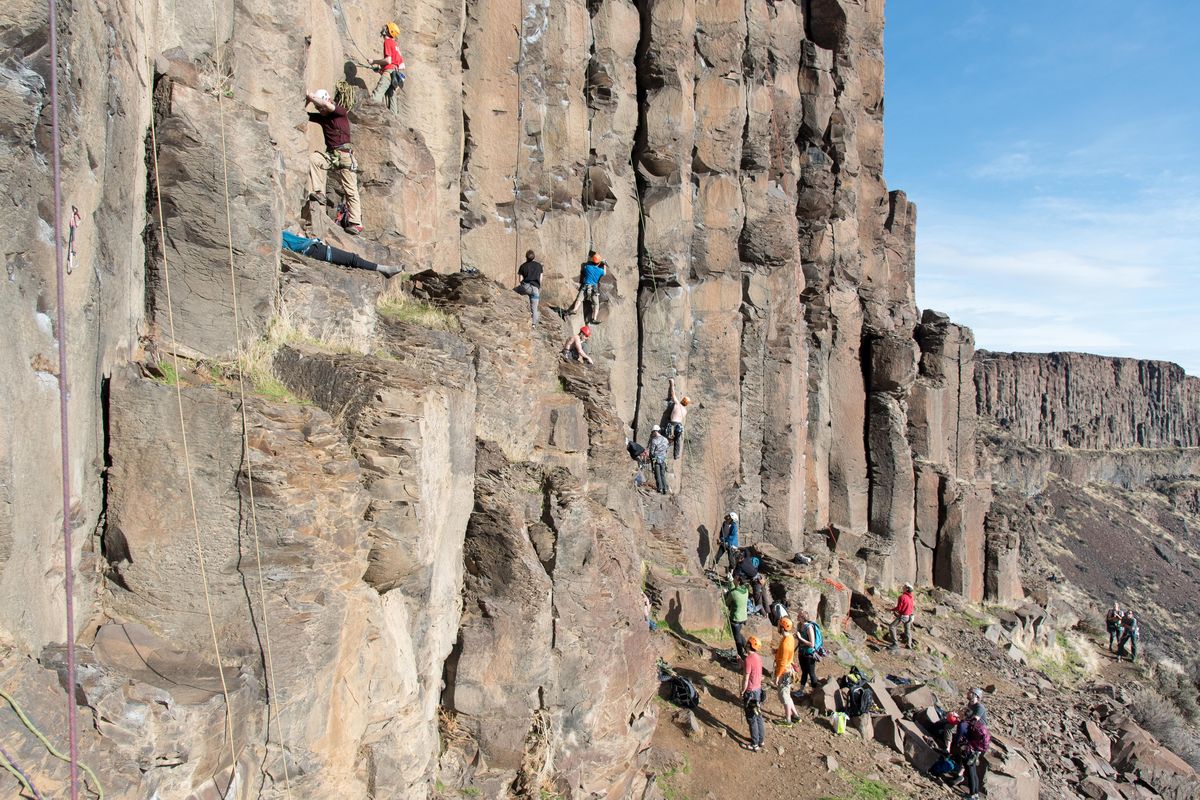 Climbers flock to Vantage, Washington, on Feb. 3, 2018. With spring more climbers will head outside, underscoring the importance of safety. (Eli Francovich / The Spokesman-Review)
It was a spring day when Bailey Shepherd stumbled upon a horrifying scene.
She was climbing with her father in Post Falls when she noticed a young woman climbing next to her. The woman was about 3 feet above her last bolt. She'd just realized she'd run out of quick draws, the devices which connect a lead climber to their rope.
The woman was freaking out.
"So if she's going to take a fall, she's not going to die but it's not going to be super fun," Shepherd said.
The woman yelled to her belayer, asking what to do. Up until this point, Shepherd was following standard climbing protocol. Namely, don't manage others' climbing experiences.
What the belayer said next changed all that.
"Her belayer is like, 'Oh well, why don't you untie from the rope, feed it through the bolt and retie?' " she said. "I was like, 'Do not untie your knot.'
"It was her first lead ever. They were gym climbers. They had no freaking clue what they were doing."
Luckily, the day ended safely for all involved. Shepherd gave the climber some of her gear and the couple made it down safely.
But stories like that aren't uncommon and they don't always end well. With the rock season starting in Spokane, climbers will start heading to the local crags. Many for the first time.
With 47 new rock climbing gyms opened in the United States in 2017, the vast majority of new climbers learned inside a gym. This is not how it used to be. For decades, climbing was a fringe sport. For the few who did partake, climbing was something you did outside, usually under the protective eye of a more experienced mentor.
That's no longer the case. In fact, 2017 was the biggest growth year in at least four years, according to the Climbing Business Journal. And this is for an industry that routinely averages 6 percent growth.
It's no different in Spokane. In addition to Spokane's longtime gym, a new bouldering gym opened in 2017. A third gym was slated to open, although the project is on hold for now.
With many climbing options within an hour or less of downtown Spokane, many of those new climbers will likely get outside for the first time this spring.
"Climbing is starting to become this common practice," said Shepherd, a board member of the Bower Climbing Coalition, a nonprofit dedicated to improving Spokane's climbing areas. "It's the cool fad thing to do. I feel like the idea of it being dangerous is being downplayed these days. Because in the gym it's not."
Climbing outside is a different story.
"No, this is a really dangerous sport," she said. "I feel like a lot of people take it lightly these days. I mean, I take it too lightly sometimes."
Making that transition, from indoor climbing to outdoor climbing, can be an incredibly rewarding experience. But it has to be taken seriously.
"You need to be a little more cognizant," said Adam Volwiler, a longtime climber and BCC founder. "Not all the holds are good. Not all the anchors are good. You need to take responsibility for that."
The No. 1 mistake he sees new climbers making when climbing outside is not building safe anchors.
"I see bad anchors all the time," he said.
Volwiler recommends buying a book on climbing anchors and reading it. Ideally, he said, every new climber would have a mentor. But with so many new climbers, experienced and willing mentors can be hard if not impossible to find.
If that's the case, then read up. Take your life (literally) into your own hands and learn how to be safe, he said.
"Spend time understanding what's keeping you safe," he said. "A lot of accident out there are pretty damn avoidable."
Learning shouldn't ever stop. Continue to learn, from books and other people, he said.
Another simple precaution to take when transitioning from the gym to the crag? Be humble and respectful. Both to other climbers, but also to the area. If you're a 5.11 climber in the gym, don't hit the rocks and jump on a 5.11 your first time out, Volwiler said. Climb below your capacity, especially at first.
"When you do that," he said, "it gives you the ability to get yourself out of (a bad situation)."
As mentioned before, take it seriously. Lowering people quickly, not paying attention while you're belaying or otherwise messing around likely won't get you killed in a gym. It could outside.
"It's not a joke," he said. "It's not funny. Yes, it's a fun activity, but there is no room for error."
Erik Lawson, another BCC board member and longtime climber, recommends finding a mentor, if possible. If not, he said new climbers could be well-served by hiring a certified climbing guide. A few days with a guide will give any new climber a solid, safe knowledge base.
"Yeah, you know with gym climbing these days it can lead people into a false sense of security," he said.
Local journalism is essential.
Give directly to The Spokesman-Review's Northwest Passages community forums series -- which helps to offset the costs of several reporter and editor positions at the newspaper -- by using the easy options below. Gifts processed in this system are not tax deductible, but are predominately used to help meet the local financial requirements needed to receive national matching-grant funds.
Subscribe to the sports newsletter
Get the day's top sports headlines and breaking news delivered to your inbox by subscribing here.
---