A&E > Art
Jordan Schnitzer Museum of Art opens on WSU campus
Sat., April 7, 2018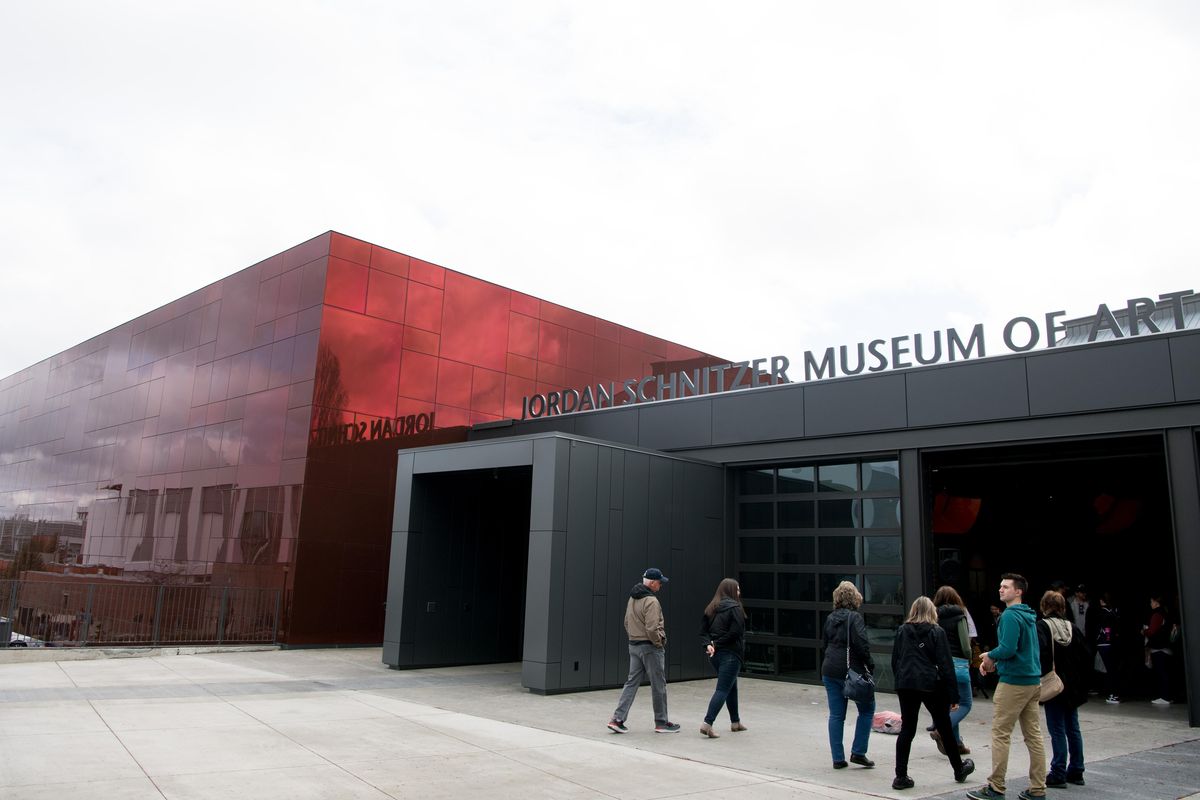 People gather for the grand opening of Washington State University's new Jordan Schnitzer Museum of Art on Friday, April 6, 2018, in Pullman, Wash. (Tyler Tjomsland / The Spokesman-Review)
The Pullman art scene expanded Friday with the opening of a new museum, named for art collector and philanthropist Jordan Schnitzer, on the campus of Washington State University.
Access to the museum is free. Schnitzer, who donated $5 million for the project, said he wants everyone in the community to experience the museum.
"I was lucky in that I grew up with art around me," he said. "Nothing compares with the joy of sharing it."
The museum includes prints, photographs, paintings and sculptures from artists including Andy Warhol and Jim Dine.
In one room, a giant carved wolf by artist Marie Watts dwarfs museum guests walking beneath it. In another, soft-glowing animal figures cast a warm light on visitors.
Art is especially important in a rural area like Pullman, Schnitzer said, because the nearest museums are too far away for many locals to regularly visit.
The venue includes 10,000 square feet of new exhibit space, and six galleries.
The university's previous art museum was more limited, meaning many of the university's nearly 4,000 works of art in its permanent collection had to remain in storage.
The new museum allows for more exhibits, as well as some permanent installations, said curator Zach Mazur.
The installations will switch every three to six months, and also will feature local artists.
The project cost $15 million, $7 million of which came from private funds, $5 million from Schnitzer, and $3 million from WSU.
The Jordan Schnitzer Museum of Art – nicknamed the "Crimson Cube" for its box shape and red, reflective glass panels – was designed by lead architect Jim Olson.
The glass reflects the people and surrounding WSU campus. Olson said the feature lets people see themselves as part of the art.
"The goal of the building was to attract students to the magic of art," he said. "(I hope) each one will walk out with a little spark they didn't have before."
The museum was part of the late WSU President Elson S. Floyd's vision for the university, described as the final architectural "jewel" in his idea of a campus representing a wide range of people and backgrounds.
Current WSU President Kirk Schulz said he wants people who visit the museum to walk away with a new perspective.
"Art is an essential bridge across languages and cultures," he said. "I hope that we've changed, just a little bit, the worldview of the people leaving here."
Students can benefit from exposure to art, regardless of their major, Schnitzer said.
"(Businesses) need people that are technically trained, but also think creatively," he said. "I think it's a critical part of each student's education."
Local journalism is essential.
Give directly to The Spokesman-Review's Northwest Passages community forums series -- which helps to offset the costs of several reporter and editor positions at the newspaper -- by using the easy options below. Gifts processed in this system are not tax deductible, but are predominately used to help meet the local financial requirements needed to receive national matching-grant funds.
Subscribe to the Spokane7 email newsletter
Get the day's top entertainment headlines delivered to your inbox every morning.
---