News > Business
81,000 solar panels: Washington's largest solar farm planned near Lind
Sun., April 8, 2018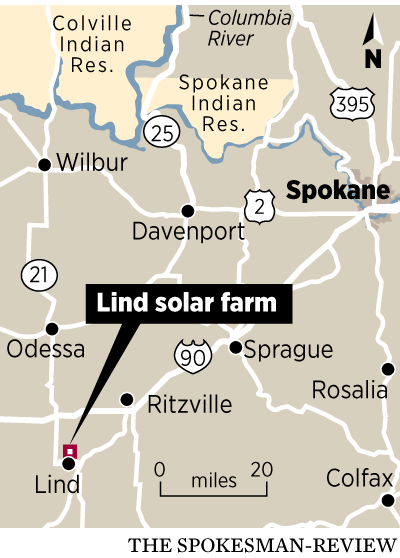 Washington's largest solar farm is coming to Lind.
A North Carolina company plans to start installing 81,000 solar panels in May near the small community about 75 miles west of Spokane.
By mid-December, the solar farm could be generating power for companies interested in low-carbon electricity.
Strata Solar will build and own the 170-acre project. Avista Corp. will buy the electricity and sell it to 40 to 80 large commercial and industrial customers. A state program will provide tax incentives to bring the cost of the solar power in line with the utility's other rates for large electric users.
Harnessing the sun's rays will produce about 28 megawatts of renewable energy at the Lind solar farm. If the electricity were headed to the residential market, it would provide enough power to meet the needs of about 4,000 households each year.
The project is "large for Oregon and Washington, but not for California or the Southwest," which have 100-megawatt solar farms, said John Knight, Strata Solar's chief technology officer.
In conversations with large customers about new renewable energy choices, Avista heard a preference for solar and had several sites with potential, said Marc Schaffner, the utility's project manager for the solar farm. The Lind site was picked based on its sunny location and proximity to Avista's distribution and transmission systems.
In the Northwest, solar power represents less than 1 percent of the region's electrical generating capacity. But that could change, said Joni Bosh, senior policy associate for the NW Energy Coalition in Portland, which advocates for clean energy.
Prices for solar panels and installation have dropped in recent years, making the cost of solar electricity more competitive with other types of generation, Bosh said. Meanwhile, large corporations, local governments and even some schools and universities are stepping up their commitments to renewable energy to meet sustainability goals. That's pushing investment in solar, wind and geothermal projects, Bosh said.
Parts of Washington's central Columbia Basin have high potential for solar development, according to the National Renewable Energy Lab in Golden, Colorado, which evaluates areas based on weather, atmospheric conditions and hours of daylight.
In Lind, "we get quite a few sunny days," said Kim Michaels, the city's clerk and treasurer.
Strata Solar is leasing former agricultural land just north of the city limits. The project is triggering lots of talk in the town of 550 people, which is best known for its annual Combine Demolition Derby Extravaganza in June.
"It's a big project, and it's a big change for the area," Michaels said.
Meeting the market
Last year, the Washington Legislature approved additional tax incentives to spur the development of solar, wind and other renewable energy projects throughout the state.
For the Lind project, the tax incentive is worth up to 6 cents per kilowatt-hour for a period of eight years. The program is administered by Washington State University Extension's Energy Program.
The incentive takes the premium out of solar electricity, putting it on par with Avista's other generation costs, said Schaffner, the utility's project manager. About half of Avista's electricity comes from dams. The rest comes from gas-fired turbines, a coal plant, wind and biomass generation.
Aside from Washington's tax incentive, other market forces are at work. Nationwide, companies such as Google, Amazon and Apple are investing heavily in renewables on their own or making commitments to buy more green electricity.
"It's an important and disruptive type of initiative, shaking up utilities that hadn't planned on acquiring that much in renewables," said Tom Karier, the Northwest Power and Conservation Council's Eastern Washington representative.
Utilities risk losing large customers if they don't step up, said Karier, citing Microsoft as an example.
Last year, Microsoft announced plans to buy carbon-free electricity on the open market to power most of its Puget Sound operations. Through the move, the tech giant is largely bypassing its local utility, Puget Sound Energy. Microsoft will pay a fee to reduce the effect on the utility's other ratepayers.
"These big businesses are hearing from their customers. … They're pressured by customer demand to come up with a plan to get cleaner," said Bosh, of the NW Energy Coalition.
As large consumers, the companies also want to lock in stable, long-term prices through power purchase agreements, she said.
The companies are "serious about (reducing carbon emissions), but they're doing it in a businesslike way," Karier said. "They're going to meet the goals, and they're going to do it at the lowest possible cost."
Avista doesn't have a big tech company headquartered in its service territory. But the utility probably has other customers with corporate sustainability goals, Bosh said.
"I would bet they're hearing from their customers that they're looking for green power," she said.
That's true, Avista's Schaffner said. The list of prospective customers for solar power from the Lind project runs the gamut from large retailers to hospitals, universities, manufacturers and other companies, he said.
"On the East Side (of the state), we're not as far down the road in terms of sustainability commitments," Schaffner said. But it's definitely on the way, he said.
Enrollment in the solar program, which starts May 1, is available on a first-come, first-served basis to eligible Avista customers in Washington. Customers must commit to purchasing the electricity for eight years.
Avista chose Strata Solar as a partner after the Chapel Hill, North Carolina, company responded to a request for proposals last year.
Strata Solar has built more than 150 utility-scale solar developments. Knight, the chief technology officer, declined to disclose the cost of the Lind project.
A groundbreaking ceremony for the solar farm will take place in late May. About 100 people will work on the installation of the panels to get the project in operation by December.
The panels will follow the sun throughout the day to maximize output. Even on cloudy days, the solar panels will still produce some electricity, Schnaffer said.
Local journalism is essential.
Give directly to The Spokesman-Review's Northwest Passages community forums series -- which helps to offset the costs of several reporter and editor positions at the newspaper -- by using the easy options below. Gifts processed in this system are not tax deductible, but are predominately used to help meet the local financial requirements needed to receive national matching-grant funds.
Subscribe now to get breaking news alerts in your email inbox
Get breaking news delivered to your inbox as it happens.
---