Sports
Grip on Sports: The weather in Minneapolis saved us from getting hurt trying to watch two events
Mon., April 9, 2018 A GRIP ON SPORTS • It was cold in Augusta yesterday. But not nearly as cold as it was in Minneapolis. Appropriate and expected, I guess, for early April. One show went on, another didn't. Read on.
••••••••••
• The show that went on was in Georgia, where Patrick Reed's lead was just big enough to allow him to hold on and win his first major golf tournament.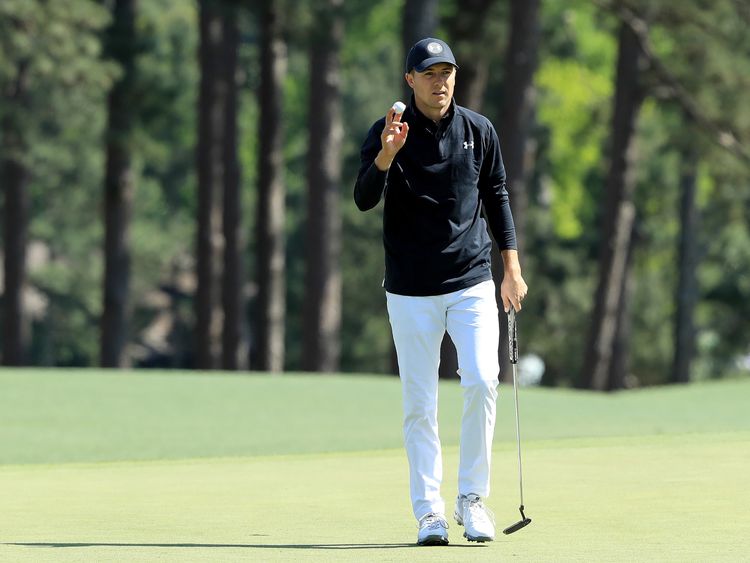 The 2018 Masters will always list Reed as the winner, but the performance of the day was turned in by Jordan Spieth, whose assault on the course's scoring record was knocked down by a single branch of a single tree on the 18th hole.
Or maybe the performance of the day came from Rickie Fowler, who turned in a Jack Nicklaus-like charge on the back nine, only to come up one stroke short.
But, if you remember, Nicklaus' late run in 1986 was helped by Seve Ballesteros putting the ball into the pond at 15, something Reed avoided Sunday.
In fact, Reed avoided any big mistakes, though he came close to the hazard on 13, with only the wet conditions from Saturday's rain keeping his ball from the creek and allowing him to salvage a par. 
And par was good enough, or close to it, for Reed, nicknamed Captain America for his Ryder Cup enthusiasm. It was enough because of how well he played Friday and Saturday, which is the point of a four-day tournament.
The Masters is not the most physically demanding of the four majors, even though Augusta National is a course defined by elevation changes. The weather in early April in Georgia doesn't hold a candle to what can challenge golfers at the PGA in August or even the U.S. Open in June. (And the odd July in Britain, when the weather becomes more like the south of France than Scottish.)
But the mental grind of trying to hold on to a lead on a course where eagle is the norm on Sunday afternoon can wear down the weak of heart. It's happened before – often – and Spieth, who ended up shooting a last-day 64, was hoping it would happen again.
It did, but only to Rory McIlroy, who entered the day in second place, three shots back. He finished it well down the leaderboard after not being able to break par on another Masters' Sunday.
Without McIlroy applying pressure from the same group, Reed's road was easier, though the way he played probably made it immaterial. He was rock solid much of the day. Not spectacular, not great, just solid. Which is exactly what he needed to be.
From the first hole to the last, when his six-foot par putt hit the bottom of the cup, Reed did what he had to do to win his first green jacket.
• Everyone headed to Target Field on Sunday was wearing more than one jacket, green or otherwise. But when they got there, they were told the game was postponed to May, thanks to temperatures in the teens and snow in the forecast.
Which begs a couple questions. Why the heck when the Twins built a new stadium, didn't they at least put a roof on it? And how many Mariner players will be available to participate when the game is made up?
See, the M's lost first baseman Ryon Healy between Saturday night's win and Sunday's postponement. The newest guy in the clubhouse limped in, his leg in a boot, after spraining an ankle during a postgame workout.
That's something that never happened to Gaylord Perry.
But this Mariner team is leading the league in weird injuries, from Nelson Cruz slipping in the dugout to Healy twice being injured recently while doing some sort of non-baseball workout.
It's been suggested the M's players need to be encased in bubble wrap between games but that seems a bit drastic. Packed in ice would work better. At least while in Minneapolis. 
• Finally, the biggest news yesterday came from Gonzaga. The school announced sophomore Rui Hachimura would return for his junior season.
If this were surprising, it would have been even bigger. But Hachimura's game needs some fine-tuning – the most visible area being in long-range shooting – if he wants to reach his potential at the next level. Couple that with a summer schedule filled with national team obligations, and Hachimura's decision wasn't unexpected.
•••
WSU: The Cougars won the final game in their three-game series at Oregon and all it took to accomplish was a no-hitter from Scotty Sunitsch. It was Washington State's first solo nine-inning no-hitter since 1976, when I was sitting on the bench during college baseball games. That was a long time ago. … Elsewhere in the Pac-12, Jon Wilner says the conference will be better in basketball next season (it can't be much worse). … Spring football is a good time to develop depth. 
Gonzaga: Jim Meehan has this story on Hachimura's decision to stay at GU at least one more season. There is also national coverage. … The baseball team swept its home series with Portland.
EWU: The Eagles did well in a weekend track meet.
Whitworth: The Pirates have won 20 games this softball season. 
Mariners: Healy's injury lowlighted the M's day. The game being postponed was just icing, literally, on their cake. … The injuries have marred a relatively decent start to the season. … Robinson Cano talked about his contract.
Sounders: Portland is not doing all that well to start the season either.
•••        
• There is a lot of work to be done around the house after a weekend spent watching golf. But we're putting it off another day, mainly because my son is off on Mondays, the weather is supposed to be OK and the golf course beckons. Let's go see if I can hit more balls in the water than Sergio Garcia. Shouldn't be that hard, not for someone with my talents. Until later … 
Local journalism is essential.
Give directly to The Spokesman-Review's Northwest Passages community forums series -- which helps to offset the costs of several reporter and editor positions at the newspaper -- by using the easy options below. Gifts processed in this system are not tax deductible, but are predominately used to help meet the local financial requirements needed to receive national matching-grant funds.
Subscribe to the sports newsletter
Get the day's top sports headlines and breaking news delivered to your inbox by subscribing here.
---