Sports > Area sports
Washington State's Scotty Sunitsch dug deep, went nine innings for 'first time in my life' to toss historic no-hitter
April 9, 2018 Updated Mon., April 9, 2018 at 4:06 p.m.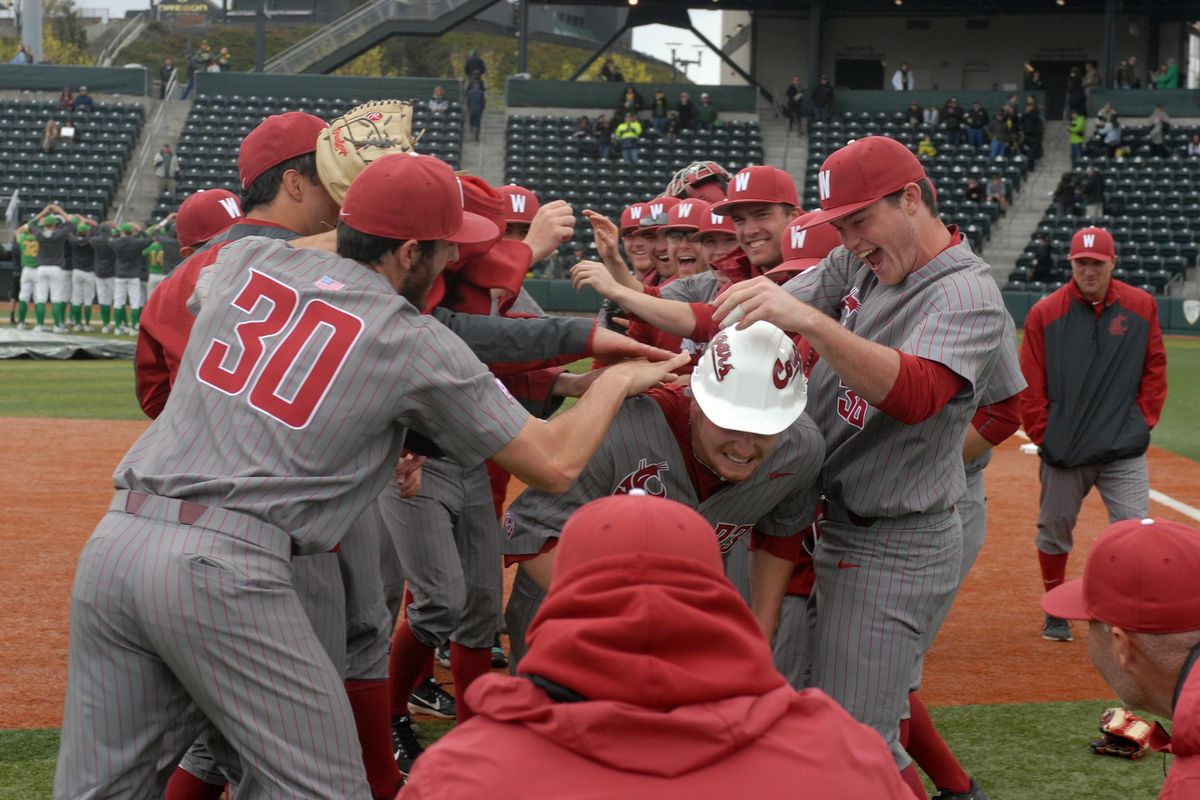 Washington State baseball players mob pitcher Scotty Sunitsch following his no-hitter against the Oregon Ducks Sunday at PK Park. (Washington State Athletics/Courtesy)
Washington State baseball players were watching Indiana Jones and The Temple of Doom and reveling in what teammate Scotty Sunitsch had accomplished on a mushy mound in Eugene, Oregon, hours earlier as the Cougars' team bus rolled through The Dalles Sunday evening, nearing the halfway point of a long and dark ride back to Pullman.
Sunitsch was still brimming, too.
"At least 50" family members, friends and former baseball coaches had contacted Sunitsch since he recorded the third out of the final inning of WSU's 7-0 win over Oregon, beating Evan Williams on a low, out slider to cap a historic afternoon.
PK Park was the Ducks' Temple of Doom Sunday afternoon and Sunitsch made it so.
With only 95 pitches, the southpaw tossed the 25th no-hitter in Washington State history. He became the 19th to do it solo and broke a 42-year drought by becoming the first pitcher to complete a no-hitter in nine innings since Eric Wilkins in 1976. Sunitsch joins Albert Hartman and Wilkins as the only three WSU pitchers to have dealt nine-inning no-hitters.
University of Oregon record books are incomplete, but it's possible Sunitsch also became the first opposing pitcher to hold the Ducks without a hit. At the very least, he's the first one to do it since UO reinstated baseball in 2009.
"It took a few hours to soak in," Sunitsch said from the Cougars' bus Sunday night. "Whatever I can do to leave a mark on this school before I leave, anything I can do means the world to me. It's quite the honor."
The history books will reflect this as Sunitsch's second collegiate no-hitter. He got partial credit for a 7-3 win over Stephen F. Austin last season, as one of four Cougar hurlers to hold the Lumberjacks hitless. But that feat will always be denoted with an asterisk.
"People made fun of us because we gave up a few runs and it was a combined no-hitter, but it still counts," said Sunitsch, who tossed a perfect ninth inning against SFA after Cody Anderson, Joe Rosenstein and Isaac Mullins pulled the Cougars through the first eight. "But this year it actually solidifies (it), a nine-inning no-hitter, so I think it's pretty sweet."
The fact that Sunitsch was still laboring in the ninth inning of a game he started ranks as the second most impressive thing to happen Sunday.
Sunitsch has been a jack-of-all-trades pitcher for the Cougars since his freshman season in 2015 – "I've had a lot of roles here," he said, "so wherever they want to put me. I've been a reliever, closer, starter, long relief, short relief."
With eight more appearances, he'll match Kellen Camus (86) for second-most all-time at WSU. If he somehow reaches 11, he'll tie all-time leader Steve Kost.
But the one thing the Cougars have never asked of Sunitsch is to pitch a marathon.
"I haven't thrown nine innings once in my life," he said.
But nine felt like seven for Sunitsch on his efficient 95-pitch day.
He stumped the Ducks with his changeup, he had his slider working – "(it was) sharper than usual" he said – and he consistently uncorked 90 mile-per-hour fastballs into the upper part of the strike zone, striking out the Oregon batters who couldn't catch up to his heater or inducing fly balls from those that barely got a piece of it.
Sunitsch was four innings deep when hecklers wearing Oregon green and yellow began warning the WSU hurler that he'd yet to cede base hit. Mentioning a no-hitter while it's in the making is one of baseball's unwritten rules and WSU catcher Robert Teel purposefully avoided Sunitsch in the dugout to make sure he didn't cause his pitcher any angst.
"I was thinking about it, but I really wanted to just go, 'OK, next inning, next inning,'" Sunitsch said. "And there was guys in the stands heckling me going, 'Hey, you're throwing a no-hitter.' Giving me garbage from the stands, and it made it a little more fun."
But the 6-2, 205-pound lefty plugged away at the Ducks, walking two and striking out a career-high nine. He pitched himself out of a jam in the bottom of the seventh inning, walking the leadoff batter and hitting the next man up to give Oregon two runners with no outs.
"I could've just easily lost my temper and gone downhill," Sunitsch said, "but I got two fly balls and a strikeout, kept it alive."
A younger Sunitsch may have lost the no-no right there, he admitted.
The Cougars made a few highlight defensive plays to preserve the historic outing, too. In the first inning, Teel sold out to make a catch in foul territory, colliding with the backstop as the ball fell into his glove. "He almost broke his knee for me," Sunitsch said of the play. In the third inning, Justin Harrer tracked down a deep fly in left field that took him all the way to the warning track. In the ninth inning, Derek Chapman dove to snag a short line drive that nearly dropped into a pocket of grass in shallow left field.
"It pushes you to pay them back," Sunitsch said. "I've been a position player myself, too. You sit there for the chance for maybe two or three plays a game. It's a long game and you really want to sell out for your pitcher and once you see that on the field, that really makes you want to pay them back and support them, especially when they're giving a lot of run support."
Sunitsch, a Todd Beamer High (Federal Way) graduate who was born in Tacoma, said the muggy conditions Sunday's game was played in gave him a taste of home.
"The wet mud was nice because I could roll my hands in the mud and get the ball muddied up and it would go wherever I wanted it to go," he said.
Sunitsch, who was originally supposed to pitch in Saturday's 2 p.m. game against Oregon, swapped with Cody Anderson to earn the Sunday start. His parents, Scott and Nancy Sunitsch, were in the grandstand when their son heaved his final strike across the plate.
"I gave them a big hug and my mom was crying a little bit, she was so happy," Sunitsch said.
Local journalism is essential.
Give directly to The Spokesman-Review's Northwest Passages community forums series -- which helps to offset the costs of several reporter and editor positions at the newspaper -- by using the easy options below. Gifts processed in this system are not tax deductible, but are predominately used to help meet the local financial requirements needed to receive national matching-grant funds.
Subscribe to the sports newsletter
Get the day's top sports headlines and breaking news delivered to your inbox by subscribing here.
---