Becky Sauerbrunn reflective as U.S. sets sights on World Cup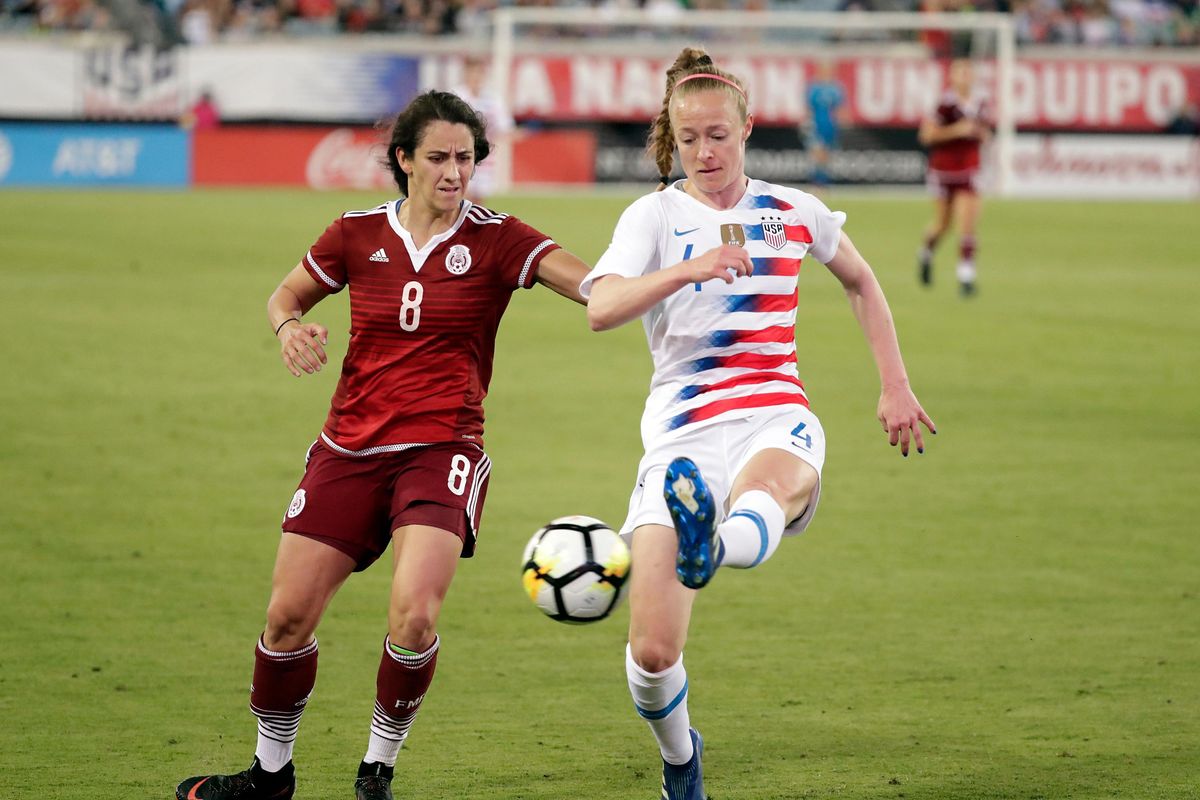 To hear Becky Sauerbrunn reference the "twilight" of her career is a bit unsettling. It's abundantly clear from watching the 32-year-old defender on the field that she's still at her peak.
But Sauerbrunn is thinking about a legacy as the U.S. national team readies for World Cup qualifying this fall. If the defending champions make the field for women's soccer's premier event in France next year, it will be her third World Cup.
For Sauerbrunn, that legacy means using her voice to effect change. It includes her team's public push for equitable pay – which culminated with a new contract last April with U.S. Soccer.
And more recently it includes her effort to send a team of underprivileged girls to the Street Child World Cup in Moscow this summer.
"I've been given a platform and I want to do good with it. I've been playing sort of in the twilight of my career and I'd really like to leave the game better than when I found it," she said.
Sauerbrunn spent the beginning of the year recovering from a foot injury. She made her first appearances of the season in a two-game series against Mexico, coming in as a sub in the opening game, a 4-1 U.S. victory, then starting the second, a 6-2 win on Sunday.
"The stress reaction I had in my foot is better. I've been getting MRIs and it's healing, which is great," she said. "I really feel like I'm coming back healthy and now it's about getting back into soccer form."
A center back, Sauerbrunn helped anchor the stellar backline that was key to the team's title run at the 2015 World Cup in Canada. The difference this time around is that the United States won't have goalkeeper Hope Solo, who set records during her lengthy career but left the team on bad terms following the 2016 Olympics in Rio.
The search for the team's new goalkeeper continues, with Jane Campbell of the Houston Dash getting the latest starting nod in Sunday's friendly.
"We're feeling really good," Sauerbrunn said about the team's mentality. "It's unfortunate because we have quite a few injuries, so we're missing four or five of our core players (including Tobin Heath and Julie Ertz). But what's good about that is that it provides the opportunity for other players to show what they have and gain some valuable experience."
Coach Jill Ellis continues to experiment with the backline although the dependable Sauerbrunn is a lock as a starter if she's healthy. Crystal Dunn started as a fullback in Sunday's game but moved up to an attacking position and Ellis indicated she liked versatility.
"I think overall what we're looking for – these players obviously have to do the job defensively, but it's also looking at what they can bring to our attack," Ellis said.
For now Sauerbrunn is busy helping the Utah Royals open their first National Women's Soccer League season. Sauerbrunn, a three-time NWSL Defender of the Year, played for FC Kansas City since the league's inception in 2013 – but that team folded earlier this year and the players collectively went to the Royals.
The Royals will be looking for their first win of the season Saturday when they host the Chicago Red Stars.
She's also lending her voice to raising funds for the Street Child World Cup team. The event in Moscow prior to the men's World Cup this summer seeks to draw attention to the plight of homeless and orphaned children across the globe.
Sauerbrunn caused a stir recently on social media when she posted a photo of a baby soccer jersey and shorts, along with her cat. The tweet sent shockwaves through soccer fandom with speculation that she was pregnant.
"I'm like internally cringing just thinking about that. That was a prank gone awry. Do not use Twitter as a format for pranks," she said. "I was cleaning out my apartment and saw this little Nike uniform and I thought, 'Wow, it would be so funny to pull a prank.' Such a backfire. Mia Hamm texted me and said, 'Congratulations,' and I thought, 'I'm a terrible, terrible person, I just tricked Mia Hamm.' Never again."
For the record, she's not pregnant. She's got some things she'd like to accomplish on and off the field first.
---