News > Spokane
Poll suggests bruising race for Congress between Cathy McMorris Rodgers and Lisa Brown
April 11, 2018 Updated Wed., April 11, 2018 at 6:45 a.m.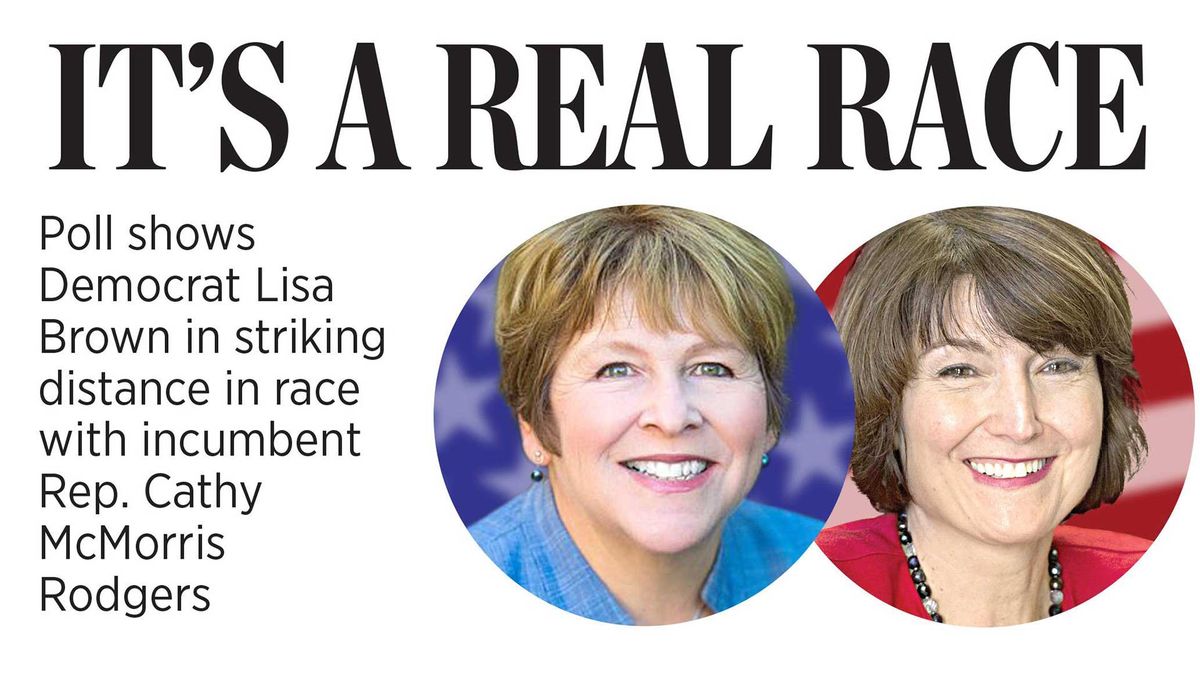 Split by voters' views of President Donald Trump and gender, Eastern Washington's electorate is highly polarized and possibly headed for the closest race in the 5th Congressional District in years.
The race between U.S. Rep. Cathy McMorris Rodgers and former WSU Spokane Chancellor Lisa Brown is shaping up to be a bruising race, said H. Stuart Elway of Elway Research Inc.
In a recent survey of 403 registered voters in the district, incumbent McMorris Rodgers had a 6-percentage-point lead over Brown, with 44 percent saying they plan to vote for the Republican incumbent and 38 percent saying they plan to vote for the Democratic challenger. Another 3 percent said they plan to vote for someone else, and 16 percent are undecided.
The overall poll has a margin of error of 5 percentage points, so the race is within the margin and McMorris Rodgers' lead is "not statistically significant," Elway said. Being under 50 percent is a worry for any incumbent.
The poll was conducted between April 4 and 7 for The Spokesman-Review, KHQ-TV, the Walla Walla Union-Bulletin, Spokane Public Radio and the Lewiston Tribune. Like any survey, it doesn't predict the outcome of the 2018 election but offers a snapshot of voters' views at the time it was conducted.
It's no surprise that Brown has a huge lead among voters who told pollsters they are Democrats, and McMorris Rodgers among self-identified Republicans.
Alice Beattie, who said she's been voting Democrat since the 1980s, said she believed Brown would bring a fresh perspective to the district.
"She's a very well-educated person," Beattie, 80, said of Brown. "We need someone who has a balanced, full view of what has happened and what's going to happen."
Spokane Valley resident Yvonne Helgeson, 70, identified herself as "a conservative" and said she's always voted for McMorris Rodgers. She cited the congresswoman's work for veterans and pushing legislation that would promote health care recruitment in rural areas as reasons for her support.
"She knows the people really well," Helgeson said. "She tries to put the issues of Eastern Washington at the forefront."
Among those who said they are independents. McMorris Rodgers' lead is 8 percentage points, 40 percent to 32 percent.
Voters don't register by party in Washington, so pollsters have to ask them how they would register if they had to. In Eastern Washington, voters who say they are independent seem to tilt Republican in recent years, Elway said.
There's a noticeable "gender gap" among voters surveyed. McMorris Rodgers enjoys a significant lead among male voters polled, with 51 percent saying they would vote to re-elect her and 28 percent saying they would vote for Brown.
Gabe Hinkle, 39, said he supported McMorris Rodgers because of her position on gun rights issues and her work to maintain the Columbia and Snake River dams.
"The Democrats are so far gone from anything I would consider American," Hinkle said.
Among female voters, however, Brown has a lead, with 46 percent saying they plan to vote for her compared to 38 percent saying they would vote for McMorris Rodgers.
"I think that's a reflection of party identification," Elway said. Men were twice as likely as women to say they were Republican as Democrat, while women were slightly more likely to say they were Democrat. The independents were equally split.
One of those independents was Lindsey Myron, a Spokane tax preparer. Myron said she grew up Republican through her college years, but has since found several Democratic candidates she can support. She favors Brown in the November election, though she hasn't closely researched the Democrat's positions or story.
"At this point, it's kind of like, why not somebody else?" Myron said.
One of the biggest indicators of how survey respondents say they are likely to vote was their view of the job President Trump is doing. Half of the people polled said they disapprove of the job Trump is doing, while 45 percent said they approve.
When asked whether they "strongly" or "somewhat" approve or disapprove of the job he's doing, men were about equally divided, with 26 percent saying they strongly approve and 30 percent saying they strongly disapprove.
Jerry Clark, a 68-year-old retired landscape architect who moved back to Spokane from California this year, didn't want to weigh in on whether he supported McMorris Rodgers or Brown, saying he hadn't done enough research yet to see who he'd support. But he approves of the job Trump is doing, though he wishes the president would get out of his own way sometimes.
"I think some of his accomplishments get overlooked because of all of the incidental issues that are really more around personality and style," said Clark, who identified as a Republican.
Women, however, were more than twice as likely to have strong negative feelings, with 43 percent saying they strongly disapprove compared to only 19 percent saying they strongly approve.
"I think that Trump needs to keep quiet. He doesn't need a wall," said Janice Loft, 75, who was one of the women who said they strongly disapproved of the president's performance. "He doesn't need to deport everybody that is already here."
Loft said she voted for Democrat Hillary Clinton in the last presidential election because "we didn't have a whole lot to choose from."
McMorris Rodgers' approval ratings were evenly split, with 45 percent saying they approve of the job she's doing, and the same percentage saying they disapprove.
An approval rating below 50 percent is usually a concern for the president and his party in an upcoming midterm election. Asked if that's the case for 2018, Elway replied: "It would be, if this were a normal presidency."
Voters surveyed in Eastern Washington gave the president a slightly better job rating than the national average. Trump's approval rating nationwide is at an average of 42 percent, according to a compilation of recent surveys by the FiveThirtyEight website, while his disapproval rating is at 53 percent.
But Trump's approval rating represents a drop from the district's 2016 presidential election results, when he captured 52.2 percent of the votes against Clinton's 39 percent. The remainder of the votes went to five minor party candidates.
The poll suggests that Trump's loyal base strongly supports his fellow Republican McMorris Rodgers. Among those who support Trump, 79 percent say they'll vote for her, while 69 percent who disapprove of the job he's doing plan to vote for Brown.
Nearly seven months before the election, the two candidates may be vying for a relatively small pool of undecided voters. Only 16 percent of those surveyed said they were undecided about their choice, which Elway said that was about what he'd expect for a race with two relatively well-known candidates.
McMorris Rodgers has been in Congress for 14 years, but Brown, a former state legislator and university official, is also well known, he said.
"There's not a lot of voters to get out there," Elway said.
Contact the writer:(509) 879-7461 jimc@spokesman.com
Contact the writer:(509) 459-5429 kiph@spokesman.com
Local journalism is essential.
Give directly to The Spokesman-Review's Northwest Passages community forums series -- which helps to offset the costs of several reporter and editor positions at the newspaper -- by using the easy options below. Gifts processed in this system are not tax deductible, but are predominately used to help meet the local financial requirements needed to receive national matching-grant funds.
Subscribe now to get breaking news alerts in your email inbox
Get breaking news delivered to your inbox as it happens.
---