News > Nation
Megachurch founder quits amid sexual misconduct allegations
Wed., April 11, 2018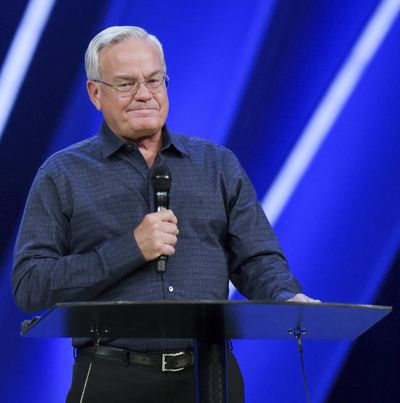 SOUTH BARRINGTON, Ill. – The founder of a Chicago-area evangelical church that grew to become one of the largest in the nation is stepping down, calling allegations that he touched and made lewd comments to female congregants a distraction.
The Rev. Bill Hybels, 66, announced his immediate retirement at a meeting Tuesday with members of the Willow Creek Community Church in South Barrington, Illinois. He has said since 2012 that he planned to retire this October.
The Chicago Tribune last month reported details of the misconduct allegations against Hybels stretching back to the 1990s. A church inquiry cleared Hybels. He has said he has been accused of things he "simply did not do" and that the allegations are "flat-out lies."
Hybels told congregants Tuesday that the allegations have become a distraction from the church's mission and work. He apologized for making choices that put him in situations that could be misconstrued, and for reacting in anger when the accusations were made public.
"I realize now that in certain settings and circumstances in the past, I communicated things that were perceived in ways I did not intend, at times making people feel uncomfortable," he said.
One of his accusers told the Tribune she does not plan to sue. It was unclear if others were taking legal action.
He said the decision to step down now "was mine and mine alone after a lot of prayer."
Heather Larson, executive pastor, will take over as the church's chief executive.
"This is going to take time for all of us to process," Larson said. "This is not the end of the story. It's not the end of Bill's story. It's not the end of Willow's story, and it's certainly not the end of God's story."
The church that Hybels started in Palatine, Illinois, in 1975, now has eight Chicago-area locations. Leaders say it draws 25,000 people each week.
Local journalism is essential.
Give directly to The Spokesman-Review's Northwest Passages community forums series -- which helps to offset the costs of several reporter and editor positions at the newspaper -- by using the easy options below. Gifts processed in this system are not tax deductible, but are predominately used to help meet the local financial requirements needed to receive national matching-grant funds.
Subscribe to the Coronavirus newsletter
Get the day's latest Coronavirus news delivered to your inbox by subscribing to our newsletter.
---