News > WA Government
Eastern Washington poll shows nearly 2-to-1 support for higher age limit for buying semi-automatic rifles
April 12, 2018 Updated Thu., April 12, 2018 at 7:31 a.m.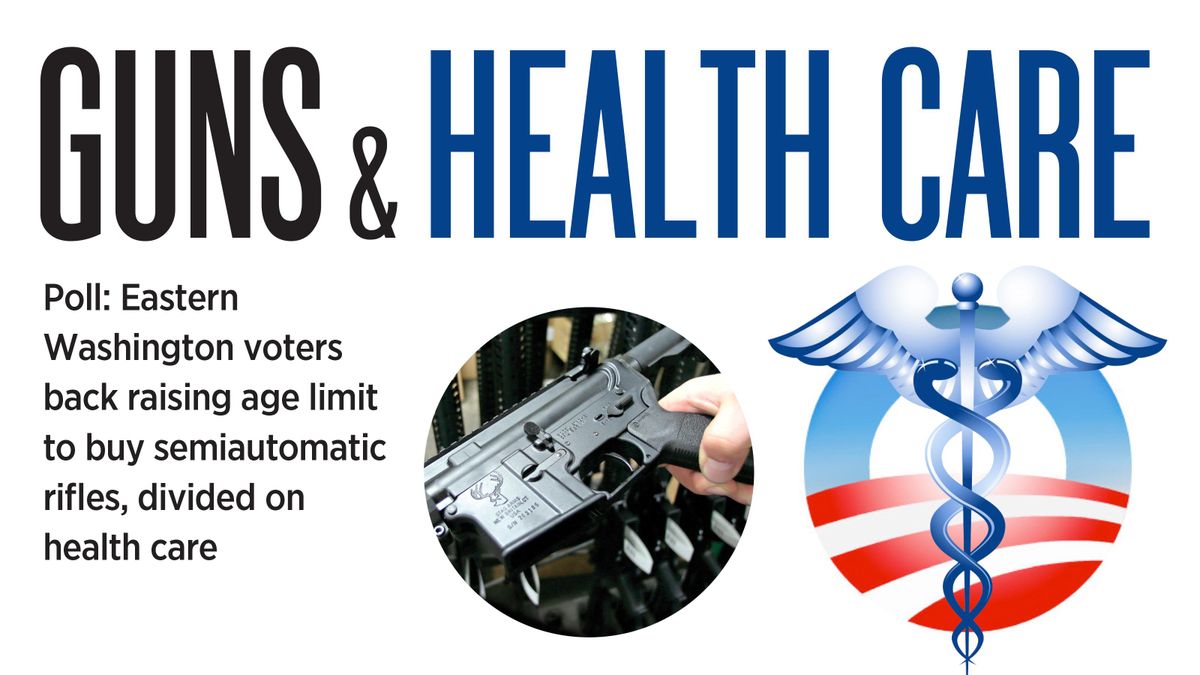 Eastern Washington voters overwhelmingly favor raising the age limit for buying a semi-automatic rifle but are evenly split on whether they think Congress should repeal the Affordable Care Act, a new survey indicates.
Those could be critical factors in determining who wins the 5th Congressional District race between Republican incumbent Cathy McMorris Rodgers and Democratic challenger Lisa Brown in the fall.
In a survey of 403 district voters conducted last week by Elway Research Inc., support for changing a key law governing the sale of semi-automatic rifles was greatest among self-identified Democrats and women voters, but reached a majority among men and independents, across age groups and with different levels of education.
The poll asked voters if they support raising the age for the sale of those weapons to 21 from the current age of 18. The age for purchasing a handgun is already 21.
Overall, 62 percent said they support the proposal, and 33 percent oppose it.
A plurality of self-identified Republican voters, McMorris Rodgers' core support, were against the change by a slight margin, with 48 percent saying they would oppose it and 44 percent supporting it.
"It's a fairly tricky issue for Cathy (McMorris Rodgers), because for them, she's on the right side of the issue," said pollster H. Stuart Elway, who conducted the survey for The Spokesman-Review, KHQ-TV, the Walla Walla Union-Bulletin, Spokane Public Radio and the Lewiston Tribune.
Yvonne Helgeson, 70, a Spokane Valley poll respondent who identified herself as a conservative and longtime McMorris Rodgers voter, said raising the age to buy the weapons wouldn't address the larger problem of school violence.
"I don't think it's going to help anything," Helgeson said. "Most of these kids, if they get a gun, it's usually out of their dad's gun cabinet."
Other poll respondents in the district, many of them gun owners themselves, said raising the age would be a common-sense step to reduce shootings.
John Misener, a 69-year-old Spokane voter who identified himself as an independent but supports Brown, favored raising the age and additional gun safety measures, despite growing up hunting and eating the meat he's harvested.
"Anyone who says they're out there to take away our guns, that they want to and can take away the Second Amendment rights is crazy," Misener said. "That's not ever going to happen in America."
Donna Stemple, a 76-year-old McMorris Rodgers supporter and self-identified Republican, said she supported raising the age despite concern it would lead to curtailing gun ownership rights.
"I support that 100 percent. I don't see any reason for that, if we can't drink until we're 21," she said.
"What concerns me, is that it's the first step toward more," Stemple added. "My fear is that the more will become too much."
Raising the age limit is one issue around gun rights and gun safety where McMorris Rodgers and Brown sharply disagree. In recent interviews for a story on gun policy, the incumbent Republican said she did not support raising the age to 21, arguing that a person can enlist in the military at 18 and should be able to own a semi-automatic rifle at that age.
Brown said she supports the change, noting it wouldn't prevent people under 21 from being trained to use the weapon, but they shouldn't be able to own one.
The National Rifle Association opposes the change. President Trump initially said in February he would support such a change, but a package of gun safety measures he proposed in March did not include it.
The strength of support for restricting sales to those 21 and older surprised Elway, who has conducted polls throughout the state for decades.
"I wouldn't be surprised to see those numbers in King County, but in the 5th District, it is a surprise," he said.
The strength of the support for a change to laws surrounding semi-automatic rifles could be partly a result of demonstrations after the Parkland, Florida, high school mass shooting, he said. In the past, calls for changes to the nation's gun laws after similar tragedies faded with time. Elway isn't sure that will happen before the fall midterm elections, as some of the Parkland students and other young people continue to mobilize with marches and voter registration efforts.
"There seems to be a sense that this time, the opinions are shifting," he said.
Raising the minimum age for a semi-automatic rifle to 21 had the most support among voters 35 or younger, and among those 65 and older. That could be a concern for the incumbent because voters 65 and older are the most consistent voters, and those 35 and younger could be the segment with the greatest potential for growth before the November election.
Affordable Care Act repeal
Repealing and replacing the Affordable Care Act, often called Obamacare, has been a campaign promise of McMorris Rodgers and other congressional Republicans for several elections. With the GOP controlling Congress and the White House, they were able to make some changes to tax policy that affect the law but could not manage a full repeal.
Voters in the 5th District were evenly split on what they think should be the law's future, with 46 percent saying Congress should continue efforts to repeal the law and 47 percent saying they were opposed to that action.
Brown has said she would work to improve the Affordable Care Act, which she said in a recent Reddit ask and answer session with users "isn't affordable for many of us." She suggested in that same post an expansion of Medicare and Medicaid, but has also said she is not in support of a single-payer, Medicare-for-all system that has been touted by some Democrats.
In interviews this week, some respondents to the poll, even those who said congressional efforts to repeal the law were misguided, agreed that the Affordable Care Act was flawed. But they differed on what should be done about it.
"It's not perfect, but they've just been totally saying no, and not trying to come up with a better solution," said Richard Wheeler, 70, of Cheney, of the Republican strategy. Wheeler identified as a Democrat supporting Brown.
Republicans, however, still had concerns about the details of the law, and the rising cost of insurance premiums. Many referred back to the 2010 statement of then-House Speaker Nancy Pelosi, which became a refrain of Republican members trying to take back the House, that lawmakers had to "pass the bill to find out what's in it, away from the fog of the controversy."
"Immediately, you have to make a judgment that this wasn't very well thought through, and look at all the issues with the law," said Jerry Clark, a 68-year-old Republican and Trump supporter.
Elway said the poll shows the Affordable Care Act is still a divisive issue, although he was surprised that voters in the district, which has voted Republican in congressional and statewide elections for years, was evenly split.
There was a difference between men and women voters polled, with 55 percent of men saying they favor repeal, and 50 percent of women saying they oppose it.
Gabe Hinkle, a 39-year-old Republican and Trump supporter, said the slate should be wiped clean on health care.
"I think it should be done away with and started over from scratch," Hinkle said of the health care law. "I think it costs people way too much money."
But Lindsey Myron, an independent voter, said families had come to count on the provisions of the law and repealing it would put many Americans in a tough financial spot.
"Millions more people have health care than eight years ago, and that's important," Myron said. "I think about a couple of my friends who had breast cancer who got treatment because of the law. How can you want to take that away?"
The more significant difference, however, was across age groupings. A slight majority of voters younger than 36, and half of those 65 and older, said they oppose the repeal while a majority of those between 36 and 50, and half of those between 51 and 64, said they support the repeal.
Elway said that's a fairly common division in the United States today, with young adults and their grandparents on one side and the parents on the other. Baby Boomers are moving into the over-65 segment of the population, but they're a pretty diverse demographic.
Voters over 65 are mostly on Medicare, and those under 26 could still be on their parents' insurance, an option required by the Affordable Care Act. Those between 35 and 64 may be paying increased premiums in recent years after the law went into effect.
Contact the writer: (509) 879-7461 jimc@spokesman.com
Contact the writer: (509) 459-5429 kiph@spokesman.com
Local journalism is essential.
Give directly to The Spokesman-Review's Northwest Passages community forums series -- which helps to offset the costs of several reporter and editor positions at the newspaper -- by using the easy options below. Gifts processed in this system are not tax deductible, but are predominately used to help meet the local financial requirements needed to receive national matching-grant funds.
Subscribe now to get breaking news alerts in your email inbox
Get breaking news delivered to your inbox as it happens.
---