News > Spokane
Spokane woman wins $25,000 from Publishers Clearing House
Fri., April 13, 2018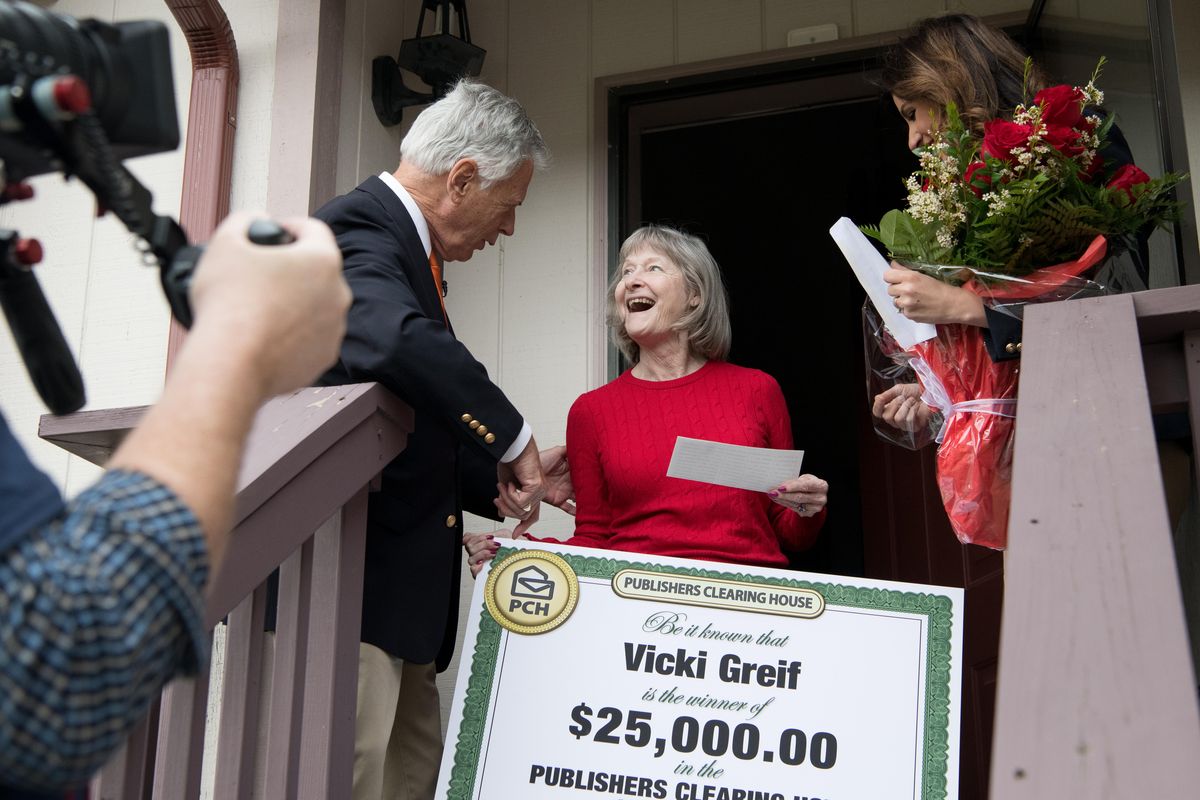 Dave Sayer and Danielle Lam, from the Publishers Clearing House Prize Patrol, present Vicki Greif with a giant check for $25,000 at her home north of Spokane on Thursday, April 12, 2018. (Tyler Tjomsland / The Spokesman-Review)
No matter how many times she entered the sweepstakes, hoping to win a big sum of money, few of Vicki Greif's family members thought she had a real chance of winning.
But any suspicions were dashed Thursday afternoon when the Prize Patrol showed up at Greif's doorstep in a quiet neighborhood near Whitworth University.
"Are you serious?" she asked as Dave Sayer and Danielle Lam, the faces of Publishers Clearing House, handed her a bouquet of roses and a giant check for $25,000.
With a camera rolling, Greif, a retired bookkeeper and advertiser, said she was surprised to win the sweepstakes and called her daughter to break the good news.
"Oh my god, Mom, that's awesome!" her daughter exclaimed.
Publishers Clearing House, a so-called "direct marketing" company that makes money through magazine subscriptions, promotional offers, games and merchandise such as jewelry and home goods, has run its televised sweepstakes since 1967, long before state lotteries became a multibillion-dollar enterprise.
Prizes range from $1,000 to $10 million, and Publishers Clearing House literature says they're merely "an expense of running the business."
The company, based in Port Washington, New York, is often erroneously associated with the late TV personality Ed McMahon, who was actually a spokesman for a now-defunct competitor, American Family Publishers.
Publishers Clearing House says it gives nearly half of its profits to "charitable causes ranging from the arts to social services to the environment," in keeping with the philanthropic spirit of its founders, Harold and LuEsther Mertz.
But the company has faced heightened scrutiny and paid tens of millions of dollars in fines and settlements since the 1990s, when state attorneys general sued over deceptive marketing practices that allegedly targeted seniors. The company's promotional mailers now must clearly state that no purchase is necessary to enter the sweepstakes.
For her part, Greif said she had purchased some jewelry and kitchen items from Publishers Clearing House in recent years, but she never believed it would improve her chances of winning and did not feel deceived.
Even though she's already won a relatively small amount, Greif is still in the running for a much bigger jackpot. With her $25,000, she said she plans to buy some new appliances for her kitchen and maybe visit her sister in Florida.
"Just keep entering, and amazingly, you can win!" she said.
Local journalism is essential.
Give directly to The Spokesman-Review's Northwest Passages community forums series -- which helps to offset the costs of several reporter and editor positions at the newspaper -- by using the easy options below. Gifts processed in this system are not tax deductible, but are predominately used to help meet the local financial requirements needed to receive national matching-grant funds.
Subscribe now to get breaking news alerts in your email inbox
Get breaking news delivered to your inbox as it happens.
---