News > Spokane
Garage, yard sales could be more frequent under proposed Spokane law
Sat., April 14, 2018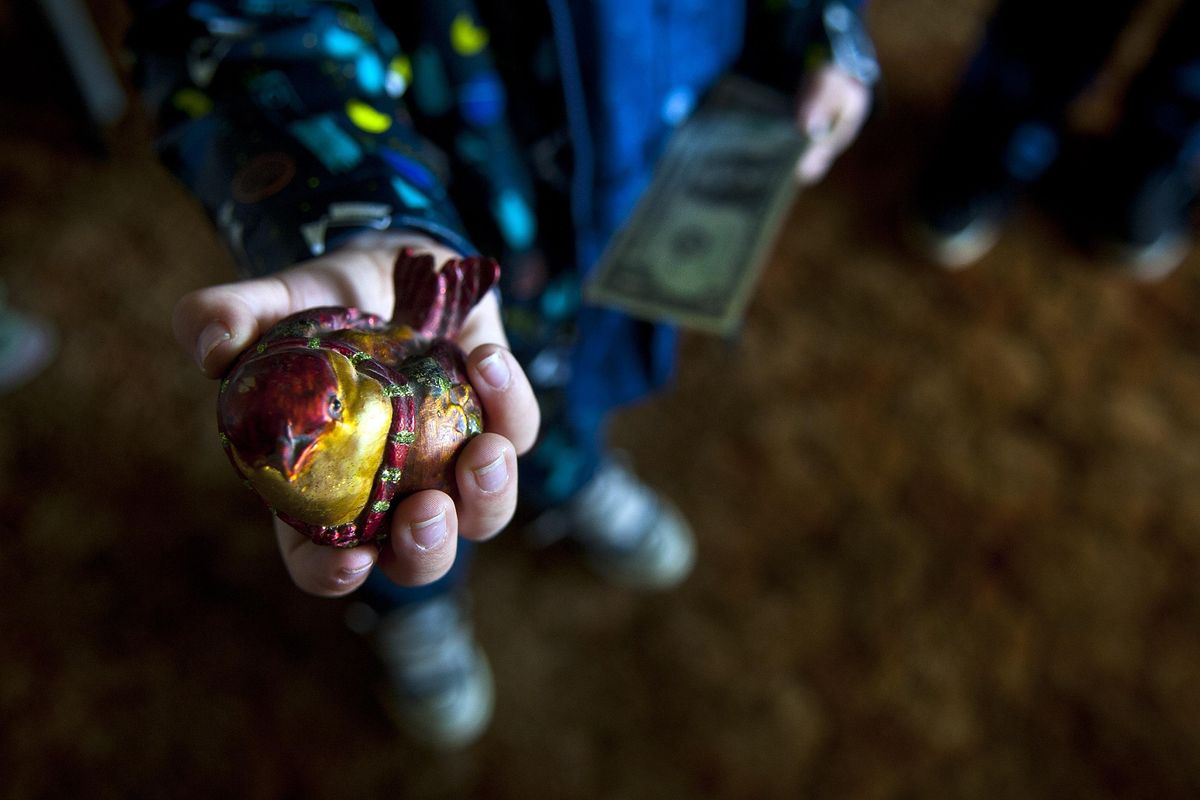 Five-year-old Maddox Bieber bought this bird for 25 cents during an estate sale in Spokane Valley on Sunday, April 8, 2018. (Kathy Plonka / The Spokesman-Review)
Spokane residents may soon have extra opportunities to sell the clutter in their garages without running afoul of city laws.
Just in time for spring cleaning, the Spokane City Council is set to consider a change next week that would double the number of permissible garage or yard sales each year from two to four. City Councilwoman Karen Stratton, the sponsor of the new law, said the change was spurred by churches, schools and other nonprofits who were concerned their frequent fundraisers might open them up to complaints from neighbors.
"I would say it's a little problem with a little fix," Stratton said.
Garage and yard sales would still be limited to just three days, which is less than the seven-day limit imposed by the city of Spokane Valley in recent changes to their nuisance codes. However, Spokane residents would be allowed to have one more sale per year than their neighbors to the east before opening themselves up to complaints and a potential fine of $56. Repeat offenders would be subject to a $131 fine under the new law.
City officials haven't specifically tracked violations of the previous rule, instead lumping those cases in with all other zoning complaints handled by Spokane's code enforcement team. Officials estimated there were 11 complaints in 2017 dealing specifically with sales lasting longer than three days or more frequently than twice a year.
Stratton said the rule change strikes a balance between aiding organizations hoping to raise money and preventing ongoing sales that can be a nuisance to neighbors.
"We were trying to keep it reasonable, but also respecting the fact that we don't want people abusing the system," Stratton said.
Laws governing the frequency and length of garage and yard sales vary by where you live. In unincorporated areas of Spokane County, there aren't any imposed limits, though sellers could run afoul of storage laws, said Dave Jensen, a neighborhood services specialist with the county.
In Idaho, sellers can get into trouble for holding more than two sales per year without registering with the state's Tax Commission. The first two yard sales per year are given an exemption to the requirement that dealers obtain a free temporary seller's permit, but a third sale requires registration and the collection of local sales taxes that must be paid to the state, per Idaho law.
Washington laws have no such specific requirement for the collection of sales tax at garage or yard sales, according to the Washington Department of Revenue.
The new Spokane law does not limit sales to certain times of the day, unlike in Tacoma and Olympia. Laws in those cities permit selling only after 8 a.m. Sales in Tacoma must end by 6 p.m. In Olympia, they can last until 8 p.m.
Changes to the city's laws regarding temporary signs that went into effect this spring also ease the burden on residents trying to attract motorists to their garages and lawns. Previous regulations limiting the number of off-site advertisements and the size of such signs were repealed as part of an ordinance overhaul intended to bring city laws in line with a court decision on free speech.
The Spokane City Council is scheduled to consider the yard sale law at its regular weekly meeting at 6 p.m. Monday at City Hall, 808 W. Spokane Falls Blvd. Public testimony will be taken before the vote.
Local journalism is essential.
Give directly to The Spokesman-Review's Northwest Passages community forums series -- which helps to offset the costs of several reporter and editor positions at the newspaper -- by using the easy options below. Gifts processed in this system are not tax deductible, but are predominately used to help meet the local financial requirements needed to receive national matching-grant funds.
Subscribe now to get breaking news alerts in your email inbox
Get breaking news delivered to your inbox as it happens.
---