News > Idaho
Idaho governor pardons former drug offender
UPDATED: Sun., April 15, 2018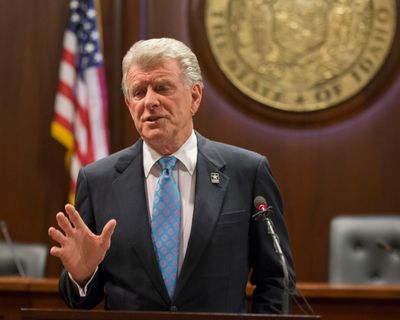 BOISE – Gov. Butch Otter has pardoned an Idaho drug offender whose methamphetamine and heroin use led him to prison but has since been able to get his life back on track.
Otter's office said Thursday that he had pardoned Larry Jasper, 49, in February – which was not immediately announced at the time. This is the third time in Otter's 12-year tenure as governor that the Republican has used his authority to grant clemency to an offender.
Drug dealing, along with murder and rape, are among seven offenses in Idaho that require the governor to approve a pardon.
Otter acted on the recommendation of the Idaho Commission for Pardons and Parole.
Jasper was convicted of having controlled substances in Payette County in 2004. He served prison time and completed parole, where he then went on to study clinical psychology at George Fox University in Oregon. He earned a doctoral degree in May 2016.
"My end goal, my hope is to become a licensed psychologist in the state of Oregon. The probability of me attaining my license with a felony record is very low," Jasper wrote in his application to the commission. "I am seeking a pardon in order to achieve my goal of becoming a licensed professional and to permanently break the destructive cycle of my past."
Sandy Jones, the Commission's executive director, says Jasper's case can provide an important lesson for others.
"Mr. Jasper is an example of why a pardon process exists in Idaho," Jones said in a statement. "He demonstrates how rehabilitation can and should work. He has worked hard to change his life through recovery and education, and the commissioners are pleased to support his pardon."
Otter's spokesman Jon Hanian said the two-month delay in the public finding out about the pardon was due to an oversight by a staffer inside the governor's office and was not intentional.
A pardon does not expunge criminal charges, convictions and sentences from an individual's record, but it does provide official acknowledgment of rehabilitation and change. A pardon can be beneficial for providing reassurances to potential employers and other opportunities for former offenders.
Otter previously pardoned two offenders in 2013. The two men were also paroled from drug convictions and went on to turn their lives and careers around.
For Jones, he said he now wants to help others find their own path to recovery and success.
"My dedication to the treatment of persons suffering from addictions actually helps contribute to my sobriety, giving back by helping others," Jones said. "I find that the chemical dependency population is very transparent to me, and I have had the opportunity to both treat and conduct research to enhance knowledge and improve the treatment of addiction."
Local journalism is essential.
Give directly to The Spokesman-Review's Northwest Passages community forums series -- which helps to offset the costs of several reporter and editor positions at the newspaper -- by using the easy options below. Gifts processed in this system are not tax deductible, but are predominately used to help meet the local financial requirements needed to receive national matching-grant funds.
Subscribe to the Coronavirus newsletter
Get the day's latest Coronavirus news delivered to your inbox by subscribing to our newsletter.
---