News > Crime/Public Safety
Witnesses say man killed himself playing Russian Roulette. His friends and family want more answers.
Sun., April 15, 2018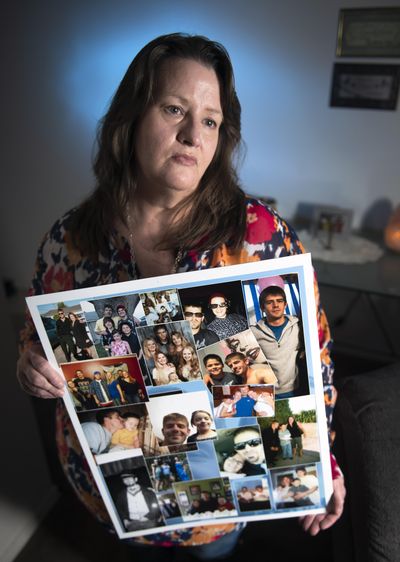 Diana Eschen never believed the narrative.
Despite what witnesses told detectives, and an investigation that until recently had little movement, the elements surrounding her son's death never made much sense to her. It's why, months later, she's still asking questions and pushing for answers.
"It was totally unexpected," she said Wednesday. "He's not the type of person who would do something like that."
On Monday, Feb. 26, according to court records, at about 11:30 a.m., 34-year-old Thomas Delafield walked into a friend's living room in the Chief Garry Park neighborhood with a revolver. One bullet in the chamber, he suggested a game of Russian roulette.
Almost immediately, he spun the chamber, pointed the barrel at his forehead and pulled the trigger. The gun went off, the bullet entered his head, and he was pronounced dead the next day at Providence Sacred Heart Medical Center.
The Spokane County Medical Examiner's Office said Delafield died from a "penetrating gunshot wound to head." They declined to rule on a manner of death, instead saying it was "pending a law enforcement investigation."
Nobody but Delafield touched the weapon, witnesses said. And as to why he was at the home in the first place, they couldn't say.
But then the story changed.
In a search warrant filed April 5 in Spokane County Superior Court, Detective Brian Cestnik said the woman who witnessed the shooting firsthand had apparently remembered the incident differently when recently interviewed again. Not only was Delafield at the home looking to sell some personal items – including the gun – and she was helping, but she also said she held the revolver for a short while before it was fired.
"She said that she briefly looked at it, then handed it back to him," Cestnik wrote in the warrant. "Delafield then made a comment similar to 'Let's play Russian roulette.' "
Eschen has been skeptical since day one. And so are many of Delafield's friends and family members, who all theorize that Delafield was killed by a hand other than his own.
"He had four beautiful kids that he wouldn't abandon," said Catherine Herrman, a friend of 17 years. "That's not something he would ever do."
Amber Palmanteer, who shares four children with Delafield, agrees. She said that, had Delafield made the decision to shoot himself or play a game as risky as Russian roulette, he would have at least told her or messaged one of his kids, whom he was going to see in Davenport that afternoon.
"I just know the dad that he is, no matter what, he would never," she said. "He would have said 'Bye.' He would have let us know something. He would have messaged us and said 'I love you guys.' "
Herrman said she was messaging with him minutes before he died, including talking to him on the phone. The two had planned to meet at his mother's house so Herrman could drive him to see his children.
"I don't for a second think he killed himself," she said. "He wouldn't have told me to pick him up."
That morning, Eschen said she also was in constant contact with him. She knew he was down the road at a friend's house trying to sell some belongings to make extra money. And she was messaging with him that morning about putting money on his debit card.
"I said 'I love you,' he said, 'I love you, too,' " she recalled, reading the messages aloud. "A little while later I got a call from the hospital saying he'd been shot."
That money, she said, was going to be used to buy his children gifts.
"He was going to see them that afternoon," she said.
His friends say Delafield likely was hanging around people he shouldn't – a byproduct of his short history with drugs. Earlier in his 30s, he became addicted to heroin and struggled with the addiction right up to his death.
He'd been in and out of a jail a few times, with a felony conviction when he was 14 for stealing money from a store, as well as an unlawful possession of a firearm charge in 2016.
But Eschen said he wasn't the type of person to suggest a game of Russian roulette on a whim. Nor was he suicidal. And no heroin was found in his system after his death, according to what she said she was told by hospital officials.
"My son didn't even own a gun," she said. "But there's a lot of speculation. A lot of rumors floating around about it."
They're also skeptical he would have any desire to own a gun. Since his previous charge of possession, Palmanteer said Delafield was done with firearms and would instead carry around knives for protection.
"He has not had a gun for years," she said.
In an email with Cestnik provided to The Spokesman-Review by Eschen, the detective said that while witnesses have divulged more information than initially – such as possibly touching the gun – other accounts have remained constant.
For example, the woman who witnessed the shooting has consistently said Delafield made a mention of Russian roulette before shooting himself, and that he was the one who pulled the trigger.
According to the email, detectives also took photographs of witnesses, and there was no blood spatter on their hands or clothing.
But Eschen said detectives didn't swab the hands of witnesses for gunpowder residue.
Lt. Troy Teigen with the department said it's no longer a typical procedure because the test results are "no longer conclusive." He did say, however, that the case is still "very much active."
"We actually had development on it today," he said Thursday.
Regardless of where the investigation leads, the specifics won't sit right with friends and family until a suspect is not only identified, but arrested and charged, they said.
"It's not a typical thing for somebody to have plans, be messaging, and thanking his mother for money, to just put a gun to their head," Eschen said. "Nothing about this feels right."
Local journalism is essential.
Give directly to The Spokesman-Review's Northwest Passages community forums series -- which helps to offset the costs of several reporter and editor positions at the newspaper -- by using the easy options below. Gifts processed in this system are not tax deductible, but are predominately used to help meet the local financial requirements needed to receive national matching-grant funds.
Subscribe to the Coronavirus newsletter
Get the day's latest Coronavirus news delivered to your inbox by subscribing to our newsletter.
---