A&E > Stage
Best of Broadway to bring 'Lion King' and 'Les Miserables' back to Spokane
UPDATED: Mon., April 16, 2018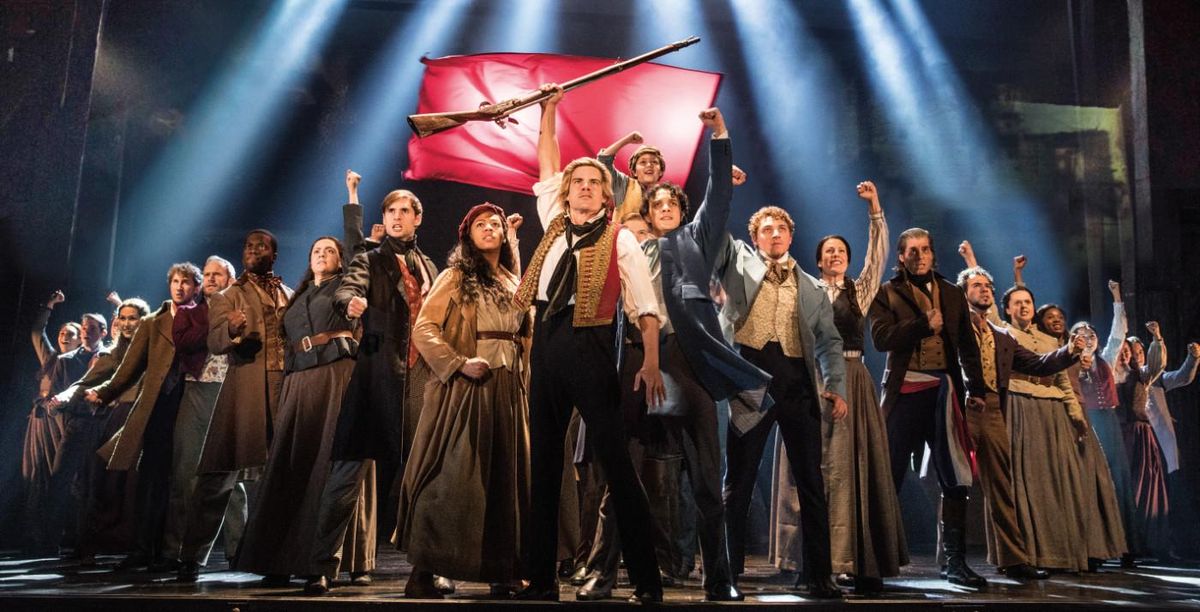 Man the barricades! "Les Miserables" is set to return to Spokane in 2019. (Courtesy)
From the "Circle of Life" to "I Dreamed a Dream," two theatrical blockbusters are returning to Spokane for the 2018-19 Best of Broadway season at the INB Performing Arts Center.
West Coast Entertainment on Monday announced that "The Lion King" and "Les Miserables" will be joined in the upcoming season by the Broadway hits "Waitress" and "School of Rock," with "Finding Neverland" kicking things off this fall.
The season launch party on Monday featured a performance by actress Tshidi Manye, who plays Rifiki in "The Lion King" on Broadway, singing the iconic "Circle of Life."
When "The Lion King" first came to Spokane in 2005, it sold 117,000 tickets to 46 performances in a six-week run, a theatrical record no one has come close to matching. It returned four years later for 31 shows, and sold another 65,000 tickets. "The Lion King" won six Tony Awards, is still running on Broadway after 20 years, and is the highest-grossing Broadway production in history, said Danielle Witte, marketing director for West Coast Entertainment. It will run Jan. 23-Feb. 3.
Capping the season, Aug. 6-11, 2019, will be another big, big show – producer Cameron Mackintosh's immortal "Les Miserables."
"Les Mis" has been a frequent visitor to Spokane, and has seen memorable productions staged in the region by both Spokane Civic Theatre and Lake City Playhouse. The tour was last here in 2004 for an eight-show run, after visits here in 1991, 1993, 1996 and 1999.
Based on Victor Hugo's epic novel, "Les Miserables" is set in early 19th century France, and centers on Jean Valjean, who serves 19 years in jail for stealing a loaf of bread. Once released, he breaks his parole to start a new life, only to be relentlessly hunted by a police officer, Javert, while revolution swirls around them. The show ran for 16 years on Broadway, while the London production is still going strong after opening in October 1985.
The season also will include two recent Broadway hits that opened in 2015, "Waitress" (Dec. 12-16), with music and lyrics by pop singer Sara Bareilles, and "School of Rock" (May 8-12, 2019).
Based on the hit 2003 Jack Black movie, with a screenplay by Mike White, "School of Rock" sports an impressive pedigree, with music by Andrew Lloyd Webber ("Jesus Christ Superstar," "Evita") and a book by Julian Fellowes, the man behind "Downton Abbey." It tells the story of Dewey Finn, an out-of-work musician who cons his way into being a substitute teacher at an exclusive prep school. There, he turns his students into a rock band and prepares them for a big battle of the bands contest.
It was nominated for four Tony Awards, including best musical and best original score, both of which it lost to a little show called "Hamilton."
"Waitress," based on the 2007 movie written and directed by Adrienne Shelly, centers on Jenna, trapped in an abusive marriage who hopes to find her escape in a pie-baking contest. Like "School of Rock," it was nominated for four Tony Awards, including best musical and best original score, and like "School of Rock," it lost in those categories to "Hamilton."
Kicking the season off, on Nov. 15-18, is "Finding Neverland," a 2012 musical based on the Johnny Depp film about J.M. Barrie, the creator of "Peter Pan."
West Coast Entertainment President Jack Lucas said he saw "Finding Neverland" during its Broadway run and knew he wanted to book it for the Spokane series. He hoped to have it as part of the current season, he said in an email, but couldn't make the routing work. The stars – or, rather, the second star on the right – aligned for the coming season.
"I walked out of the theater that night and felt a renewed sense of being," Lucas said. "It was one of those productions that just makes you feel good. Some of us walk out feeling better than we did walking in. It's one of those shows."
Lucas said that after 32 years and 2.8 million ticket holders, the series is still going strong.
"As we move into our 33rd season of presenting the Best of Broadway, we have certainly raised the bar this season, with respect to having three of the productions still being performed on Broadway in New York City – 'Lion King,' 'School of Rock,' and 'Waitress,' " he said. "You add to those productions, a long time favorite, 'Les Miserables,' that continues to entertain and amaze fans from all over the world, and then you cap it off with a show that ignites the imagination and entertains guests of all ages, in the production of 'Finding Neverland.' "
Specials this coming season include "A Magical Cirque Christmas" on Nov. 20, "Legally Blonde The Musical" on March 21, and "Stomp" on April 2-3. The National Geographic Live series also will return, with "Pink Boots and a Machete," featuring Mireya Mayor, primatologist and TV correspondent, on Feb. 20; "Capturing the Impossible" with filmmaker Bryan Smith on March 27; and "A Rare Look: North Korea to Cuba" with photojournalist David Guttenfelder on April 24, 2019.
Season tickets are on sale now, and range from $238-$417. For more information, visit www.wcebroadway.com.
This story has been updated to reflect the correct guest performers. Andrew Maughan from the current tour of "Les Miserables" had been scheduled to perform, but he was unable to attend.
Local journalism is essential.
Give directly to The Spokesman-Review's Northwest Passages community forums series -- which helps to offset the costs of several reporter and editor positions at the newspaper -- by using the easy options below. Gifts processed in this system are not tax deductible, but are predominately used to help meet the local financial requirements needed to receive national matching-grant funds.
Subscribe to the Spokane7 email newsletter
Get the day's top entertainment headlines delivered to your inbox every morning.
---