News > Spokane
Then and Now: Pennington Hotel
Mon., April 16, 2018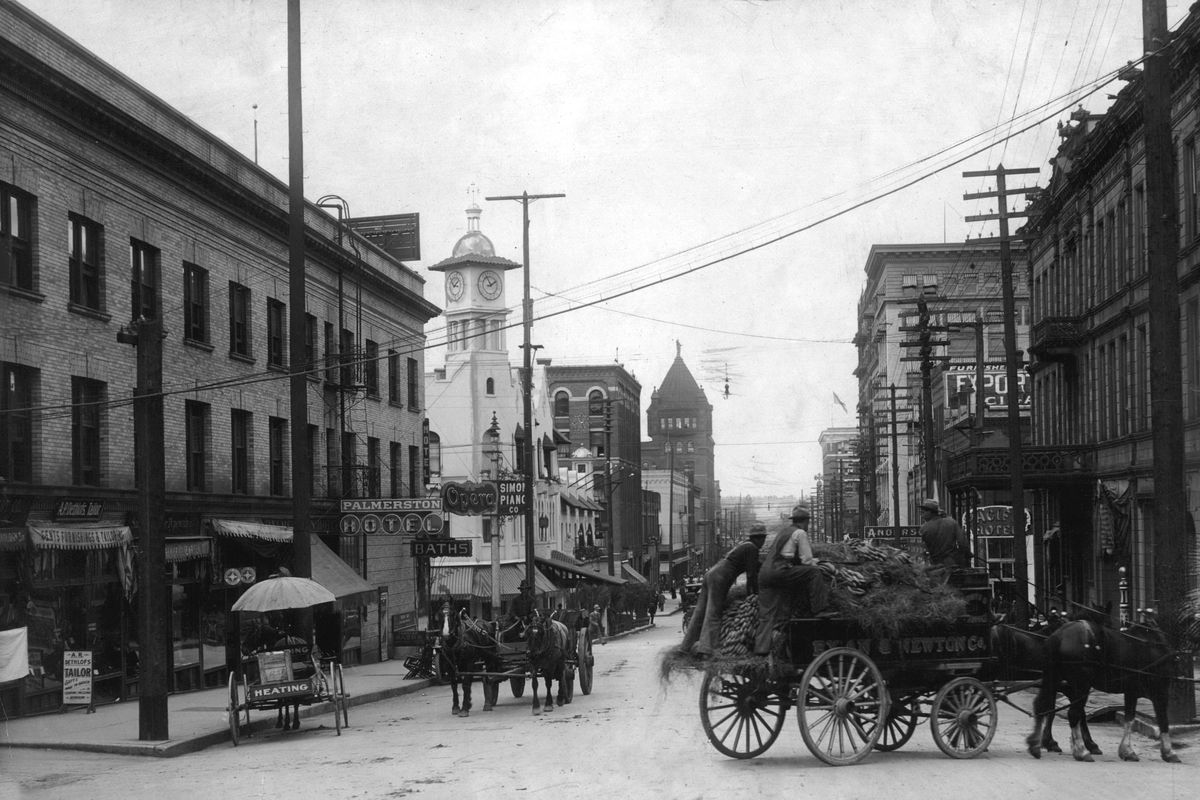 Circa 1906 - Looking north down Post Street, the white building at center left, with the clock in its ornate tower, the three-story Pennington Hotel at the corner of First Avenue and Post Street. The hotel is attached to Louis Davenport's two-story restaurant. In the foreground, a wagon from Ryan and Newton Co., a livery stable operator, hauls hay and feed. Davenport was vice president of Ryan and Newton and part of several major businesses. (SPOKESMAN-REVIEW PHOTO ARCHIVE / SR)
After the great fire of 1889, restauranteur Louis M. Davenport started over with a waffle house, then a more formal restaurant in the two-story Wilson Block at Sprague Avenue and Post Street. Over a few years, the Davenport Restaurant was expanded and redesigned by architect Kirtland Cutter.
The famed designer chose the mission revival style, which he first saw at the Columbian Exposition in Chicago in 1893. He did many mission-style homes, but Davenport's buildings are his only commercial buildings in this style.
Mission revival was based on the Franciscan missions built throughout California in the late 18th and early 19th centuries and was all the rage from the 1890s to 1915. The stucco finish, arched doorways and windows and clay tile roof typified the style. The exotic aesthetic lent a fantasy air in the midst of Spokane's red-brick stodginess.
Around 1903, Davenport acquired the three-story Bellevue House at First Avenue and Post Street. Cutter extended the mission style and added a clocktower. The upper floors were the rooms of the Pennington Hotel, named for Maud Pennington, Davenport's sister-in-law. The Pennington connected to the Pfister Block, which ran from Sprague to First Avenue just west of Davenport's buildings. The Pfister had a bar, bowling and billiards.
In the restaurant's second floor in 1904, Cutter and Davenport created the Hall of Doges, a dining room with Venice-inspired Renaissance murals on the domed ceiling and arched colonnades.
The Pennington interior was reconfigured a number of times, adding the Marie Antoinette ballroom and other spaces. The Pennington's ground floor held a variety of retail stores.
When Davenport opened his eponymous 14-story luxury hotel in 1914, parts of the Pfister, Pennington and the restaurant building were ingeniously blended together by Cutter.
Davenport died in 1951 and the hotel went through nine owners before developers Walt and Karen Worthy bought the neglected complex in 2000. The dilapidated restaurant and Pennington were demolished and rebuilt to create a new car entrance that mimicked Cutter's design. The Worthys also preserved the Hall of Doges, which was removed and replaced in the new building. The restored hotel reopened in 2002.
Local journalism is essential.
Give directly to The Spokesman-Review's Northwest Passages community forums series -- which helps to offset the costs of several reporter and editor positions at the newspaper -- by using the easy options below. Gifts processed in this system are not tax deductible, but are predominately used to help meet the local financial requirements needed to receive national matching-grant funds.
Subscribe now to get breaking news alerts in your email inbox
Get breaking news delivered to your inbox as it happens.
---