Sports > International sports
Boston Marathon weather was perfect storm for Desiree Linden
Tue., April 17, 2018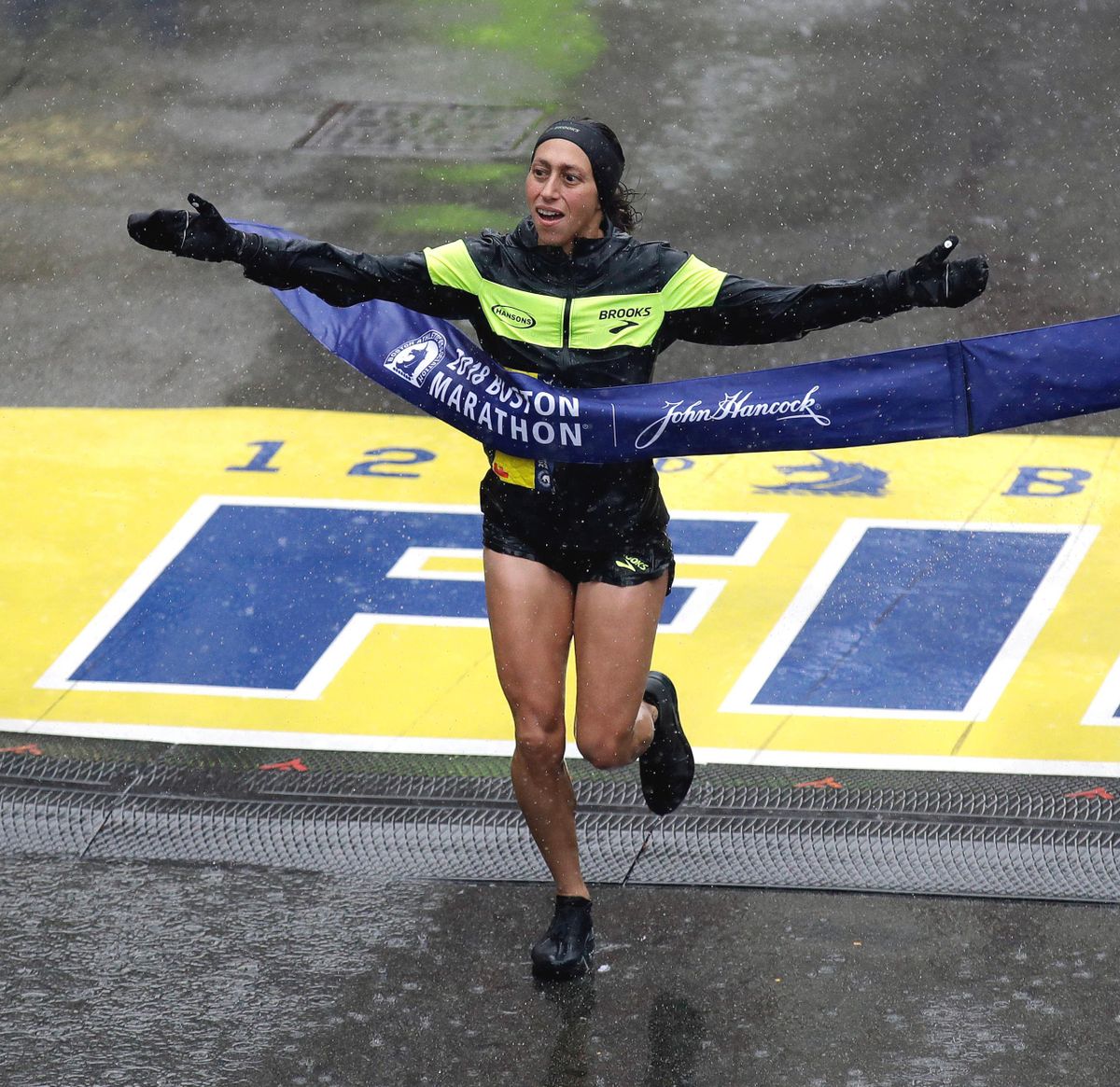 Desiree Linden, of Washington, Mich., wins the women's division of the 122nd Boston Marathon on Monday, April 16, 2018, in Boston. She is the first American woman to win the race since 1985. (Charles Krupa / Associated Press)
BOSTON – Desiree Linden thought she did everything right to prepare for last year's Boston Marathon: the training, the nutrition, the strategy, even how she slept.
She finished fourth.
And she didn't know what she could have done better.
"Everyone is looking for that 1 percent. I did that last year," Linden said Tuesday, a day after overcoming headwinds and an icy rain to become the first American woman to win the race in 33 years. "Apparently, my 1 percent was the weather."
Slogging through a torrential downpour, with temperatures in the 30s and a near-gale gusts that blew the rain into the runners' faces, Linden made up her mind to drop out after just a few miles. She abandoned her plan, skipping water stations – after all, she wouldn't be out long enough to get dehydrated – and wasting energy by allowing her fellow Americans to draft off of her.
It was only miles later, when the two-time Olympian and 2011 Boston Marathon runner-up found herself still among the leaders, that she realized she was better suited for the conditions than anyone else on the course.
Better than the other Americans, like hometown favorite and reigning New York City Marathon champion Shalane Flanagan, who finished seventh in what she said would be her last competitive Boston race.
Better than the East Africans, who have dominated the race for the past three decades. Defending champions Geoffrey Kirui and Edna Kiplagat finished second and ninth but were the only Kenyans to crack the top 10 in their races – the country's worst performance in decades.
"The conditions were made for me," said Linden, a native Californian who lives in Michigan. "These are the conditions I train in."
Linden, who finished second by 2 seconds in Boston in 2011, held on Monday to break the soggy tape on Boylston Street in 2 hours, 39 minutes, 54 seconds, the slowest women's race in 40 years. Yuki Kawauchi of Japan won the men's division in 2:15:58 – the slowest since Jack Fultz overcame temperatures near 100 degrees to win the 1976 race known as the "Run for the Hoses."
"2018 might be 'Run for Shelter," race director Dave McGillivray said, also comparing it to the year after the finish line explosions. "I've always said the 2014 race was epic, and it was, for obvious reasons. But yesterday's race was epic, too. Both were about perseverance, and turning a negative into positives."
Despite the weather, race organizers didn't see much of an uptick in no-shows or runners seeking medical attention. Only about 300 people who picked up their bibs over the weekend decided not to run; of the 27,042 showed up in Hopkinton, 25,822 made it to Copley Square – meaning 95.5 percent of those who started the race finished it, an average rate, McGillivray said.
"It should come as no surprise to anyone that people who fight that hard to get to the starting line will fight even harder on the day of the race," said Tom Grilk, executive director of the Boston Athletic Association. "No matter what the conditions."
There were 2,785 runners who sought medical attention, with 91 transported to hospitals (most directly from the course). Ten remained hospitalized on Tuesday morning.
Those numbers were all in line with what organizers have seen in other years, with normal weather.
Linden finished 18th in Boston in a nor'easter in 2007 and has two fourths and a fifth on the course. She was the ninth-fastest runner in Monday's field, based on the personal best of 2:22:38 she ran in Boston in 2011.
"That's why we race," Linden said. "Otherwise we would go into a lab, submit our resumes and they would post the results. "You stub a toe the night before, eat a bad piece of food, it could change everything," she said. "That's why we race."
Local journalism is essential.
Give directly to The Spokesman-Review's Northwest Passages community forums series -- which helps to offset the costs of several reporter and editor positions at the newspaper -- by using the easy options below. Gifts processed in this system are not tax deductible, but are predominately used to help meet the local financial requirements needed to receive national matching-grant funds.
Subscribe to the sports newsletter
Get the day's top sports headlines and breaking news delivered to your inbox by subscribing here.
---