Sports > NHL
Devils goalie Cory Schneider makes the most of rare start
Tue., April 17, 2018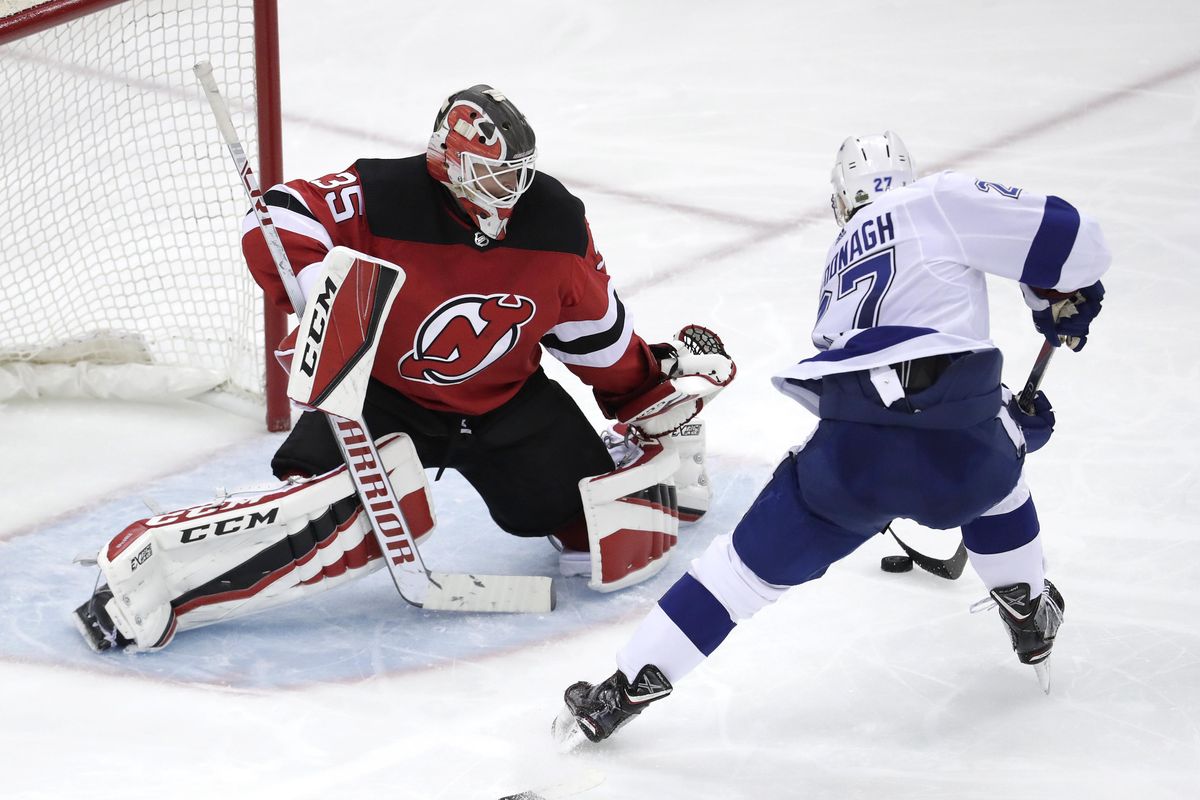 Tampa Bay Lightning defenseman Ryan McDonagh (27) attacks on New Jersey Devils goaltender Cory Schneider (35) during the third period of Game 3 of an NHL first-round hockey playoff series, Monday, April 16, 2018, in Newark, N.J. The Devils won 5-2. (Julio Cortez / Associated Press)
NEWARK, N.J. – Cory Schneider is no longer the forgotten man on the New Jersey Devils.
It's amazing what a good game in the playoffs can do for a veteran goaltender relegated to a backup role over the past month because Keith Kinkaid had been playing so well in leading the Devils to their first playoff berth since 2012.
The 32-year-old Schneider got his chance to play in a meaningful game when the Tampa Bay Lightning smoked the Devils in the opening two games of the first-round series, outscoring them 10-5.
The Devils turned to Schneider for Game 3 on Monday night and he made the most of it. He stopped 34 shots in a 5-2 win that allowed New Jersey to cut the Lightning lead in the series to 2-1 with Game 4 scheduled for Wednesday night.
It was his first win since late December and snapped a 0-10-2 personal skid for the likable Devils' mainstay who was never the same in the final months of the season after sustaining hip and groin injuries in the latter part of January.
"Your job in these situations is to come in and win," Schneider said Tuesday after not taking part in a skate mostly for players who were scratched on Monday.
"I have said all along, I haven't tried to veer from what I have been doing. It hasn't gone my way recently for a number of reasons we don't have to get into. I just viewed the playoffs as a fresh start, a new season and it didn't matter what happened before."
Schneider said there was no need to carry an extra baggage into the playoffs. He was just excited to have a chance to rise to the challenge. He did and so did his teammates in rallying for four third-period goals to get back into the series.
Devils coach John Hynes would not say on Tuesday whether Schneider would start, but it seems a good bet he will.
Hynes said going with Schneider – his No. 1 goaltender the past three seasons– in Game 3 was not a gamble. He had wanted to play him down the stretch of the regular season but Kinkaid was too hot, going 10-1-1 in the 12 games that led to the Devils clinching a playoff berth.
"We felt as a group that Cory had worked hard, he looked good in practice and you could tell that he was itching to play," Hynes said. "It just seemed the way the series was going, let's give him an opportunity to play. I think he was fresh and hungry."
Hynes said it was nice to see him play well because of how he handled not being the backup, a job that doesn't attract the media to your locker.
When Schneider came out on Tuesday, a crowd quickly surrounded him.
Brian Boyle, who has more playoff experience than any player on the Devils roster, said having Schneider play well will push Kinkaid.
"There is a lot of internal competition," Boyle said. "Guys want to get out and play. Those two want the net. They want to play, and when you play, you want to play more. If you channel energies the right way it will bring position energies for your team."
The goal for the Devils and Schneider will be to repeat their efforts in Game 4.
"That game is done with. It's over," Schneider said of Game 3. "It doesn't matter how good you feel about it afterward. It all depends on how you come out the next game. We know they are going to regroup and be ready for us so it should be a good battle."
Local journalism is essential.
Give directly to The Spokesman-Review's Northwest Passages community forums series -- which helps to offset the costs of several reporter and editor positions at the newspaper -- by using the easy options below. Gifts processed in this system are not tax deductible, but are predominately used to help meet the local financial requirements needed to receive national matching-grant funds.
Subscribe to the sports newsletter
Get the day's top sports headlines and breaking news delivered to your inbox by subscribing here.
---