Sports > NHL
Faceoff: Flyers needs scoreless Claude Giroux to spark them against Penguins
Tue., April 17, 2018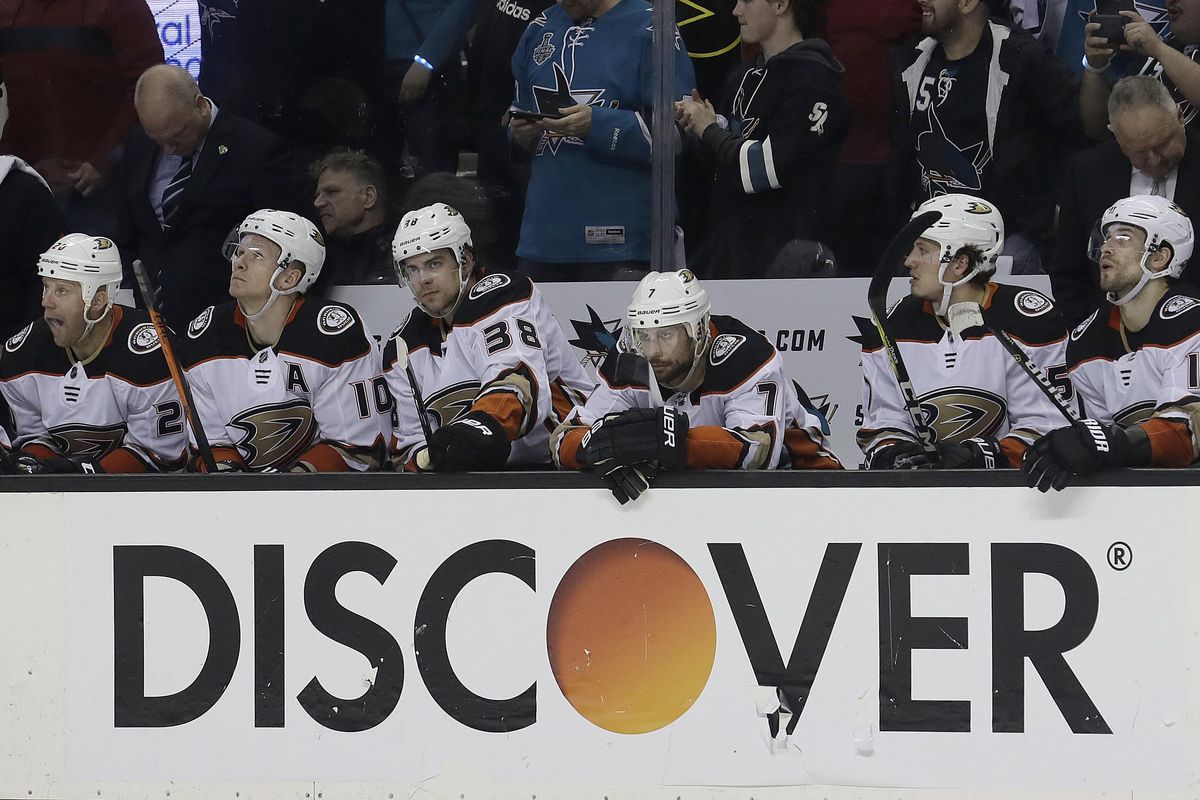 Anaheim Ducks players react on the bench after the San Jose Sharks scored a goal during the second period of Game 3 of an NHL hockey first-round playoff series in San Jose, Calif., Monday, April 16, 2018. (Jeff Chiu / Associated Press)
PHILADELPHIA – Claude Giroux carried the Philadelphia Flyers into the playoffs.
The Hart Trophy candidate might be the reason they get knocked out in the first round if he can't become the force the Flyers need to have a chance against the Pittsburgh Penguins.
Only six years ago, Giroux was dubbed "best in the world" by former coach Peter Laviolette after he posted six goals and eight assists in six games and a rare playoff series win over the Penguins. Playing in a major market, Giroux was on his way toward NHL superstardom.
Six years later, the Penguins have won two Stanley Cups, the Flyers haven't advanced out of the first round and Giroux's standing as one of the NHL's best has wildly fluctuated: The 30-year-old followed two mediocre seasons with a career year this season, reaching personal highs in goals (34), assists (68) and points (102). He added a hat trick on the final day.
His production has again vanished in the playoffs.
The Flyers captain has no goals and one assist in three games – the Penguins hold a 2-1 series lead headed into Game 4 (4 p.m. PDT Wednesday, NBCSN) – in a postseason slump that dates to 2014. He again had no goals and one assist in six games against Washington in 2016 and scored two goals in seven games in 2014 against the New York Rangers. Giroux's last playoff goal came on April 29, 2014.
In the Game 3 loss to Pittsburgh, Giroux took four shots on goal and led the Flyers with 10 shot attempts – four on goal, one that was blocked and five that missed.
"There's a lot of hockey left to play here," Giroux said. "I have no doubt that we're going to come out strong in Game 4."
Jake Voracek and Wayne Simmonds (who dropped from 31 goals in 2017 to 24 this season) are also scoreless for the Flyers.
"Our team's got to elevate our play overall," coach Dave Hakstol said. "There's nothing drastic that needs to be done."
That didn't stop Hakstol from mixing up his lines at practice Tuesday, when Sean Couturier was injured. There was no immediate word on his status.
The Flyers have hit these rough patches before, losing 10 straight games over November and December before bouncing back to land in the postseason.
"Our guys have been through similar situations," Hakstol said. "This one's just a little bit more elevated."
The Penguins will play Game 4 without Patric Hornqvist, who has a goal and two assists in the series and is out with an undisclosed injury. He was on the top line with Sidney Crosby in Game 3 and was third in the league in power-play goals this season. Hornqvist was checked from behind into the boards by Philadelphia's Andrew MacDonald in Game 3.
Close it out
Only four NHL teams have taken a 3-0 series lead like San Jose has over Anaheim and lost a best-of-seven series. The Sharks just happen to be one of them, having collapsed against the Los Angeles Kings four years ago in the first round. That's one reason why the Sharks head into Game 4 at home against the Ducks (7:30 p.m. PT Wednesday, Golf Channel) with a sense of urgency to close out this series.
"Enough has happened in this room where I think we understand the challenges that still lie ahead of us," captain Joe Pavelski said. "We want a good start, we want to come out and put it on the line. We're going to have to earn this next game for sure."
The Sharks have controlled the series, outscoring Anaheim 14-3 following an 8-1 victory in Game 3. Anaheim allowed four power-play goals as the Ducks lost their composure as well as the game.
"I mean, we got to win a game," captain Ryan Getzlaf said. "Our focus has got to be to win that Game 4 and that's all we can do."
Spirited practice
Nashville turned up the intensity in practice Tuesday, complete with some light hitting and vigorous battles for the puck in front of goaltender Pekka Rinne.
This is a reason for the stepped-up pace: Being outscored by a 5-0 margin by Colorado in the first period of the series.
"Today was a perfect practice for that. It wasn't about easing into practice," said Predators defenseman Ryan Ellis, whose team leads the Avalanche 2-1 heading into Game 4 (7 p.m. PDT Wednesday, NBCSN). "It was about going full speed into practice right away. We need that to translate into the game."
Colorado went through an optional practice and had defenseman Samuel Girard on the ice wearing a non-contact sweater. He has missed the last two games with an upper-body injury.
Trust the … progress?
Tampa Bay holds a 2-1 series lead over New Jersey headed into Game 4 (4:30 p.m. PDT Wednesday, Golf Channel). But New Jersey's 5-2 win over the Lightning on Monday was at least a sign that the Devils should trust the … progress?
The Devils are owned by Harris Blitzer Sports & Entertainment, the same company that also owns the NBA's Philadelphia 76ers. Team owner Josh Harris attended the 76ers' Game 2 loss in Philadelphia on Monday.
Under Harris' watch, his teams can orchestrate a turnaround. The 76ers, accompanied by the now-familiar "Trust The Process" slogan, went from 10 wins two seasons ago to 53 and the No. 3 seed in the Eastern Conference this year while the Devils made a stunning run from the worst team in the East to the postseason in a year. All the Devils need is a catchphrase.
Local journalism is essential.
Give directly to The Spokesman-Review's Northwest Passages community forums series -- which helps to offset the costs of several reporter and editor positions at the newspaper -- by using the easy options below. Gifts processed in this system are not tax deductible, but are predominately used to help meet the local financial requirements needed to receive national matching-grant funds.
Subscribe to the sports newsletter
Get the day's top sports headlines and breaking news delivered to your inbox by subscribing here.
---