Sports > NBA
Jaylen Brown scores 30, Celtics roll to 120-106 win over Bucks
April 17, 2018 Updated Tue., April 17, 2018 at 9:07 p.m.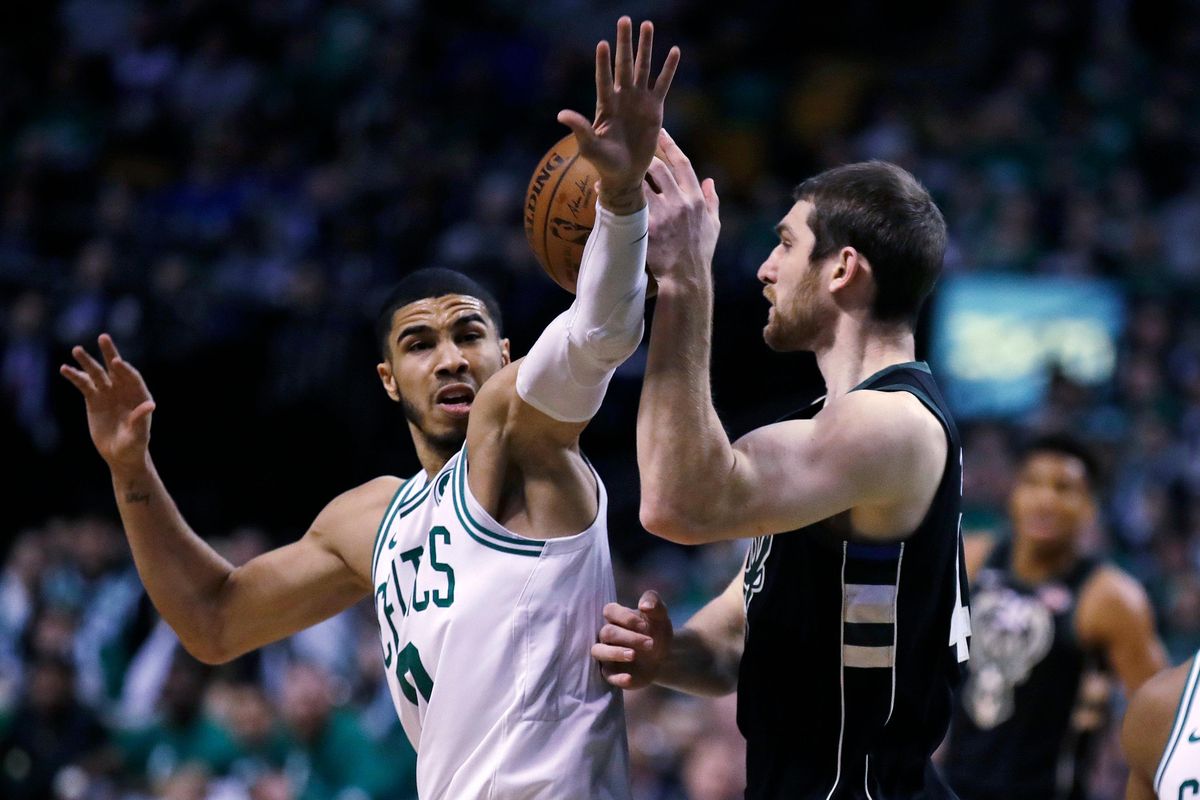 Boston Celtics forward Jayson Tatum, left, pressures Milwaukee Bucks center Tyler Zeller, right, during the first quarter of Game 2 of an NBA basketball first-round playoff series in Boston, Tuesday, April 17, 2018. (Charles Krupa / Associated Press)
BOSTON – The Celtics knew they'd need their younger players to step up this postseason with Kyrie Irving sidelined for the postseason.
They have, and it's added up to 2-0 lead in Boston's first-round matchup with Milwaukee.
Jaylen Brown had a playoff career-high 30 points and the Celtics pulled away into second half to earn a 120-106 win over the Bucks on Tuesday night.
Terry Rozier added 23 points. Game 3 is Friday in Milwaukee.The Celtics led by as many as 20 in the fourth quarter as their ball movement overwhelmed the Bucks.
Brown, who is in his second year, said right now the Celtics are feeling "confident as ever."
"People have been writing us off all year. And we just keep proving people wrong. So that's what we're gonna do," he said.
Milwaukee got as close as 107-97 with 4:13 to play. But the Celtics responded with an 11-2 run, capped by a banked in 3-pointer by Brown to push their lead back up to 118-99.
Giannis Antetokounmpo finished with 30 points, nine rebounds and eight assists. Khris Middleton added 25 points.
"I think as a team we didn't show up tonight," Antetokounmpo said.
Turnovers were an issue for the second straight game for Milwaukee. The Bucks finished with 15, leading to 21 Boston points. They also shot just 41 percent from the free-throw line (7 of 17).
"They were just the more desperate team tonight again," Middleton said. "We started off poorly again. … We've just got to more into it, got to be the more desperate, hungry team."
Boston had just three turnovers through three quarters and only seven on the night. Rozier finished no turnovers for the second straight game
"I've just got that confidence," Rozier said. "My teammates, my coach, they trust in me to get everybody in their spots to run the plays. … I'm gonna do what I can to protect the ball and get my guys open."
The Celtics' bench also came up big, outscoring their Milwaukee counterparts 41-25. Marcus Morris led Boston's reserves with 18 points. Shane Larkin chipped in 11 points, scoring in double-digits for the first time in a playoff game.
He also had a buzzer-beating 3-pointer at the end of the third quarter that gave Boston a 15-point cushion entering the final period.
Brown said he is expecting to see a much different Bucks team as the series shifts to Milwaukee.
"We not taking anybody lightly," he said. "I know they're going to come out and make adjustments."
Tip-ins
Bucks: Have been outscored 42-13 in second-chance points through two games. … Shot 62 percent in the first half (23 of 37).
Celtics: At age 21, Brown is the youngest player in Celtics history to score 30 or more points in a playoff game. … Boston went 13 of 31 from the 3-point line.
Quotable
"I had a chip on my shoulder since I got drafted. I had a chip on my shoulder since forever. It's all carry over. This year I got the opportunity to start in the playoffs. That chip on my shoulder is gonna remain, no matter how deep we go." – Rozier
Freak's streak
Tuesday marked the ninth straight game that Antetokounmpo has scored at least 20 points against the Celtics.
Heavy heart
Celtics guard Marcus Smart has a heavy heart as he continues to work his way back from right thumb surgery.
Smart revealed prior to Tuesday's game that his mother, Camellia Smart, was recently diagnosed with bone marrow cancer. He was able to visit her briefly in Texas last week. But he said she wants him to be with the team because seeing him play would "put a smile on her face."
"She told me she'd rather me be here than back there," Smart said. "Doing what I love to do."
Hayward update
Gordon Hayward has hit a new milestone in his left ankle rehab. He is currently at St. Vincent Sports Performance in Indianapolis, Indiana, working with a running mechanics specialist.
"We're just trying to get him ready for Friday's game. And we're hopeful he can play," Stevens joked before the game.
He then quickly made it clear it's simply the "logical next step" in what remains a long rehab process.
"He's not gonna join us in Milwaukee," Stevens said. "He's still a long, long, long way away."
Special guest
Boston Marathon winner Desiree Linden was honored during a timeout in the first quarter. On Monday Linden became the first American woman to win the race since 1985.
Local journalism is essential.
Give directly to The Spokesman-Review's Northwest Passages community forums series -- which helps to offset the costs of several reporter and editor positions at the newspaper -- by using the easy options below. Gifts processed in this system are not tax deductible, but are predominately used to help meet the local financial requirements needed to receive national matching-grant funds.
Subscribe to the sports newsletter
Get the day's top sports headlines and breaking news delivered to your inbox by subscribing here.
---