Sports > International sports
Jenna Fryer: Sebastien Bourdais proves he is still among the best in world
Tue., April 17, 2018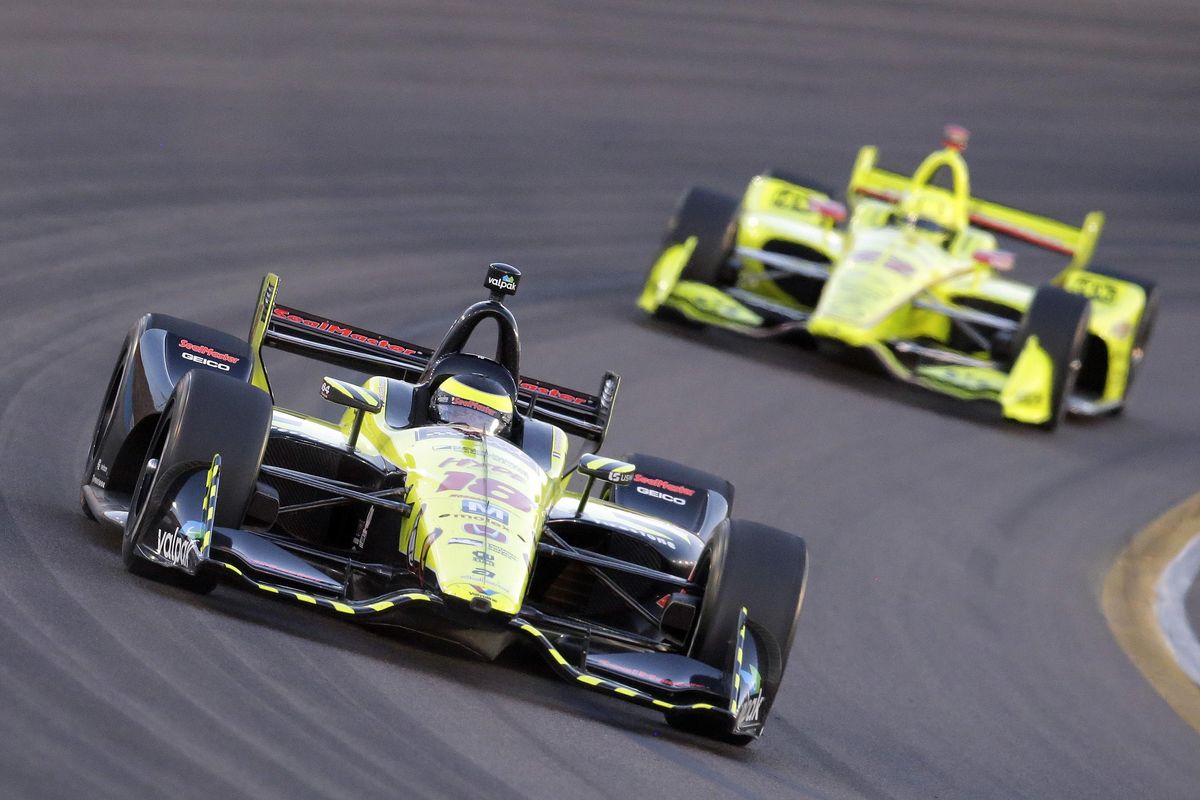 Sebastian Bourdais (18) leads Simon Pagenaud on the 15th lap during the IndyCar auto race Saturday, April 7, 2018, at Phoenix International Raceway in Avondale, Ariz. (Rick Scuteri / Associated Press)
LONG BEACH, Calif. – Sebastien Bourdais was once considered among the best drivers in the world.
In case you forgot, refer to the breathtaking pass he made Sunday on the streets of Long Beach to move into second place that will make every highlight reel this season. OK, so IndyCar ruled the pass illegal and made Bourdais return the position to Scott Dixon. No biggie. The Frenchman simply passed Dixon again.
Need a favorite IndyCar driver to root for? Bourdais could be the one for you.
He made his case for fan support at Long Beach, where Bourdais was the star of the race despite his 13th-place finish.
Bourdais started ninth and twice drove his way to second before his race fell apart. That's when the Bourdais full of fire and fury returned. His post-race assessment was brutal and Bourdais made clear he was irked with IndyCar, annoyed with rookie drivers and even angry at some veterans.
Cast him as a hero for his on-track skill and he will nail the part. If you make him mad, though, he plays a perfect villain, too. No matter the part, what Bourdais can do in a race car and the kind of competitor he is have made it clear that he's still among the very elite at his craft.
Bourdais was untouchable during his first stint racing in the United States from 2003 to 2007, when he reeled off four consecutive Champ Car titles in five seasons. He won 31 of 73 races – scoring 44 podiums and 31 poles in that span –then landed the promotion of his life with a call to Formula One.
His dream job didn't have a happy ending: Bourdais was out of F1 after just two seasons.
It took him another two years to return to the U.S., but the only jobs available were lousy IndyCar Series rides. Driving inferior equipment for small teams, Bourdais hardly resembled the guy who couldn't be caught in those halcyon early days of his career.
Here's the thing about race car drivers – most believe that with the right resources, they can fix a race team.
Bourdais can actually deliver.
After 39 frustrating races over three seasons, former champion Jimmy Vasser gave Bourdais a second shot in second-tier KV Racing. Bourdais needed 13 races to take the team to the winner's circle. He won twice more in 2015, and once again the next season. Then KV shut down and Bourdais had to return to Dale Coyne Racing.
He had done enough to return to quality sports car rides for the endurance events, and he was part of Action Express' winning teams at the Rolex 24 of Daytona, the 12 Hours of Sebring and the Petit Le Mans at Road Atlanta. He got a shot with Chip Ganassi Racing's new GT Le Mans organization and won Daytona again, then got a class victory at the 24 Hours of Le Mans in his hometown.
Believing he could turn the Coyne IndyCar operation into a winner, Bourdais did so with a victory in the 2017 season opener on the streets of St. Petersburg, Florida, the city Bourdais now calls home. He finished second a race later at Long Beach and it really did look like Bourdais was the difference maker.
Then he crashed during qualifying for last year's Indianapolis 500. Bourdais broke his pelvis, his hip and doctors said he wouldn't race again last season. He laughed and busied himself rehabilitating at such a pace that he was back in the car for the final three IndyCar races of the year.
The winter saw an opportunity for Bourdais to reunite with Vasser and James Sullivan from KV in a partnership with Coyne, and there was Bourdais in the season opener at St. Pete, defending his victory in a tearful pronouncement that the 39-year-old IndyCar driver is as sharp as he was 15 years ago in Champ Car.
Bourdais' comeback tour this season included a pole-winning run on the oval at Phoenix, then his show-stopping maneuvers at Long Beach. On paper, Dale Coyne Racing is not supposed to challenge the Andretti, Ganassi and Penske teams for wins. With Bourdais behind the wheel, anything is possible.
Local journalism is essential.
Give directly to The Spokesman-Review's Northwest Passages community forums series -- which helps to offset the costs of several reporter and editor positions at the newspaper -- by using the easy options below. Gifts processed in this system are not tax deductible, but are predominately used to help meet the local financial requirements needed to receive national matching-grant funds.
Subscribe to the sports newsletter
Get the day's top sports headlines and breaking news delivered to your inbox by subscribing here.
---