Sports > NHL
Mark Scheifele, Connor Hellebuyck lead Jets past Wild 2-0, for 3-1 lead
April 17, 2018 Updated Tue., April 17, 2018 at 9:14 p.m.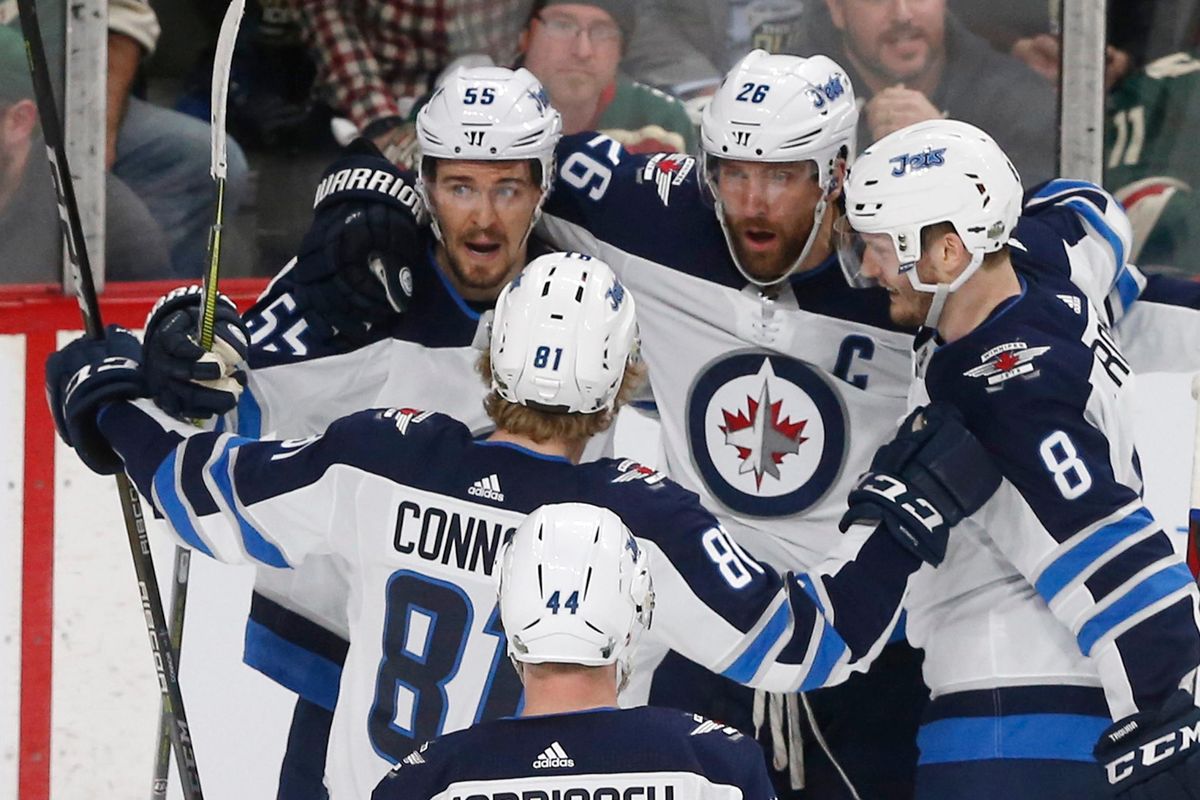 Winnipeg Jets celebrate with Mark Scheifele, top left, after he scored on Minnesota Wild goalie Devan Dubnyk during the first period of Game 4 of an NHL hockey first-round playoff series Tuesday, April 17, 2018, in St. Paul, Minn. (Jim Mone / Associated Press)
ST. PAUL, Minn. – Connor Hellebuyck bounced back in a big way, just as the Winnipeg Jets were expecting.
The 24-year-old goalie turned aside every shot Minnesota could muster, shoving the Wild to the brink of elimination.
Mark Scheifele scored both goals for Winnipeg and Hellebuyck made 30 saves for his seventh shutout this season, as the Jets beat the Wild 2-0 on Tuesday night to take a 3-1 lead in the first-round playoff series.
"You knew, five to 10 minutes into that game, he was right and feeling good," Jets coach Paul Maurice said.
Scheifele scored with 28 seconds left in the first period, spoiling a fine performance on the other end by Wild goalie Devan Dubnyk, and tacked on an empty-netter with 11 seconds remaining.
The Wild, now without star left wing Zach Parise because of a broken sternum suffered late in Game 3, must now win in Winnipeg in Game 5 on Friday night to extend their season.
"Certainly can't fault us in trying. It's a disappointing finish," said Dubnyk, who stopped 26 shots. "It just shows you, too, you never know which plays are going to be the difference in the game."
The Wild were livid about one in particular, when Jets defenseman Josh Morrissey delivered a vicious-looking cross-check to Eric Staal's neck that knocked Minnesota's leading scorer to the ice during a Wild power play that went unnoticed by the officials. Morrissey had an assist on Scheifele's goal and also helped thwart a Wild breakaway later in the game, and a red-faced coach Bruce Boudreau said afterward that Morrissey should have been ejected.
"They decided not to call it because we were already on the power play," Boudreau said. "It cost us the game."
Across the hall, Morrissey adamantly defended his action as accidental.
"He's a big guy, and my stick ended up getting up a little bit on him," Morrissey said. "I would never try to do that to anybody. I'm not a dirty player."
Morrissey apologized to Staal later in the game, but that wasn't any consolation for him or the Wild.
"I'm the tallest guy on the ice. He cross-checked me in the neck. There's not much more you can say. Everyone saw it. I don't know how no one with stripes saw it," Staal said.
After a six-goal outburst in Game 3 that prompted Maurice to pull Hellebuyck after two periods, only his second early exit of the season, the Wild had trouble generating the same kind of organized and relentless attack. The Jets closed up the holes they gave the Wild through the neutral zone in Game 3, and the Wild simply weren't as crisp with the puck.
Hellebuyck, fittingly, was named earlier in the day one of the NHL's three finalists for the Vezina Trophy that's awarded annually to the best goalie in the league.
"It definitely added a little more hop to my step. I don't know if it changed my game too much because I prepare the same way and I do the same things every day," Hellebuyck said. "I guess it's just a nice milestone that me and my family will enjoy."
The crowd, fired up about the opportunity the Wild had to even the series, produced plenty of collective groans after difficult saves by Hellebuyck after jeering him in Game 3 with the customary "Sieve! Sieve! Sieve!" chant. One of Hellebuyck's most important stops came in the opening minutes of the second period, when a 3-on-1 rush by the Wild set up Matt Dumba for a wrist try denied with a sprawling glove stop.
After a tightly whistled game here Sunday night, there were only three penalties called.
Scheifele was part of the sandwich hit with Ben Chiarot late in the third period of Game 3 on Parise that led to a broken sternum for the Wild's all-time postseason scoring leader, a stunning setback for the home team revealed about four hours before Game 4.
The agitation in the arena spiked a little later in the first period, when the Jets kept the puck in the Wild zone after a failed clearing attempt and Kyle Connor fed Scheifele with a slick give-and-go pass for the 1-0 lead right before the first intermission.
Then Hellebuyck and the Jets defense took over.
"That's the guy who's been there all year for us," Morrissey said.
NOTES: Jets defenseman Tyler Myers was out with a lower-body injury suffered in a collision with Marcus Foligno in Game 3. He was replaced by Tucker Poolman, a native of Iowa who played in college at North Dakota, on Winnipeg's third blue line pairing with Chiarot. … Scheifele had a goal and five assists in four games against the Wild during the regular season. … Tyler Ennis took Parise's spot, skating with Matt Cullen and Charlie Coyle on a new-look third line. Jason Zucker and Jordan Greenway joined Mikko Koivu, and Staal centered Nino Niederreiter and Mikael Granlund. Coyle, Zucker and Niederreiter are without a point in the series.
Local journalism is essential.
Give directly to The Spokesman-Review's Northwest Passages community forums series -- which helps to offset the costs of several reporter and editor positions at the newspaper -- by using the easy options below. Gifts processed in this system are not tax deductible, but are predominately used to help meet the local financial requirements needed to receive national matching-grant funds.
Subscribe to the sports newsletter
Get the day's top sports headlines and breaking news delivered to your inbox by subscribing here.
---