A&E
Northwest Wine: British Columbia wine tops Cascadia Wine Competition
Tue., April 17, 2018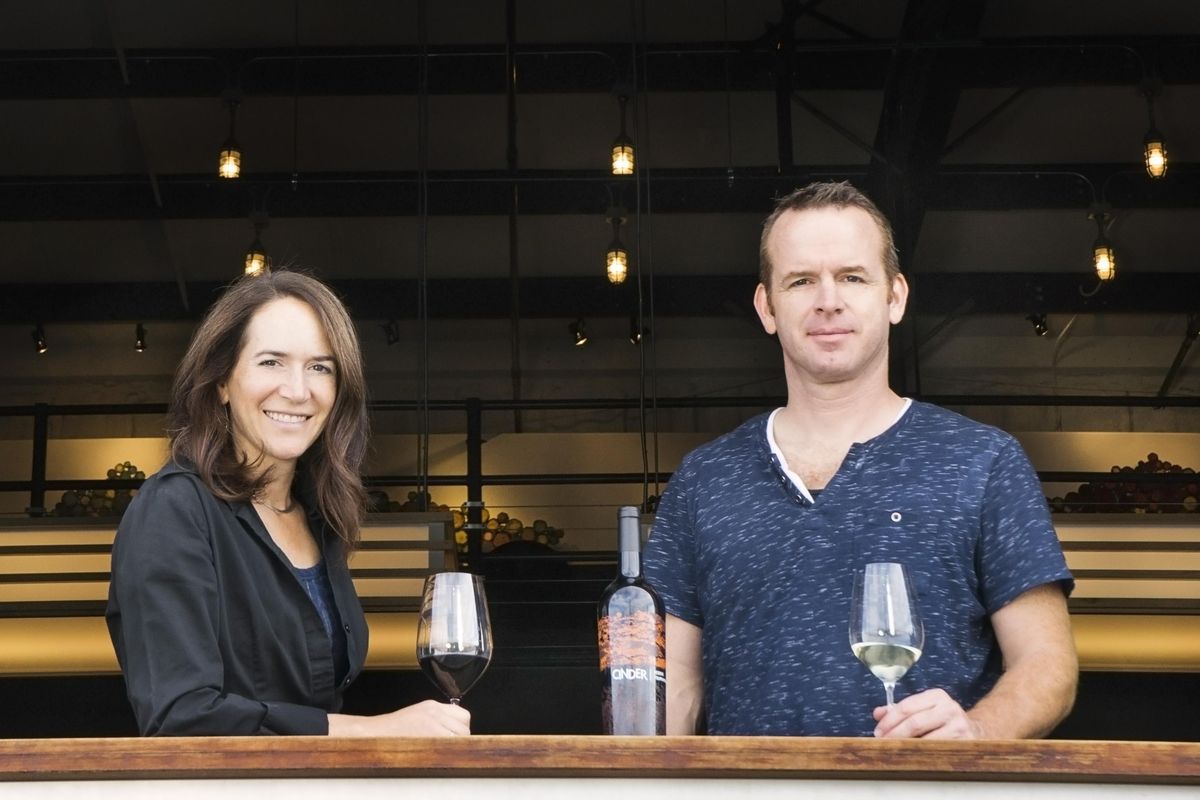 Ste. Michelle-trained winemaker Melanie Krause, left, and her husband, Joe Schnerr, own and operate Cinder Wines in the Garden City, Idaho, near Boise. (Courtesy of Cinder Wines)
Hagen Kruger and Wild Goose Vineyards in British Columbia's Okanagan Valley are doing their best to make sure pinot gris does not get overlooked in the Pacific Northwest or at the Cascadia Wine Competition.
Last week, the Wild Goose Vineyards 2017 Pinot Gris took top honors at the sixth annual Cascadia Wine Competition, an international judging in Washington's Columbia Valley. In essence, Kruger and his team successfully defended their title because the Wild Goose 2016 Pinot Gris won best of show at the 2017 Cascadia.
"Red wines get most of the spin these days, and quite often they come through as the top wines at competitions, so to come through as a white wine again? That blows me away," Kruger said.
That $17 wine was deemed the top wine by the 21 international experts who spent three days in Richland, Washington, evaluating 1,012 entries. The Cascadia, operated by Great Northwest Wine, brings together wines made using fruit grown in Washington, Oregon, Idaho and British Columbia.
This is the third time Wild Goose has finished atop a major Pacific Northwest judging. A riesling by the Krugers won best of show at the 2014 Great Northwest Invitational Wine Competition in Hood River, Oregon. Last week, Wild Goose also won best-of-class awards at the Cascadia for gewürztraminer and pinot noir.
The best red wine of the Cascadia went to a carménère from Maryhill Winery in Goldendale, Washington, one of an astonishing 14 gold medals won by one of Washington's largest family-owned wineries.
Overall, it was a strong showing by British Columbia wineries, which earned 40 gold medals. Gehringer Brothers Estate Winery in Oliver won seven golds, while picturesque Lake Breeze Vineyards on the Naramata Bench near Penticton was awarded six. Township 7 Vineyards & Winery, another Naramata Bench producer, used its 2015 Seven Stars Blanc de Blanc to claim the title of best sparkling wine at the Cascadia.
Eleven Idaho producers combined for 19 gold medals and four best-of-class wines, led by Cinder Wines and its 2016 Dried on the Vine Viognier as best dessert wine. Coco Umiker in the Lewis-Clark Valley achieved four gold medals for her Clearwater Canyon Cellars brand, paced by her 2017 Umiker Vineyard Estate Lochsa Chardonnay as the judging's top chardonnay.
The winemaking by Columbia Gorge native Rich Cushman led to a whopping 10 gold medals, six for Mt. Hood Winery and four more for young Stave & Stone Wine Estates. His work on behalf of the two Hood River, Oregon, companies included a pair of golds for pinot noir and two for rosé using pinot noir.
Last week's international panel of judges, which included 11 winemakers and James Beard Award-winning wine writer Bill Ward, was enamored with pinot noir from Oregon, awarding 15 gold medals, including two each to McMinnville wineries Coeur de Terre Vineyard and Yamhill Valley Vineyards.
Stephen Reustle of Reustle-Prayer Rock Vineyards in Roseberg, Oregon, won seven gold medals. This follows up on the six gold medals he received last month at the Savor NW Wine Awards competition on the Oregon Coast and matches his total from January at the San Francisco Chronicle Wine Competition in Sonoma County — the largest judging in the nation.
Washington winemaker Victor Palencia was responsible for six gold medals via his work for Jones of Washington in Quincy, Palencia Winery in Walla Walla and Vino la Monarcha, now in Kennewick. He twice has won best of show at the Cascadia with his Vino la Monarcha brand.
The complete results of the Cascadia International Wine Competition at www.greatnorthwestwine.com.
Here are reviews of the top wines.
Best of show: Wild Goose Vineyards & Winery 2017 Pinot Gris, Okanagan Valley, $17: Wild Goose Vineyards, perhaps best known for its riesling, shows off a skilled hand with this Okanagan Valley pinot gris. Honeysuckle, spice, pear and honey pop out in its nose, with pear, melon, pineapple and more honey on the palate. It closes with crisp acidity and a dash of lime.
Best red wine: Maryhill Winery 2015 Elephant Mountain Carménère, Rattlesnake Hills, $40: New Zealand native Richard Batchelor has crafted a classic carménère, showing off a spectrum of pepper aromas and flavors. Let your nose return to the glass over and over to discover a promise to your palate that includes white pepper, green bell pepper, a touch of cedar, and a hint of pink peppercorns on the finish.
Best rosé: Yamhill Valley Vineyards 2017 Estate Rosé of Pinot Noir, McMinnville, $16: Peaches, nectarines and a hint of jasmine welcome you to this rosè of pinot noir, where the tartness of the cranberry and rhubarb profile shine through on the palate.
Best nongrape wine: Eaglemount Wine & Cider NV Quince Mead Puget Sound, $22: Eaglemount Wine & Cider in Port Townsend, Washington, used quince and honey from the San Juan Islands to make its quince mead, which clearly shows what it's made from in its aromas and sweet flavors. If you're unfamiliar with quince, conjure up the best elements of poached pear and Fuji apples and you'll have the idea.
Best dessert wine: Cinder Wines 2016 Dried on the Vine Viognier, Snake River Valley, $25: Cinder brought in viognier grapes that dried on the vine at 32 percent sugar and turned them into a wine with 12.4 percent residual sugar for this elegantly sweet wine. The result is rich aromas and flavors of honey, sugared lime and orange with a finish that retains surprising acidity after such long hang time.
Andy Perdue and Eric Degerman run Great Northwest Wine, an award-winning media company. Learn more about wine at www.greatnorthwestwine.com.
Local journalism is essential.
Give directly to The Spokesman-Review's Northwest Passages community forums series -- which helps to offset the costs of several reporter and editor positions at the newspaper -- by using the easy options below. Gifts processed in this system are not tax deductible, but are predominately used to help meet the local financial requirements needed to receive national matching-grant funds.
Subscribe to the Spokane7 email newsletter
Get the day's top entertainment headlines delivered to your inbox every morning.
---