Sports > NBA
Tipoff: Oklahoma City's Paul George rolling heading into Game 2 vs. Utah
Tue., April 17, 2018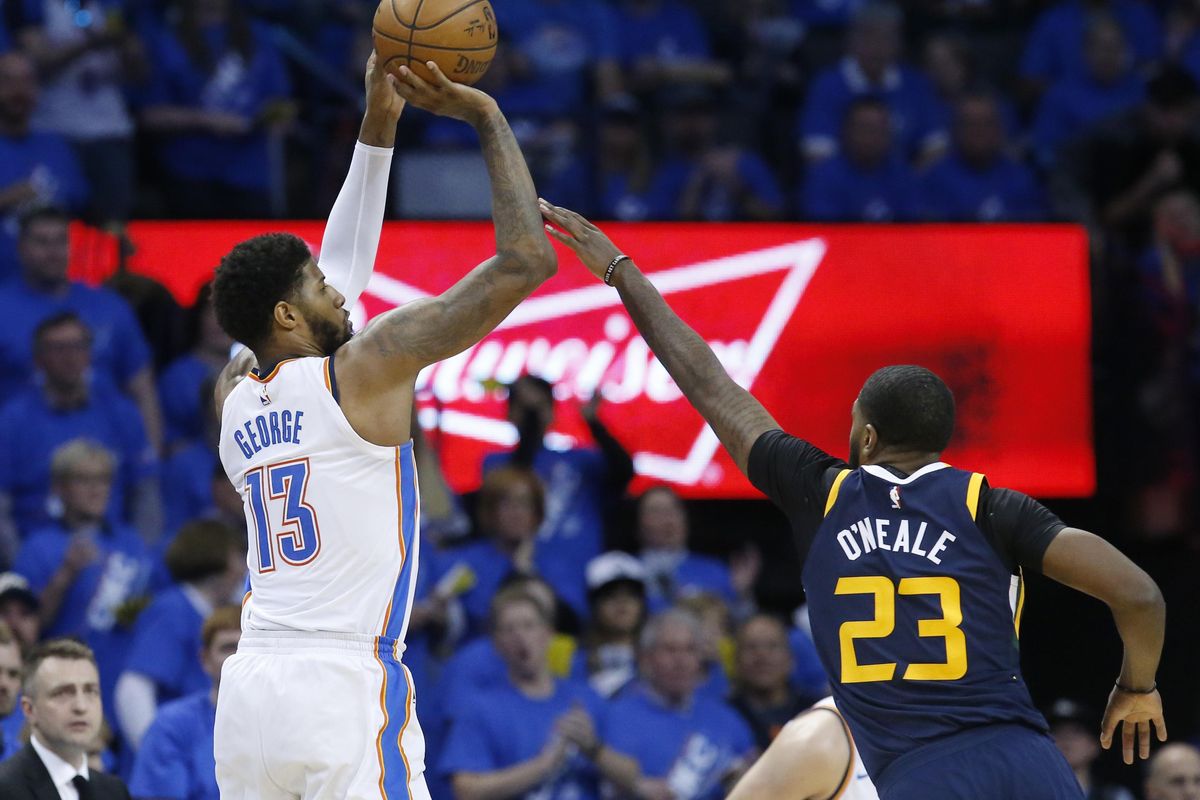 Oklahoma City Thunder forward Paul George (13) shoots in front of Utah Jazz forward Royce O'Neale (23) in the second half of Game 1 of an NBA basketball first-round playoff series in Oklahoma City, Sunday, April 15, 2018. (Sue Ogrocki / Associated Press)
OKLAHOMA CITY – Paul George has found his shot.
Actually, the Oklahoma City Thunder All-Star has been on a roll heading into the playoffs.
In the five regular season games in April, he averaged 27.6 points and made 41 percent of his 3-pointers and 90 percent of his free throws. He closed the regular season with a 40-point outburst against Memphis.
He kept it up in OKC's playoff opener, scoring 36 points and setting a Thunder playoff record with eight 3-pointers as Oklahoma City beat Utah 116-108 .
It took George a minute to consistently take the scoring pressure off Russell Westbrook. He struggled on offense right after the All-Star break and said he couldn't find his shot.
"To his credit, when he was going through a little bit of that slump where he wasn't shooting the ball particularly well, he really put extra work in," Thunder coach Billy Donovan said. "I felt like he was really driven and focused to work his way through it."
A couple of former OKC standouts are also thriving early in the postseason.
Victor Oladipo – the player who George was traded for – was just as impressive for Indiana . The Pacers hope to take a 2-0 lead the series against Cleveland and put LeBron James and the Cavaliers on the ropes Wednesday.
Another former Thunder player, Houston's James Harden, was the best of the George-Oladipo-Harden trio. The Rockets MVP candidate scored 44 points in Houston's win against Minnesota .
If George is to keep rolling for the Thunder in Game 2 Wednesday he'll have to do it with a right hip bruise, and after being limited in practice on Tuesday.
"He was not able to do very much today," Donovan said. "He did some things in practice. Not much. We'll probably see where he's at after shootaround tomorrow and probably evaluate him going into the game."
Jazz at Thunder
Oklahoma City leads 1-0. Game 2, 5 p.m. PT, NBA TV
NEED TO KNOW: The fact that George was Oklahoma City's leading scorer in the opener is significant. He's the first player other than Kevin Durant or Westbrook to lead the Thunder in scoring in a playoff game since Game 1 of the Western Conference semifinals against San Antonio in 2016. Oklahoma City has played 18 playoff games since then.
KEEP AN EYE ON: Utah C Rudy Gobert. He had 14 points and seven rebounds in the opener and committed four fouls. The Jazz likely will need more from him to be competitive.
INJURY UPDATE: Utah rookie guard Donovan Mitchell suffered a left foot contusion in Game 1, and a Jazz spokesman said he is questionable for Game 2. He went through portions of Tuesday's practice. He had 27 points and 10 rebounds in the opener after averaging 20.5 points in the regular season.
PRESSURE IS ON: Jazz G Ricky Rubio and Utah F Joe Ingles. Rubio scored 13 points on 5 for 18 shooting in the opener. He will need to hit open shots and take pressure off Mitchell in Game 2. Ingles struggled to get the ball against George's defense in Game 1. He also had just one assist in Game 1, well below his regular season average of 4.8.
Timberwolves at Rockets
Houston leads 1-0. Game 2, 6:30 p.m. PT, TNT
NEED TO KNOW: Houston center Clint Capela played a major role in Game 1, scoring 20 points and grabbing 10 rebounds before halftime. Harden believes Capela could be the X-factor in this series and raved about his work in the first game. "You could just see a different Clint, he was running so fast and I had no choice but to get him the ball," Harden said. "And then defensively the way he's been blocking shots, rebounding, he was just like a deer out there."
KEEP AN EYE ON: Houston's 3-point shooting. The Rockets won Game 1 despite making just 10 of 37 3-pointers. James Harden was 7 for 12 on 3-pointers, but Trevor Ariza, P.J. Tucker, Eric Gordon and Paul combined to make just 3 of their 22 tries.
INJURY UPDATE: Houston's Ryan Anderson, who missed the last four regular-season games and the playoff opener with a sprained left ankle, returned to practice on Tuesday and could play on Wednesday.
Minnesota coach Tom Thibodeau said that Jimmy Butler's right wrist is "fine" despite his wearing a wrap on it during pregame warmups on Sunday.
PRESSURE IS ON: Minnesota's Karl-Anthony Towns. The Wolves need the All-Star big man to rebound in Game 2 after scoring just eight points in the opener. Towns said he needs to "play better all-around" and Thibodeau said he has to "be more active" to combat Houston's double-teams and switching.
Pacers at Cavaliers
Indiana leads 1-0, Game 2, 4 p.m. PT, TNT
NEED TO KNOW: LeBron James has never lost a first-round series, going 12-0. This is the first time he's been down 0-1 in an opening round. Cleveland had won its first 10 playoff games in each of the past two seasons.
KEEP AN EYE ON: Cleveland's defensive strategy against Victor Oladipo. Indiana's quick All-Star guard hit six 3-pointers – in the opener. The Cavaliers had some success in blitzing Oladipo, but he made good decisions with the ball and took advantage when the Cavs switched defenders by exploiting matchups against Cleveland's slower post players.
INJURY UPDATE: Cavs starting point George Hill is feeling the effects of a hard shot to the back on a screen set by Indiana's Trevor Booker in Game 1. Hill practiced on Tuesday and said he's doing better, but his status remains uncertain for Game 2. Also, Cleveland forward Kyle Korver said his right foot has improved. The injury has bothered him for more than a month and limited him to four minutes in the opener.
PRESSURE IS ON: Kevin Love and Jeff Green. With no Kyrie Irving, Love is Cleveland's second scoring option, but he attempted just eight shots in Game 1 and too often settled for jumpers instead of posting up and trying to score down low. Green was ineffective in the opener, missing all seven field-goal attempts and going scoreless in 27 minutes. Cavs coach Tyronn Lue has contemplated changes to his starting lineup.
AP Sports Writers Tom Withers and Kristie Rieken contributed to this report.
Local journalism is essential.
Give directly to The Spokesman-Review's Northwest Passages community forums series -- which helps to offset the costs of several reporter and editor positions at the newspaper -- by using the easy options below. Gifts processed in this system are not tax deductible, but are predominately used to help meet the local financial requirements needed to receive national matching-grant funds.
Subscribe to the sports newsletter
Get the day's top sports headlines and breaking news delivered to your inbox by subscribing here.
---