A&E > Food
Roll with it: Yummy Ice Cream Rolls opens in north Spokane
April 17, 2018 Updated Wed., April 18, 2018 at 11:12 a.m.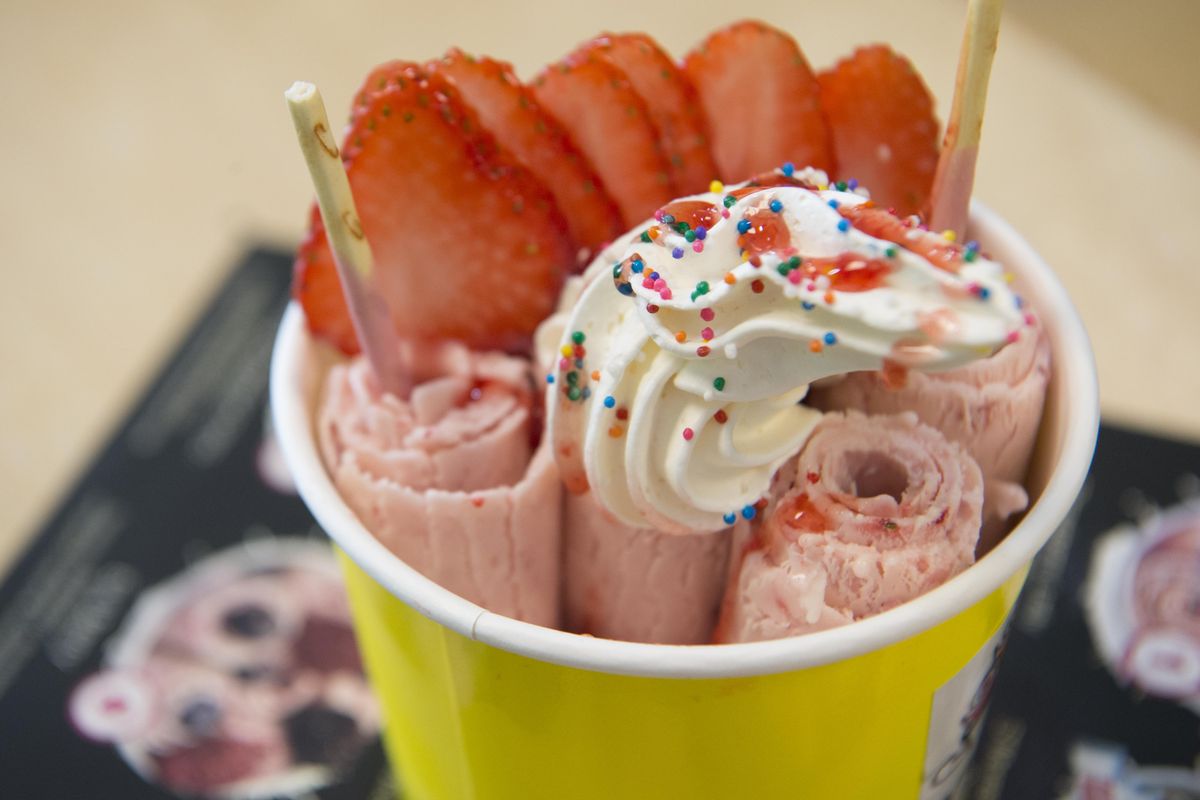 The Strawberry Lady at Yummy's Ice Cream Rolls features fresh strawberries, whipped cream and sprinkles. (Jesse Tinsley / The Spokesman-Review)Buy a print of this photo
You'll want to watch as they roll.
Part of the fun of frequenting Yummy Ice Cream Rolls is seeing how your order is assembled.
Ingredients – Oreos, Froot Loops, graham crackers, strawberries – are chopped into an ice cream base atop a round steel plate that's kept at 5 to 10 degrees below zero. Then, the mixture is spread thin, like a crepe, and pushed into six rolls with a kitchen tool that resembles a putty knife.
"This is different," said co-owner Leo Zheng. "It's new to Spokane."
Yummy Ice Cream Rolls opened in Logan Square shopping center near Gonzaga University in mid-March. The new novelty ice cream shop specializes in $6.95 rolled ice cream sundaes.
There are in 18 signature sundaes so far. And, Zheng said, more are being developed. The initial offerings include the Strawberry Lady, S'mores S'mores Galore, Oreo's Secret, Monkey Business with Nutella and banana, Giant Green with matcha, Mango Tango, Evil Berry, Morning Cappuccino and cheese cake with fresh fruit and mint – and that's just half of them. (The huckleberry sundae, at $7.59, costs a bit more.)
Or, customers can concoct their own creations, starting with one of four bases: vanilla, green tea, chocolate or cappuccino.
Building your own rolled ice cream sundaes costs the same as the signature dishes. That price includes one base mix-in, plus two toppings and a sauce. Additional toppings are 50 cents each.
Sundaes come in one size. You get six rolls, made from 8 ounces of base, per cup.
So far, the top-selling sundae is Oreo's Secret, garnished with whipped cream, Oreo Pocky and an Oreo cookie. The S'mores S'mores Galore is also a best-seller. It's topped with marshmallow, graham cracker, whipped cream and chocolate syrup.
But Zheng's favorite flavor is mango, topped with fresh fruit and whipped cream. It's the flavor he had when he first tasted the frozen treat on a family vacation to Thailand three years ago.
"It was really good," he said. "It was summer, in the season. Everything was fresh. They used everything fresh, all the fresh fruit. It (tasted) really natural."
Rolled ice cream is a popular street food in Thailand, where the novelty dessert originated about a decade ago. Soon, it began catching on in neighboring countries. And, about three years ago, it started spreading worldwide, thanks largely to viral videos showing the process online.
In the U.S., rolled ice cream appeared first in major American cities – as well as in Post Falls, where Freezia has specialized in rolled ice cream since 2016.
Zheng, 22, started Yummy Ice Cream Rolls with his cousin, Evan Ke, 31, a former chef. And they already have plans to expand. A second location on Spokane's South Hill, called Poke Express and featuring poke bowls as well as rolled ice cream, is slated to open as early as May, said Zheng, noting his second-favorite rolled ice cream flavor is matcha green tea.
He came to America from southeast China when he was 16, learning English as a second language at Mead High School and working as a buser and dishwasher at Hong Kong Express. He graduated in 2015 and is hoping to soon finish an associate degree at Spokane Falls Community College.
Prep to open the ice cream shop put a dent in his studies and, he said, "I didn't do much school last year."
It took several months to transform the then-empty storefront into a novelty ice cream shop. But, they liked the location: on a busy street, with plenty of parking, close to Gonzaga University.
Ke's daughter helped name the business. She's 5.
The name is "easy to memorize" and "it gets to the point," Zheng said. "It's ice cream rolls, and it's yummy."
Mix-ins include mango, banana, strawberry, huckleberry, raspberry, blackberry, kiwi, peach, graham crackers, chocolate chip cookies, Oreos and Froot Loops.
Toppings include lychee, Skittles, Gummy Bears, marshmallows, M&Ms, sprinkles, whipped cream, and strawberry, green tea and Oreo Pocky.
Sauces are caramel, chocolate, white chocolate, mango, strawberry, raspberry, kiwi, cinnamon and condensed milk.
The ice plates – there are five in a row at Yummy's Ice Cream Rolls – can get to 20 or 25 degrees below zero, he said. But, "if you keep it that cold, everything's going to freeze before you smash it all together."
Ice cream rollers have to work fast. "If you move too slowly, there'll be big chunks of fruit and, when you go to roll it, you'll break the roll," Zheng said.
Speed and temperature aren't the only factors in rolling ice cream. Technique matters, too.
"If the angle is too low, you're unable to roll; you're pretty much shoveling it like you shovel the snow," Zheng said. "If the angle is too high when you go to roll, it will still roll but it will make a fatter roll."
He and Ke and working on developing a dairy-free base as well as opening the second location. Meantime, Zheng said, both of his parents are working in the shop and helped contribute start-up funds.
Going with bright green for the interior color scheme was meant to be both cheery and symbolic.
"We chose green because the color green represents spring, and we opened in spring. It brings hope," Zheng said. "Ice cream is sweet. It's a treat. It makes you happy. We're hoping to bring hope and happiness to everyone who comes here."
Local journalism is essential.
Give directly to The Spokesman-Review's Northwest Passages community forums series -- which helps to offset the costs of several reporter and editor positions at the newspaper -- by using the easy options below. Gifts processed in this system are not tax deductible, but are predominately used to help meet the local financial requirements needed to receive national matching-grant funds.
Subscribe to the Spokane7 email newsletter
Get the day's top entertainment headlines delivered to your inbox every morning.
---