Sports > High school sports
Richelle Ashburn works to bring softball glory back to Post Falls
April 18, 2018 Updated Wed., April 18, 2018 at 5:57 p.m.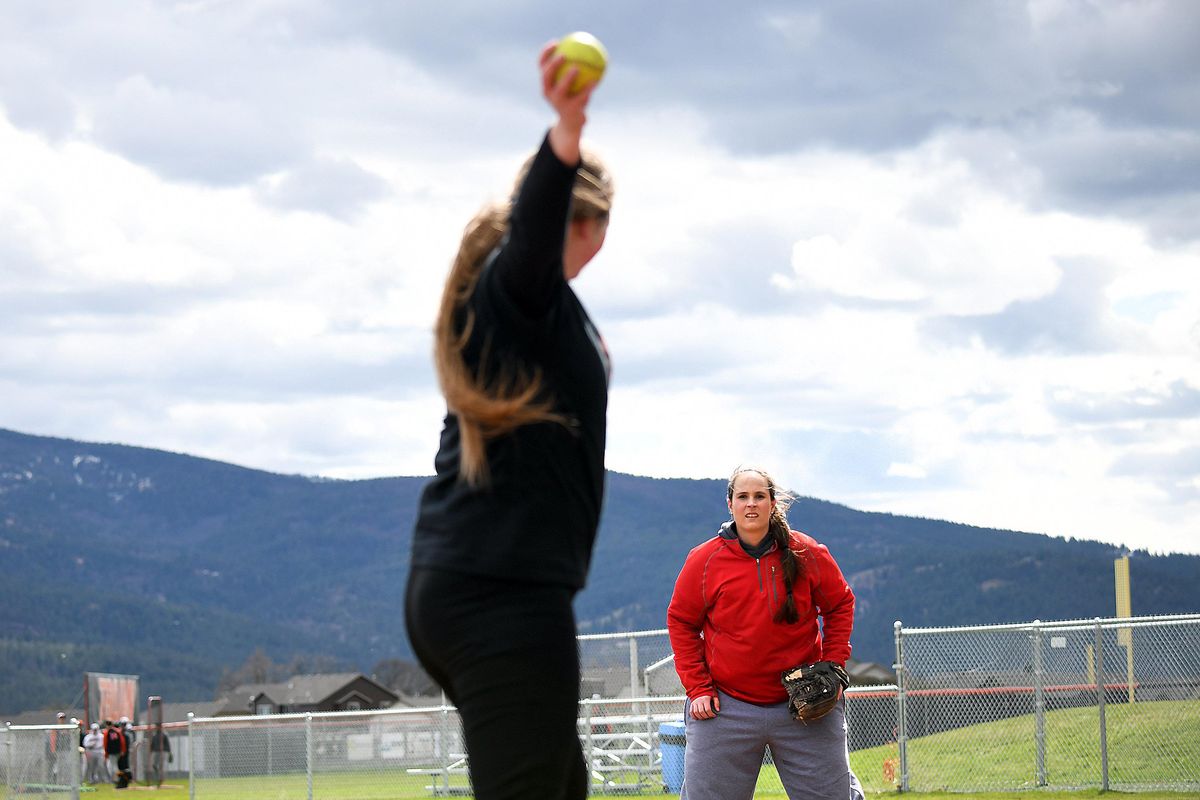 Kaela DeBroeck, background, Post Falls High's varsity pitching coach, works with senior Amanda Rouse at the school on Tuesday. (Kathy Plonka / The Spokesman-Review)
State titles are hard to come by. It takes building a program from the bottom, a lot of tireless practices and plenty of heart.
The girls on the 2010 Post Falls softball team had all that working for them and more. Their pitcher Richelle Ashburn, who was a senior at the time, said the varsity team just clicked that year.
"We had great team chemistry," Ashburn said. "Everybody came in with the same goal. Whether you had girls that wanted to go to college or you had girls that just wanted to play through high school, the goal was clear and our practices showed that."
They had their eyes set on becoming a force in the tough four-team 5A Inland Empire League. They wanted to climb their way to the top of the standings and prove to their peers that they were capable of standing their ground at the state tournament.
The wanted to be champions.
That season, the Trojans kept their goal in plain view and fought their way into the 5A state tournament. They dominated the bracket and took home the program's first state title with ease in a 12-2 rout of Rocky Mountain, a day Ashburn said she'll never forget.
"It's like it was yesterday," she said. "I just feel really proud to be able to say that we are the only state champions for Post Falls."
After that season, Ashburn left Post Falls and headed west to pitch at Seattle University. She played for all four seasons and returned to Post Falls to be a student teacher at River City Middle School.
But she's not ready to store away her cleats yet. Ashburn decided to return to the softball program at Post Falls this season as the junior varsity head coach after former head coach Danny Dement moved to varsity to become an assistant.
The program she walked into wasn't what she remembered it to be in 2010. In the years that followed, the Post Falls softball squad found an undesirable home at the bottom of the IEL standings.
For the first four seasons after winning the state title, the Trojans lost every game in league play. That streak was only snapped when Brian Stranger took over the program in 2015. He led the team to its long-awaited league win against Lewiston to end a 54-game losing streak in the IEL. It was Post Falls' only league win that year (1-11).
Now the Trojans and first-year varsity head coach Holly Gleaves are looking to get the program back to what it was in 2010. Ashburn is just one piece of that rebuild. She brings a unique Division I experience to the circle that Gleaves hopes will show in pitchers at the varsity level down the road.
Lucky for Gleaves, he has another DI athlete in his program – Walla Walla native Kaela DeBroeck, who pitched at Houston and New Mexico before moving back to the Northwest.
Ashburn and DeBroeck, who works as the pitching coach for Gleaves at the varsity level, have joined forces to bring a kind of skill set not many high school programs have access to.
"We're pretty excited about that," DeBroeck said. "The girls have two people who have been at the highest level of play for college … to give them keys and drills and things to do to improve their game."
Or as Ashburn described it: "We've been there, done that.
"With Coach Kaela and I, with our college background, they're able to look at people that have done it."
Now Ashburn and DeBroeck are hoping that knowledge will translate into success at Post Falls. Ashburn has the first crack at the rebuild, starting with the youngest in the program at the junior varsity level. Already she has a few young arms she's hoping will be strong enough to take over at varsity in a couple of years.
Ashburn said bringing success back to Post Falls includes strengthening the feeder club teams in the local area, which have diminished in numbers since she was in school. She opted to reach beyond the Post Falls program and has been working in the local softball clinics to help young girls develop their skills before they get to her field at Post Falls.
"(We're) trying to make more opportunities for the younger girls to get the experience and the exposure," she said. "That way, they're coming into high school with experience versus coming in and this is the first time they've played softball."
She recently finished an 11-week pitching clinic out of the Kootenai Girls Softball Association. She also helps her dad run their own pitching lessons in the Post Falls area.
Gleaves isn't sure how long he'll have Ashburn and DeBroeck around the program since both have full-time jobs that could lead them elsewhere. DeBroeck works in Spokane as a graphic designer and is likely to stay in the area, but Ashburn's career path could lead to another school district depending on where she finds an opening when she completes student teaching.
"That would be amazing," She said about getting the chance to stay at Post Falls,
But for now, she's just happy to have her hand in reshaping a program that brought her so many good memories in high school, something she hopes the girls on her team will be able to have in the next few years.
"When you walk onto the field, there's this big sign that says 2010 state champions, and then there's nothing else. It's just the lone sign," Ashburn said. "I just feel like these girls deserve it. I just feel like this is the beginning of a really good stretch for the program."
Local journalism is essential.
Give directly to The Spokesman-Review's Northwest Passages community forums series -- which helps to offset the costs of several reporter and editor positions at the newspaper -- by using the easy options below. Gifts processed in this system are not tax deductible, but are predominately used to help meet the local financial requirements needed to receive national matching-grant funds.
Subscribe to the sports newsletter
Get the day's top sports headlines and breaking news delivered to your inbox by subscribing here.
---