A&E > Food
Tickets are on sale now for The Spokesman-Review's Dorothy Dean Home Cooking Show
UPDATED: Thu., April 26, 2018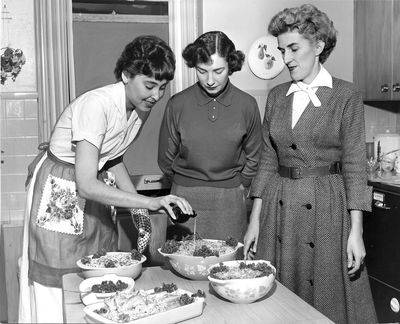 Hear Chad White of Bravo's "Top Chef" talk about life before, during and after the show.
Get tips for using your Instant Pot from Laurel Randolph, author of 2016's runaway best-seller "The Instant Pot Electric Pressure Cooker Cookbook."
Pose for a photo with Dorothy Dean.
Dorothy Dean was the pen name for The Spokesman-Review Food editors who ran the newspaper's Dorothy Dean Homemakers Service from 1935 to 1983. The Spokesman-Review revived Dorothy Dean in early 2017, re-running vintage recipes as well as new ones inspired by Dorothy Dean's straightforward approach.
May 12, The Spokesman-Review is hosting cooking show inspired by – and in celebration of – Dorothy Dean. Tickets are on sale now for the Dorothy Dean Home Cooking Show, presented by The Spokesman-Review and Yoke's Fresh Markets.
"When we started publishing classic Dorothy Dean recipes a year ago in The Spokesman-Review, we were blown away by the reaction from our readers," executive editor Rob Curley said. "For five decades, Dorothy Dean was a trusted family friend who knew exactly how to put the comfort in comfort food. She was synonymous with home cooking in the Pacific Northwest.
"That's why Dorothy hosting our first home cooking show in decades is perfect. We're bringing together some of the best chefs to rediscover the healing powers of a great home-cooked meal."
The Dorothy Dean Home Cooking Show takes place at the Spokane Convention Center and features a variety of vendors, cooking demonstrations and special guest appearances by chefs and cookbook authors.
The Spokesman-Review's popular Northwest Passages Book Club is sponsoring main stage, where Spokane native White will talk about learning to cook as a "mess specialist" in the U.S. Navy, favorite moments from his season of "Top Chef" and returning home to open Zona Blanca, his downtown ceviche restaurant.
Randolph, whose latest cookbook, "The Instant pot No-Pressure Cookbook: 100 Low-Stress, High-Flavor Recipes," is slated for release May 1, will also appear on the main stage. So will Kathleen Flinn, author of "The Sharper the Knife the Less You Cry," and Spokane's Kate Lebo, author of "Pie School." An executive chef from Disneyland Resort Hotels is also scheduled to present on the main stage.
Cooking demonstrations – executive chef Joe Morris of Luna in Spokane, Eva Roberts of Just American Desserts in Spokane Valley, Amanda Hillman of Modernist Cooks, and more – are also scheduled.
So are dozens of vendors.
A portion of ticket sales will go to Second Harvest, which helps fight hunger in the community. Second Harvest chefs also will lead a cooking demo during the event.
The Spokesman-Review and Yoke's Fresh Markets are sponsoring a recipe contest in conjunction with the cooking show. Recipes can be entered in two categories: sweet and savory. Entries should be adapted from or inspired by a favorite Dorothy Dean recipe. Two winners will receive VIP tickets to the show.
Each entry must include instructions, ingredients, photos and a brief description of how the recipe embodies the spirit of Dorothy Dean. Each entry should also include the vintage recipe Dorothy Dean recipe that was adapted or used for inspiration.
The Spokesman-Review's home economics department produced an "Ask Dorothy Dean" column, hosted cooking demonstrations and operated a free telephone hotline for on-the-spot cooking advice. But, it's best known for a subscription service through which recipe leaflets were mailed to home cooks. Dorothy Dean recipes were much-loved collector's items, treasured in special navy or forest green three-ring binders.
Dorothy Dean offered recipes that were budget-friendly and easy to prepare. Instructions weren't elaborate, usually running just a few lines.
In conjunction with the cooking show, The Spokesman-Review is publishing a cookbook of vintage Dorothy Dean recipes. It's included in the middle tier, book club level ticket price. It will also be sold separately for $29.99 while supplies last – and they are limited.
Middle tier, book club level tickets also include two Northwest Passages Book Club headliner sessions. General admission doesn't include book club headliner sessions.
VIP tickets include reserved seating in first three rows of headliner sessions, an additional 20 pages to the Dorothy Dean cookbook, an exclusive Dorothy Dean bag and a private lunch at The Spokesman-Review in June featuring street-style tacos prepared by White as well as a behind-the-scenes tour of the newspaper's historic building, including a visit to The Review building's iconic clock tower and seeing The Chronicle building's rooftop gargoyles.
Recipe contest entries must arrive by April 27 and should be sent to Spokesman-Review Food editor Adriana Janovich via email at adrianaj@spokesman.com or P.O. Box 2160, Spokane, WA 99210.
Local journalism is essential.
Give directly to The Spokesman-Review's Northwest Passages community forums series -- which helps to offset the costs of several reporter and editor positions at the newspaper -- by using the easy options below. Gifts processed in this system are not tax deductible, but are predominately used to help meet the local financial requirements needed to receive national matching-grant funds.
Subscribe to the Spokane7 email newsletter
Get the day's top entertainment headlines delivered to your inbox every morning.
---